Because of my therapist
I know everything happens for a reason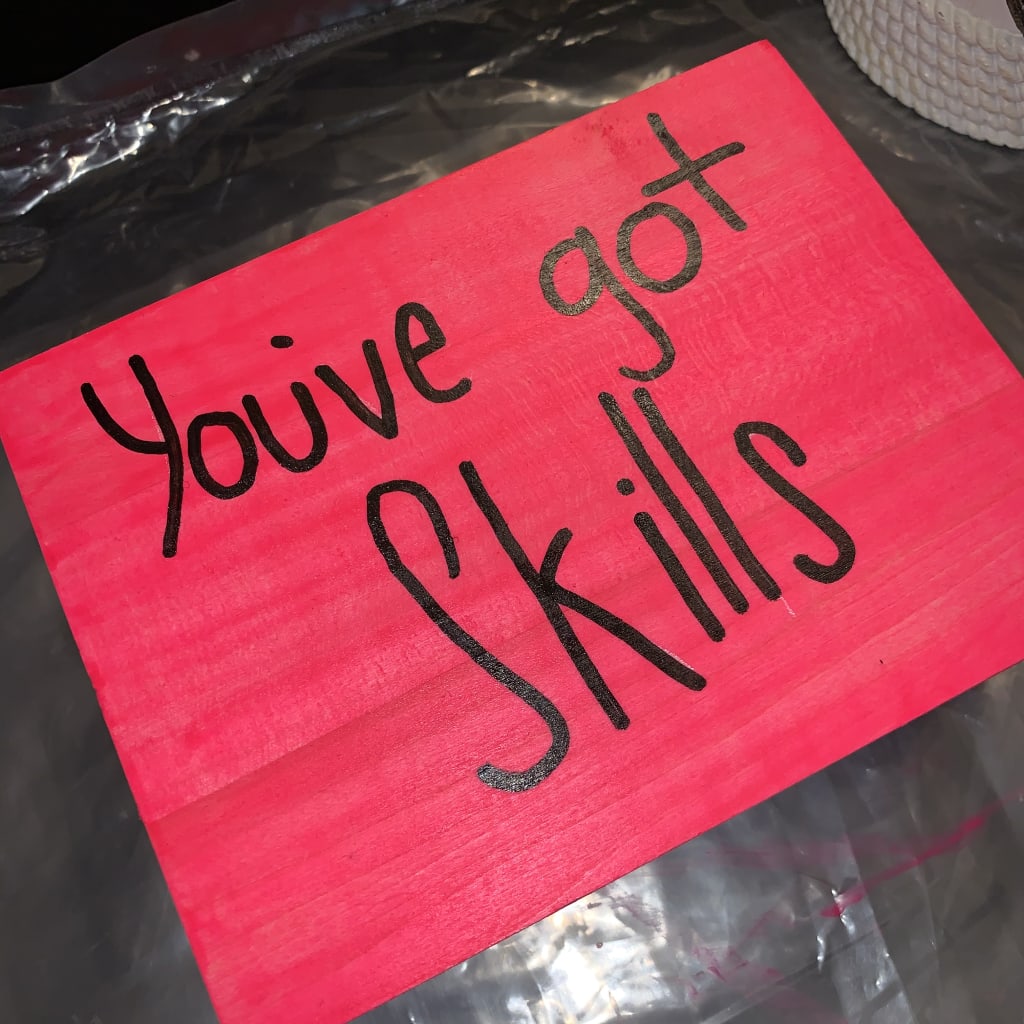 My box of therapeutic skills
Being diagnosed with Anorexia at the age of 16 was not a part of my plan. I dreamed of being an ENT (ear, nose and throat) doctor while gigging in a band as a drummer on the side. For as long as I can remember being a doctor and a drummer was my plan, that plan took a huge turn after my parents made the decision to pull me out of the art school I was attending and put me back in the public school system. The short story for why they made this decision is that while I was already knee-deep in Anorexia at this point, yet still went unnoticed, I had decided I wanted to be a psychologist to help other people so therefore I did not want to take percussion as my elective any longer which my parents did not approve of.
After being put back in the public school system, where I took all advanced courses, I adjusted well by reconnecting with old friends from elementary school, but my perfectionism that I have had since early childhood had taken over me and my eating disorder worsened. By the time I was a sophomore, I was hardly surviving on a maximum of 500 calories a day. Passing out during or after a secretive work-out had become part of my daily routine. I no longer knew what I wanted to do with my life and was convinced I would die before I was 21. I had made peace with that and to look back on that now is very confusing and saddening.
Thankfully, I had adults in my life who cared about me and one day in March of 2012 I confessed to my high-school counselor that I hadn't been eating much. After checking in with him weekly for a few weeks, he told me it was time for me to tell my mother what was going on, or he would have to. My heart sank. I felt betrayed, but I know now that he was looking out for me and my health. 2 days later, over the weekend, while my mother and I were alone in the living room and my father was in the basement playing poker with friends, I told my mom I hadn't been eating. I instantly began to panic and cry. She tried to calm me by rubbing my back and promising that everything would be okay. I didn't believe her...yet.
Within the next week I had an appointment with my pediatrician, she officially diagnosed me with Anorexia. Within another week I had a therapist who specialized in eating disorders. I remember not understanding why everyone was so worried about me. I was in denial of having an eating disorder, but I surly did. After a few weeks of making no progress with my outpatient therapist I found myself sitting on a couch in-between my mother and father as I was being evaluated for an inpatient stay at a treatment center. I felt judged, and hopeless. I thought if I just said the right things it would be over and done with. I can say now that I am thankful I was admitted within a few days.
I was in treatment at the age of 16 beginning April 1, 2012 for a total of 7 weeks. Treatment was not easy, but I met some really amazing people, however unfortunately I was battling Anorexia "off and on" for another 5 years until I returned to treatment for another 6 weeks at the age of 21 in the year 2017. This stay was much different that the first. I was diagnosed with a personality disorder and felt that my therapist didn't like me much because of it.
I am one to believe now, that everything happens for a reason and here's why:
After being discharged from treatment in 2017, I was placed in outpatient therapy with a therapist that specialized in the personality disorder I had been diagnosed with. I was also placed in a group therapy called DBT or dialectical behavioral therapy. The group was run by my new therapist but then soon a different one took over, and I felt a pull towards her. I remember after group one evening I asked if I could speak to her. This conversation was the first of many, as a few weeks later I asked if I could transfer to be her client.
This therapist agreed to take me on as her client and that's when the doors started to open. After working with her for several weeks and working through the DBT group, we both agreed that it wasn't helping and something had to change. She gave me an assessment, I wasn't sure what the assessment was looking for but the results were clear- I was misdiagnosed and did not in fact have a personality disorder.
Before I knew it, I was in a brand new type of therapy called RO DBT or radically open dialectical behavioral therapy. Despite its close name to DBT, it is quite the opposite way in the ways it teaches. My therapist ran the 30-week group with a co-facilitator and I was there every single week to learn how to better live by my values and goals in life as well as how to work through the hard things that come up. I aspire to be as incredible a person as my therapist is.
Not only does my therapist (who I still see today) help me by teaching, she helps me also by doing herself. What I mean by that is- she doesn't just talk the talk, she also walks the walk. She herself is over-controlled. All individuals in RO DBT therapy have that in common. My therapist is an incredible leader, and I am thankful every day for her. I've reached out to her in times of serious crisis- when I was raped, felt suicidal, struggling with my Anorexia, anxiety, major depressive disorder, OCD, or PTSD, and she helps me through it all. I still have work to do, but I can honestly say without her, I wouldn't be alive today. I know that every client she works with is lucky to have her too; grateful doesn't seem like a big enough word to express how I feel. My therapist is teaching me how to be more independent, as a newly engaged 24 year old woman, I am so happy to have someone in my life to look up to who helps me through the bad, and cheerS me on through the good.
I know there will come a day when I don't need therapy anymore, and that's a scary thought as I have been in therapy consistently since I was 16, but I feel safe in knowing that my therapist will be there for me every step of the way until I'm ready to jump out of the nest on my own. I hope to be half the woman my therapist is; I want to make a difference in the world and I know she's actively doing that. She's human, and therefore imperfect just like the rest of us, but she's the kidest and most down to earth person I know. I can't imagine how difficult it is to be such a great therapist like her. I admire how open and accepting she is, she's the definition of inspiration.
I hope to someday be a full time writer and poet and I know she believes in me. Each day, I believe in me more and more too. It's because of her examples that I can see how beautiful life can be, even when it gets hard, or feels dark and lonely. I know things can get better when they get difficult as long as I continue to to work hard in my therapy work and by my values and goals in life.
recovery
About the author
My name is Amanda and I am a college graduate with my bachelor's degree in English. I've loved writing for as long as I can remember and am a proud advocate for mental health and abuse survivors.
Reader insights
Be the first to share your insights about this piece.
Add your insights