Every Hour Is Happy Hour with These Delicious Nashville Cocktails
Forget gin & tonic. These drinks are the stuff dreams are made of.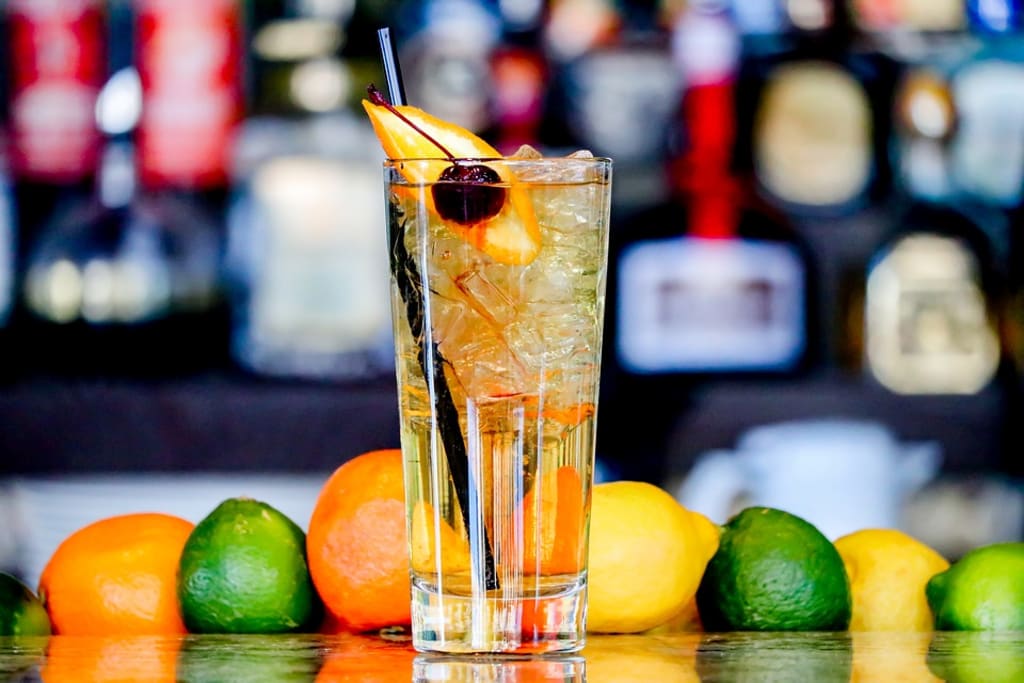 As Alan Jackson and Jimmy Buffett point out in their song, "It's Five O'Clock Somewhere," it's technically happy hour all the time. So whether you're a day drinker or a nighttime bar hopper, you don't need to feel guilty enjoying these tasty cocktails whenever you choose.
Whether you like fruity, tangy or bitter-tasting drinks, you'll find one on this list from popular Nashville bars and restaurants that will have you drooling in no time.
Pretty in Pink from Etch
For all those Nashelorette parties that happen around town, there's a cocktail that has girlie ingredients and a name to match. The Pretty in Pink is made with cathead vodka, strawberry, lavender, and lemon.
This "just the right amount of sweetness" drink is served at Etch and could nearly double as a perfume. But you should probably stick to drinking it instead of splashing it on your neck. (Unless that's some pre-wedding tradition we don't know about?)
Red Tiki Mama from Butcher & Bee
With a menu full of healthy options for brunch, lunch, and dinner, Butcher & Bee is an East Nashville restaurant that uses locally sourced ingredients to create a wholesome, fresh menu every week. And, of course, a good meal becomes a great meal when a delicious drink is involved.
Among the cocktail options at the restaurant is the Red Tiki Mama. You will enjoy the tart berry taste, thanks to the Broc Love Red, Diplomatico rum, ginger syrup, orange juice, and lime.
Little Green Courgette from Husk
After you're done honky tonkin' on Broadway, head over to Husk and try the Little Green Courgette. The combination of cynar, zucchini juice, cinnamon, celery bitters, and honey basil soda gives this drink a bitter taste but doesn't leave you feeling bitter. In fact, it will probably make you feel better.
And if you break out singing Prince's "Little Red Corvette" after having a few sips (or a few glasses), nobody will judge you. Now, if you stand on the bar and sing it, that's another story...
The Warden from Ole Red
Have you been to Blake Shelton's restaurant, Ole Red yet? If not, you now have a very good reason to go. If you're into fruity drinks, you've got to try The Warden. It's made with Chattanooga Whiskey 1816 Reserve, peach Schnapps, peach purée, unsweet tea, and fresh lemon juice.
You could say it's "peachy keen!" So keen, that you should pair it with one of the tasty food options like the BBQ verlasso salmon or the double-decker grilled ham 'n' cheese.
Sea Above, Sky Below from Big Bar at Bastion
When it comes to lunch or dinner, the Big Bar at Bastion isn't the place to go; the bar only serves nachos. However, the drink offerings are plentiful, and among them is Sea Above, Sky Below. Made with rye, spice, cucumber, grapefruit and lime, this fruity, yet tangy concoction is sure to please.
And when you do want an actual meal, Bastion is open for dinner Wednesday through Saturday. But keep in mind that it is only a 24-seat restaurant, so reservations are definitely recommended.
The Devil's Temptation from Black Rabbit
The motto at Black Rabbit is "small plates, strong drinks." Among the small plate options are finger foods, select proteins, and sweets. There are healthy options and unique choices like charred octopus and potato tacos.
After enjoying your small plate, rinse everything down with a strong drink like The Devil's Temptation. It sounds tempting, indeed! The lemon verbena and lemon give it a sour flavor, while the gin and grenadine offer a rich taste that marries well with the tang.
Still Pissed at Yoko from Union Common
At the corner of Broadway & Division downtown is Union Common. The restaurant serves brunch, lunch, and dinner, offering seafood, steak, sandwiches, and salads. All of these are spectacular options but let's talk about the spectacular drinks on the menu too.
Enjoy the taste of Banhez mezcal, lime, Ancho Reyes Verde, and spicy honey-jalapeno syrup with the Still Pissed at Yoko. Not sure what she did to make people so mad, but apparently it was enough to name a drink after her. Hopefully, you won't leave the restaurant pissed off at anybody.
Ship Out the Harbor from Moto
Pizza, pasta, and seafood are what's on the menu at Moto. The Italian eatery is open for dinner every night, with extended hours at the bar Tuesday through Saturday.
One of Moto's signature cocktails available at the bar is Ship Out the Harbor. It mixes up Brugal Extra Dry rum, Amaro Nonino, pineapple, vanilla, sparkling water, and mint. Sounds like the ideal drink to accompany the food selection that's available.
Cerveza Paloma from Nada
Next Taco Tuesday, you should definitely hit up Nada. Open daily, the Mexican restaurant serves brunch, lunch, and dinner. There are also a variety of drink options, including the Cerveza Paloma. This craft cocktail pleases taste buds with the flavors of El Jimador reposado, ruby red grapefruit, agave, fresh lime, and Stiegel Radler.
Whether you go with the tacos, fajitas or enchiladas for your meal, you know which drink to order without hesitation.
Dark and Stormy from M.
Located inside Cummins Station, M. Restaurant & Bar serves southern food favorites and a handful of specialty drinks. The Dark and Stormy is among those drinks, made with Bermuda, Goslings dark rum and ginger beer.
This is the perfect cocktail to enjoy on those dark and stormy Nashville nights.
Like what you read? Your support via tips lets us know how much you appreciate our content so that we can continue providing it to you! Send a tip by clicking on the button below.