A Guy and a Girl Walk Into a Beatles Bar ...
in Utah...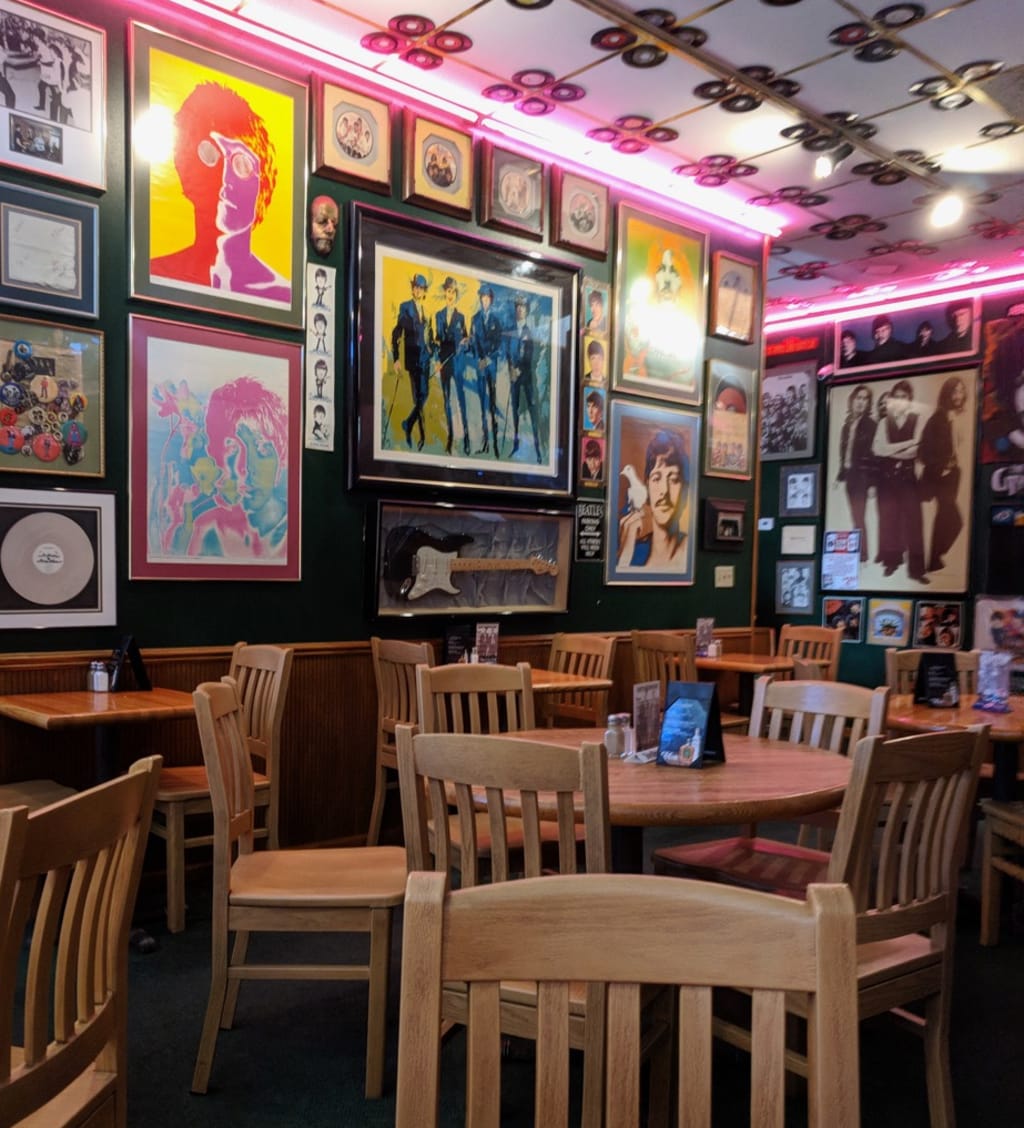 No it's not Cheers, but if you go to The City Club on historic 25th street in Ogden, Utah, someone's bound to know your name.
First, you'll need to climb the narrow stairs of the 100+ year old building that sits between the other brick structures on the north side of the street. At the top you'll be met by a life-size black and white photo of John, Paul, George, and Ringo with red neon lights glowing above it. The hundreds of vintage 45 vinyl records wedged into the ceiling are the next things to catch your eye. Then, once you've made the slight right, you're surrounded by a world of Beatles paraphernalia. Ironically, they play every old song from the 60s and 70s EXCEPT Beatles music (apparently the bartenders at one point nearly lost their minds and that was the end of that!).
When I say Beatles collection, I don't mean a few cute pictures and a couple of framed records. It's literally one of the largest collections of Beatles memorabilia in the state...quite possibly the entire U.S.! Hundreds of autographed items, rare merchandise, and works of art line the room from ceiling to floor, creating conversation pieces while you dine and drink.
The next surprising element of this delightful hole-in-the-wall are the drink prices. Having been convinced by chains and other local restaurants that paying nine dollars or more for cocktails and beer is normal, City Club has nightly specials averaging around four dollars. Rarely do the hubby and I leave having spent more than $40 for two meals, four drinks, tax and tip! And the food...surprisingly good! I recommend the giant pile of wings (which are not those ridiculous steroid-fed chickens), the huge burgers (try the Yolko-Ono with the fried egg!), the fish tacos (still can't figure out what they put in that sauce), and the extra fresh and crispy veggie tray. What's even more amazing is that the kitchen is wide open and about the size of a large walk-in closet. How they do so much with so little is still a mystery after all these years. It's like a good magic show, you don't really want to know how they do it; you just want to enjoy it!
On nights when we sit at the bar, Nate-the-bartender, will ask "Long Island and a Cosmo?" which could be a sign we go there too often. If we opt for a table, one of the many waitresses who have served us dozens of times over the years will ask the same thing. Our friends get a kick out of it.
We moved to Utah in early 2006 and despite having walked past its entrance dozens of times without knowing it was there, I finally found the City Club after a Christmas party in 2009 when a group of coworkers invited me to the after party. I immediately felt at home in it's cozy neon glow and have since taken countless friends and family who now love and darken its doorways as often as we do. What makes you love it even more are the panoramic views of the mountains from both the front and back entrances of the building. Despite having lived here over 15 years, we still stop and marvel at them at least once a day.
Ogden isn't so small that you find yourself without options for entertainment and dining, but not so big that you'll never run into friends or family on most outings. Having lived in large cities in Florida most my life, I appreciate the feel of a small town and its small local bars. And Mormons? Yes, we have those too. Ogden is part of a moderate Mormon culture that sometimes annoys you with their no-alcohol-without-food laws. Yet many times your Mormon friends will join you after work on Fridays and laugh along while sipping their ginger ale and noshing on the wings and fish tacos that you've insisted they try.
I encourage you to join me some time and take the "Long and Winding Road" "With a Little Help From Your Friends" to the City Club where you "Can't Buy Me Love", but you're welcome to buy me those amazing wings and affordable Cosmos! (Sorry...I couldn't help myself!)
About the Creator
Teacher, mom, believer in peaceful politics! Please feel free to send [constructive] criticisms on any of my works. My genres are: dark fiction, spiritual fiction, & articles on everything from improving politics to gardening & food.
Reader insights
Be the first to share your insights about this piece.
Add your insights