10 Halloween-Inspired Drinks
Get in the Halloween spirit with some Halloween-inspired drinks!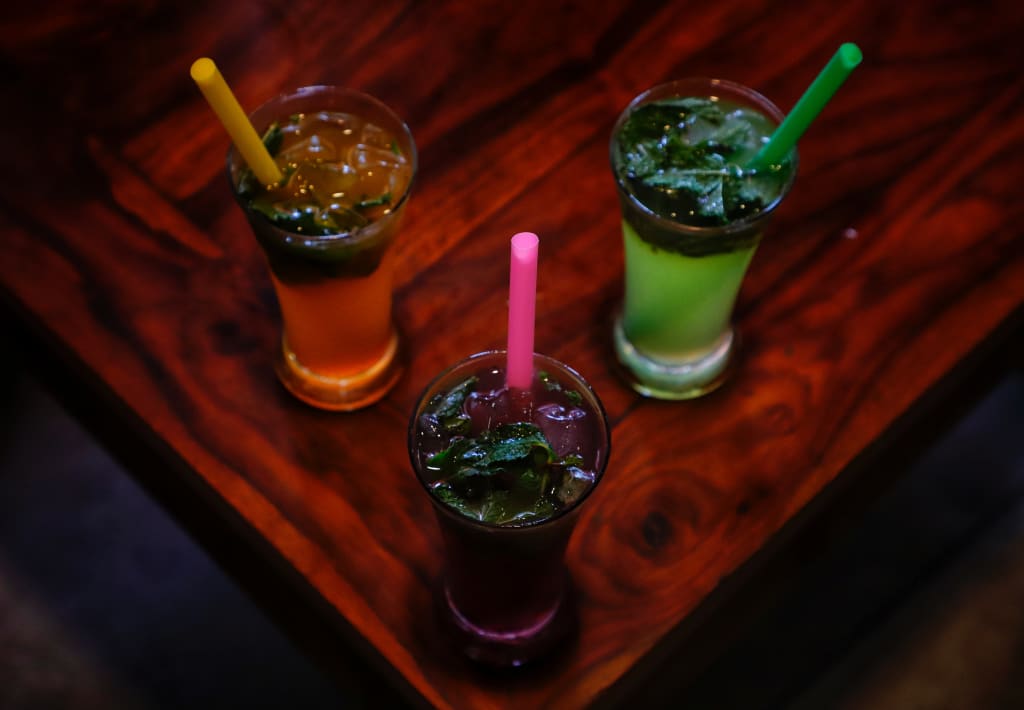 Everyone knows that your favorite cocktails are like candy for adults. If you are looking to impress your friends by throwing an over-the-top Halloween party, or prefer watching some scary movies on the couch, nothing will get you feeling like a child making their Halloween costume again like brewing some Halloween-inspired drinks.
So what's the trick and how do you start, right? Half of the overall impression of a cocktail is based on the look. Don't be afraid to get creative with your drink presentation. Sometimes a creepy cocktail glass will make all the difference if you are looking to impress.
1. Pumpkin Spice Punch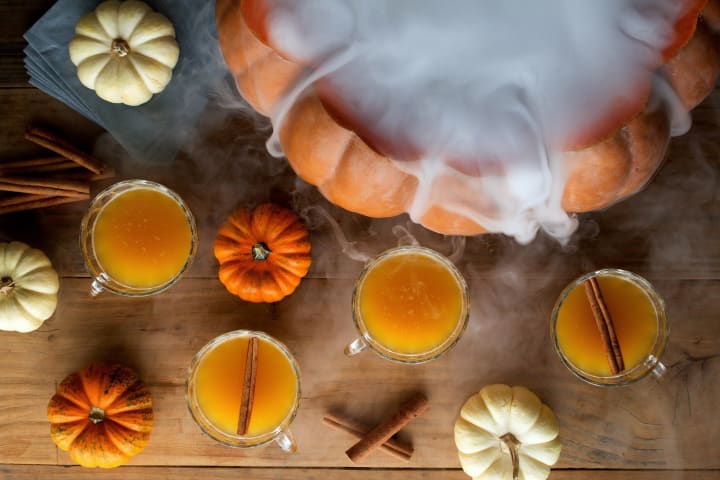 This is one of my favorite Halloween drinks every year!
What you will need:
2 honeycrisp apples
2 pears
1 orange
1 tablespoon lemon juice
1/4 cup honey
1/4 cup brown sugar
1 cup bourbon
3 cups apple cider
1/2 teaspoon pumpkin pie spice
2 bottles Pinot Grigio, chilled
1 pumpkin, for serving (optional)
Directions:
Slice apples, pears and oranges, and place in a large bowl.
Mix in lemon juice to prevent browning.
Add honey, brown sugar, bourbon, apple cider, and pumpkin pie spice, and stir.
Cover and refrigerate for two to four hours, or overnight.
Top with chilled Pinot Grigio and serve.
2. Witches Brew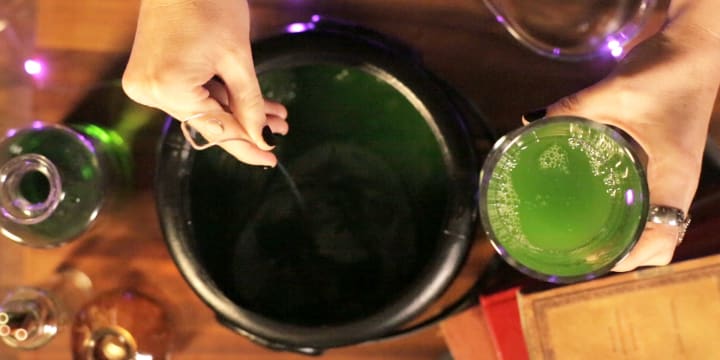 When I was a kid, I dressed as a witch for Halloween for about five years in a row. This Halloween-inspired cocktail brings all the Halloween memories back.
This simple Halloween cocktail, containing only a few ingredients, is perfect if you are having a Halloween house party or a few friends over.
This soda/juice mixture can be set aside in a witch's cauldron with the rum on the side so guests can add to their preference.
What you'll need:
2 ounces mixed pineapple and cranberry juice
2 ounces Sprite or 7UP
1 1/4 ounce shot Malibu Coconut Rum
Directions
Mix juice and soda in a glass
Add Rum
3. Blood Moon Sangria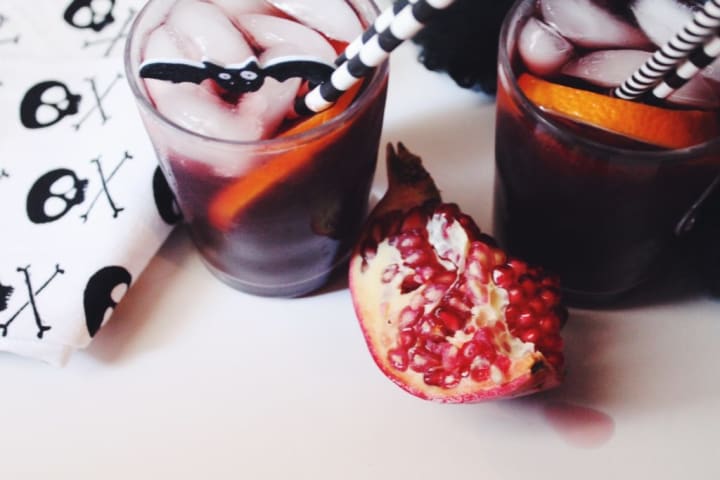 If you are a sweet Sangria lover like I am, this is to die for.
What You'll Need:
1 bottle of wine (I recommend Cabernet or a sweet red wine to have with dessert)
2 cups pomegranate juice
1/4 cup Cointreau or any orange liquor (or orange juice to make it milder)
2 cups sparkling water
2 cups ice if desired, you can alway freeze wine cubes ahead of time
For decorative purposes (optional):
1 to 2 cups pomegranate arils
1 to 2 oranges sliced
What kind of Halloween candy will you serve on the side? I am thinking some delicious dark chocolate will perfectly compliment the red wine.
Directions:
Pour the wine in a pitcher, add the pomegranate juice and wine, stir well.
Put the mixture in the fridge overnight.
Remove the mixture from the fridge, and add the sparkling water. Stir well. Add ice.
4. Blood Punch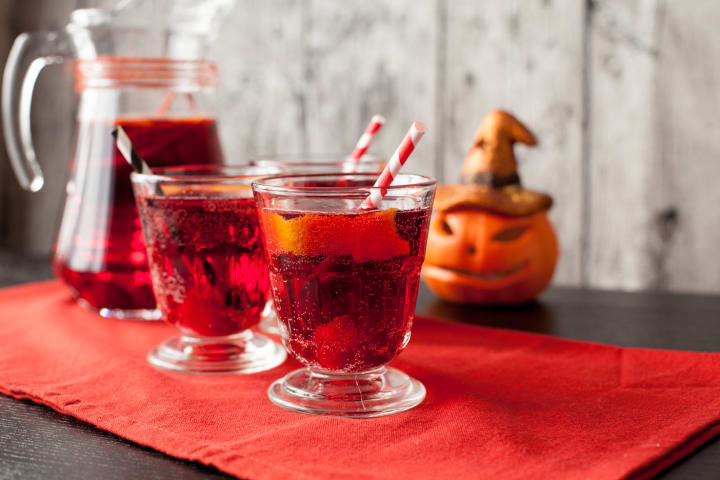 This is an easy one for those looking for the extra punch.
What you'll need:
10 ounces vodka
5 ounces triple sec
2 cups black cherry soda
2 ounces bitters
1 cup blood orange juice
Grenadine
Another fun idea for these Halloween drinks is to have a few friends over and take a stab at making them together (See what I did there?).
Directions:
Mix vodka, triple sec, bitters, blood orange juice, and black cherry soda.
Rim each glass with grenadine before adding punch mixture, then serve.
5. Witch's Apple Cocktail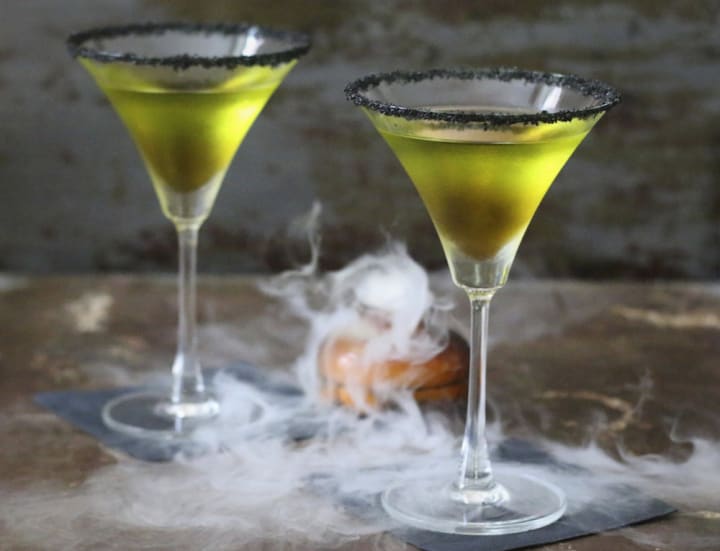 This is a sweet cocktail. If you were a candy corn type of kid, you'll probably enjoy this.
What you'll need:
1 ounce vanilla vodka
1/2 ounce orange liquor
1 ounce sour apple liquor or schnapps
1/2 ounce fresh lemon juice
1 to 2 ounces champagne
Ice
Green sugar for rim
Light corn syrup (optional)
Directions:
Dip champagne glass in green sugar to coat rim.
Fill shaker 2/3 with ice, then add vanilla vodka, orange liquor, sour apple liquor, and lemon juice.
SHAKE!
Pour into champagne glass.
Top with champagne.
If you are really getting into it, you can serve with dry ice. Make sure not to touch the dry ice on skin, and wait until it completely dissolves before drinking.
6. Blood Orange Blackberry Rum Punch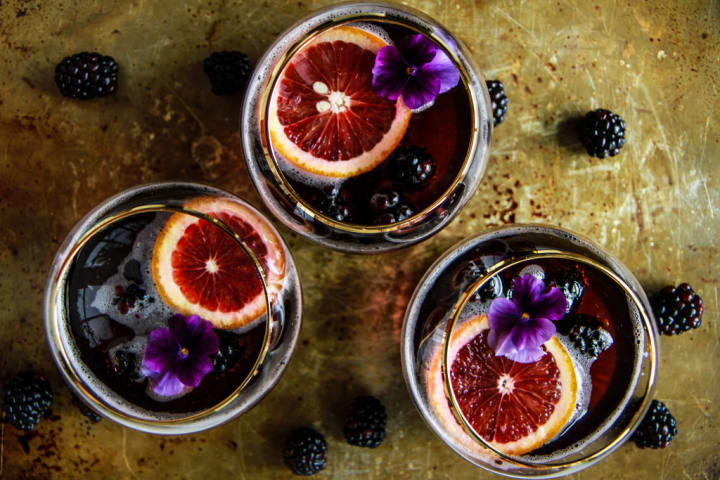 What you'll need:
1 cup blood orange juice
4 (12 ounce) chilled natural blackberry sodas
1 cup rum
¼ cup fresh lime juice
1 cup fresh blackberries
1 blood orange thinly sliced
Directions:
Fill pitcher with ice, then add all ingredients.
Garnish with blackberries and orange slices.
This is a classier punch than you would typically picture at a Halloween party, but I think that's a good thing. For a finishing touch, serve in a Halloween-themed bowl or drink dispenser.
7. Frankenstein's Cocktail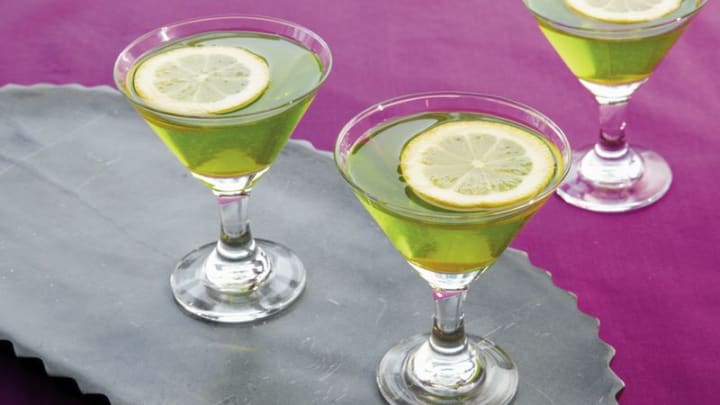 What you'll need:
1 ounce vodka
1/2 ounce blue curaçao
1/2 ounce melon liquor
1/2 ounce raspberry liquor,
2 ounces sweet and sour mix
1 1/2 ounces cranberry juice
Ice
Directions:
Fill glass with ice.
Add vodka, curaçao, melon liquor, raspberry liquor, and sweet and sour mix.
Add cranberry juice on top for a split green and red cocktail.
This one is a delicious choice to sip on as you give out candy to all those kids trick or treating.
8. Butter Beer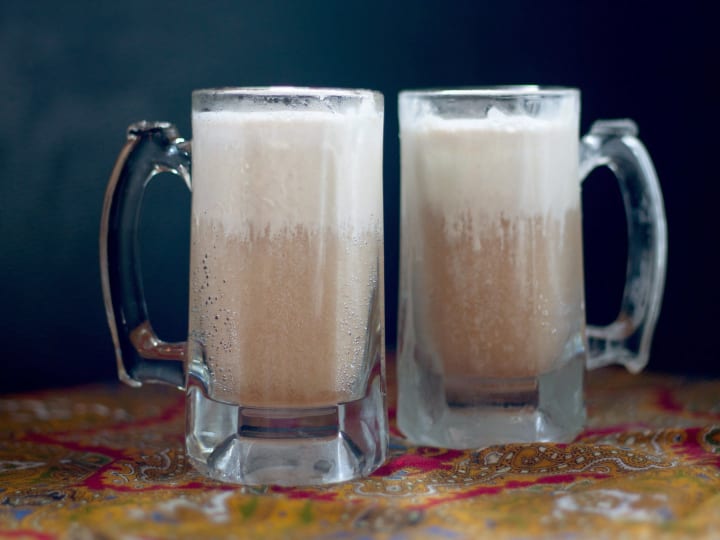 Drink before the Quidditch match?
You can't have Halloween without Harry Potter, so let's give this butter beer recipe a try!
What you'll need:
12 ounces ginger beer (1 bottle)
36 ounces cream soda (three bottles)
3 tablespoons butterscotch ice cream topping
Directions:
Mix 1 to 2 ounces of cold cream soda with butterscotch topping.
Pour the rest of the cold soda into a pitcher.
Quickly add butterscotch mix and stir.
Pour over ice.
Note: This recipe should be consumed immediately before drinking games.
9. Hocus Pocus Halloween-Inspired Cocktail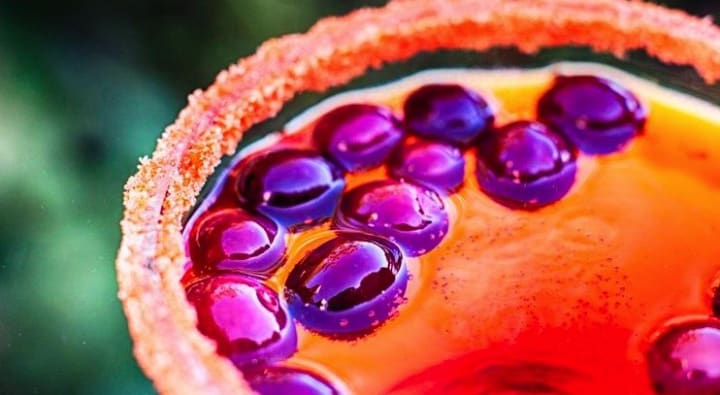 Think this recipe will stir up some spirits?
"Twist the bones and bend the back Itch-it-a-cop-it-a-Mel-a-ka-mys-ti-ca

Give him fur black as black, just like this."
This one is a bit more complicated than some of the other Halloween cocktails on the list, but so worth it.
What you'll need:
1 1/2 cups pineapple juice
1/2 cup rum
1/4 teaspoon Imitation Coconut Extract
1 bottle sparkling white grape juice (or sparkling white wine)
Red Food Coloring
Yellow Food Coloring
Cranberries (optional)
Sugar
And a dead man's toe (kidding)
Directions:
Mix pineapple juice, coconut extract, rum, and a few drops of food coloring in a pitcher.
Into drink glasses, pour 2 ounces pineapple juice per glass.
Add 4 ounces sparkling grape juice on top.
Add mixture.
Add cranberries to glass as optional garnish.
10. Witch's Potion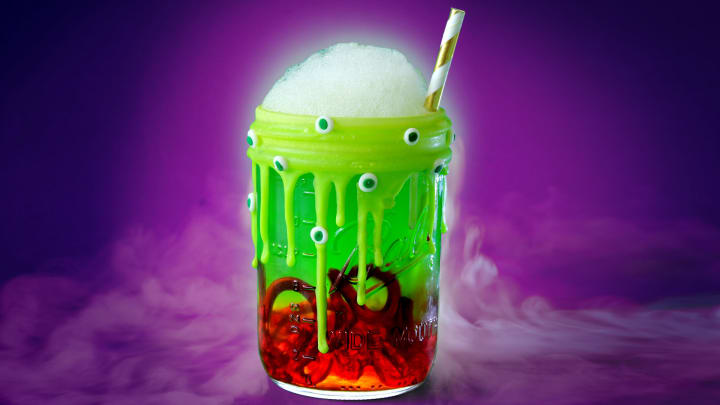 What you'll need:
1 ounce light rum
2 ounces coconut rum
1 ounce Blue Curacao
1 handful ice
Pineapple juice
Pineapple wedge (for garnish)
Directions:
Fill shaker with ice.
Add two kinds of rum.
Shake and pour into cocktail glass.
Top off the glass with pineapple juice.
For me, the most difficult part is choosing which drink I'll make first! But I love experimenting with a new themed drink every Halloween.
The Blood Orange Blackberry Rum Punch sounds like my kind of drink; however, the movie-inspired Halloween drinks seem like the kind of mood I am going for!
Which of these Halloween-inspired drinks will you try first?