Transgender Pioneer Christine Jorgensen (1926 - 1989)
The first person in the US to become widely known for having sex reassignment surgery.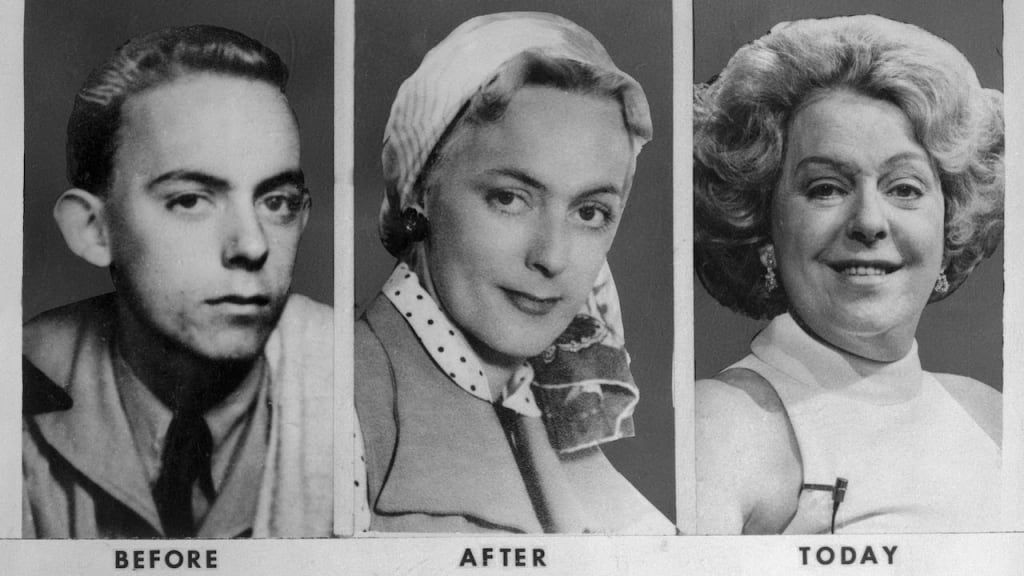 Christine Jorgensen - America's First Trans Celebrity (Youtube)
"I think I'm basically one and the same person I was in the earlier part of my life--perhaps calmer, more accepting and certainly happier." ~ Christine Jorgensen
Christine Jorgensen left the United States for Europe after WWI, known to her friends and family as a shy, effeminate, twenty-four-year-old man. She returned two years later as a confident, headstrong, twenty-six-year-old woman.
Jorgensen was born May 30, 1926, in Bronx, New York, to George W. Jorgensen Sr. and Florence Hansen. She grew up in the borough's Throgs Neck neighborhood at a time when boys played with trains and girls played with dolls. She didn't understand why she felt different—but she did.
Her teenage years only brought more confusion. Jorgensen tried to identify as male but found it an impossible challenge. The gender norms of the time left her without someone to turn to help her understand what she was feeling. Jorgensen was left to fend for herself, lost between the sexes.
After graduating from Christopher Columbus High School, she became a photographer, choosing to bury herself in her work. In August 1945, months after WWII, she was drafted into the Army as a clerk-typist at Fort Dix in New Jersey, having been previously turned down many times because of being underweight.
Jorgensen received an honorable discharge after fourteen months of service. The time spent in the military cemented the realization she was not a boy. It also helped her understand others were dealing with similar philosophical questions.
After her military release, Christine moved to California and tried to get a job at Paramount Studios for a year. Unsuccessful, she moved back east to the Manhattan Medical and Dental Assistant School to become an x-ray and lab technician. Her goal was to understand better what was making her feel the way she was.
Jorgensen researched the subject of sex change operations with Dr. Joseph Angelo, the husband of a classmate. She began taking the female hormone ethinyloestradiol. While in school, she learned about groundbreaking research in Sweden. It was the only place in the world doctors were performing gender reassignment surgery.
On May 1, 1950, Jorgensen sailed for Europe to participate in a series of procedures and hormone treatments. First, she planned a stopover in Copenhagen, Denmark, to visit relatives. Her family, including her parents, were unaware of her pending decision.
In Denmark, she met Danish endocrinologist Dr. Christian Hamburger, who specialized in rehabilitative hormone therapy. He was the first medical professional she'd met to diagnose her as trans instead of gay. The two began three-year research on the biochemistry, hormonal, and endocrine aspects of her transition.
After receiving permission from the Danish Minister of Justice, Jorgensen's first surgery was conducted on September 24, 1951. The second was performed in November 1952. During her time in Denmark, she named herself Christine. It was to honor her doctor, a man she respected.
On December 1, 1952, two months before her return to the United States, the New York Daily News ran a full-page, front-page article titled, "Ex-GI Becomes Blonde Bombshell: Operations Transform Bronx Youth." They created a media sensation.
Jorgensen landed at John F. Kennedy Airport (then Idlewild Airport) on February 12, 1953. Hundreds of reporters, autograph hounds, and the curious greeted her. By the end of the year, newspapers had printed over a million words about her. This was more than they published about the recently inaugurated president Eisenhower and the newly crowned queen of England.
Understanding she had become an international star, Jorgensen realized her lack of privacy would make a return to her career as a photographer impossible. Instead, she chose to take advantage of her moment in the spotlight and take ownership of her celebrity.
Jorgensen began a career as a singer, dancer, and storyteller who excited audiences and charmed the paparazzi. Soon after, Hollywood welcomed her, and theater and film contracts rolled in. She used her new platform to speak about transgender rights and issues.
She also endured a good amount of public hostility after her return. Jorgensen received unwelcome offers from the print media. They wanted her to pose nude in their publications and published intimate details of her life with titles like "Impostor" and "Female Impersonator." Few understood why she had made the choice she had.
Despite the challenges, she had to weigh her want for a private life against her need to make a living with paid public appearances. Jorgensen remained in the public eye.
Her celebrity waned in the 1960s, so she turned to talk shows and college tours to discuss gender identity and other transgender issues. Jorgensen provided a platform for people throughout the gender spectrum to ask her questions without concern for fear or embarrassment. Nothing gender-related was taboo.
She released "Christine Jorgensen, a Personal Autobiography" in 1967. They made the book into a film titled "The Christine Jorgensen Story." It was released in 1970.
In the fall of 1970, Jorgensen got into a public feud with Vice President Spiro Agnew after he accused GOP Senator Charles Goodell of flip-flopping and being the "Christine Jorgensen of the Republican Party." She publicly requested an apology, noting you didn't make demands of the Vice President of the United States — but never received one.
Throughout the 1960s and 1970s, she made a comfortable living touring the country, singing, and performing. Her charisma and wit made her a hit on college campuses and on talk shows. Both were a highlight to Jorgensen, allowing her to connect with her audience in a way she couldn't in other mediums.
By the early 1980s, Jorgensen had semi-retired from public life and made her home in San Clemente, California. A heavy smoker with a two-pack-a-day habit since her teens, she was diagnosed with cancer in 1987. Jorgensen died of bladder and lung cancer on May 3, 1989, at the age of 62.
Christine Jorgensen was a pioneer, helping others find the courage to accept who they were. She helped pave the way for the transgender people who followed. Unapologetic about who she was, Jorgensen opened the door to a better understanding of sexuality and gender fluidity.
She didn't start the sexual revolution but, as she said, gave it "a good swift kick in the pants."
Sources
"5 Powerful LGBTQ Quotes That Made History." IN Magazine. Last modified January 26, 2021. https://inmagazine.ca/2021/02/5-powerful-lgbtq-quotes-that-made-history/.
Bedwell, Michael. "Remembering Transgender Pioneer Christine Jorgensen." LGBTQ Nation. Last modified October 8, 2019. https://www.lgbtqnation.com/2019/10/remembering-transgender-pioneer-christine-jorgensen/.
"Christian Hamburger – World Queerstory." World Queerstory. Accessed May 28, 2021. https://worldqueerstory.org/tag/christian-hamburger/.
"Christine Jorgensen - Woman of the Year." YouTube. October 15, 2009. https://www.youtube.com/watch?v=T6PwpfdAXMM.
Molina, Jasely. "Pride History Month: Christine Jorgensen." Bronxnet. Last modified June 18, 2019. https://bronxnet.org/your-bronx/articles/pride-history-month-christine-jorgensen/.
About the Creator
Historian for The Streets of St. Paul and Minnesota Then. I'm using this platform to share stories about Minnesota history and whatever else (or wherever else) I find interesting at the time.
Reader insights
Be the first to share your insights about this piece.
Add your insights