UWell Vapers Must Give Pro-FOCS Testing Technology A Try
UWell Caliburn A2 Replacement Pods Reviews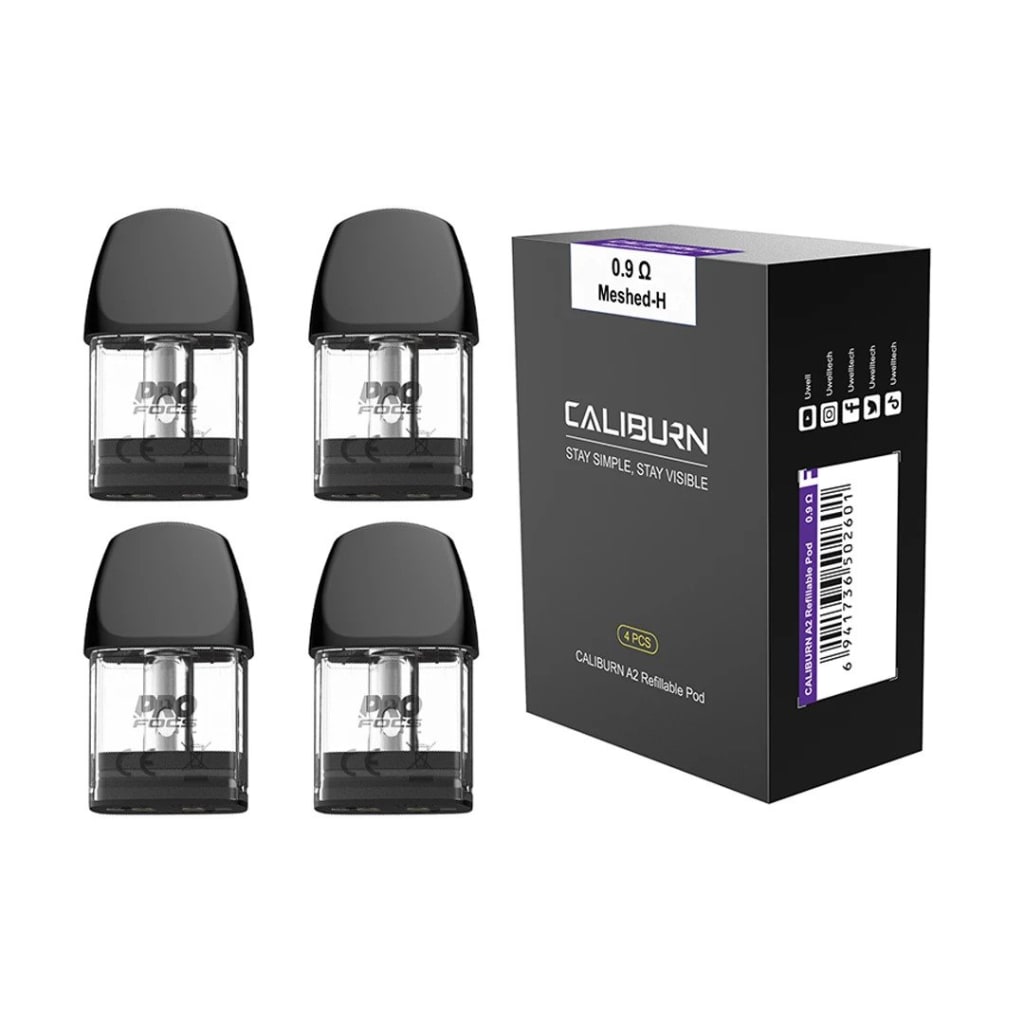 Vapers are aware of how pivotal is the role of coils for flawless vaping. While there are multiple ranges of resistance coils in the vaping market, the press, and fit pods are taking up the beat exponentially. Having said that, one among the available choices is the UWell Caliburn A2 Replacement Pods that is built upon the latest technology featuring the Pro-FOCS Coil Testing Technology. For all those who are relishing the upgraded version of vaping through the UWell Caliburn A2 Pods Sub-Ohm Pod System, this coil is the perfect match to keep your epic vaping progressing. Keep scrolling to unravel more about replacement coils
UWell Caliburn A2 Replacement Pods Features
Fit for UWell Caliburn A2 Sub-Ohm Pod System
Each pack 4 two coils
0.9 Ω UN2 mesh coils
1.5 Ω Regular Coils
100% Authentic
Available for both- MTL and DTL Vaping
No fear of e-liquid leakage
Self-cleaning technology
To-fill system
No hassle of removing the coil head
Scanning the Advantages!
#1. If replaced by these coils, nothing can stop your Valyrian tanks from the smooth airflow.
#2. That's not all, you'll get to experience an excellent cloud size.
#3. Since the resistance mentioned above looks pretty good for a vaping coil, tight draw resistance is guaranteed with this UWell product.
Let's lay some important facts related to coil replacement before you buy one for your vaping tank.
What does the coil do to your vape mod?
Without coils, you won't be able to turn your e-juice into the vapors from its liquid form. The larger the surface area of your vape coil the bigger and better will be your flavorsome nicotine cloud production.
Next time when you talk about vaping essentials, do not underestimate the coils !!
Regular Coil or Mesh Coil, which one is better?
If you are looking for the maximum flavor payoff and a very high vapor production then pick up the mesh coils.
Regular coils are thread-like wires coiled into a spiral. They are round wired coils in a springy pattern.
Mesh coils are metal strips with holes punches at a relatively equal distance. This maximizes their surface area and minimizes the volume giving higher resistance to the coil.
Nicotine is an addictive compound. Do not over-vape. While mesh coils give you the ultimate cloud sizes, using them unwisely can disturb the harmony of your health. We care for your overall wellness!
How frequently is the replacement required?
For a normal to light vaper, they'll survive you through a month's time at the minimum but if you're a heavy vapor then you'll have to do the same within a week. It all depends on how much you vape.
Why is higher resistance required in a Vape Coil?
Since vape coils set the heat in your vape tanks to convert the e-liquid into vapors, they mustn't get burnt with the rapid burden of heat. If the resistance is higher then the ability to bear this burden increases which is good for the process of vapor inhalation.
It will give the vaper an unobstructed flavor delivery where all the throat hits are the same. Just perfect !!
Coils with high resistance last longer saving you on the pocket.
Such Vape coils make require less wattage to function which saves the battery life of your device.
Now, whenever you feel a gurgling sound, a hindered vapor production while inhaling vapor through a vape tank or you lose a bit of savory in your puffs just check your coils. They must either be burnt or must be on the verge of being burnt! If you are giving satisfaction to your vaping needs through the UWell Caliburn A2 Sub-Ohm Pod System then blindly order the UWell Caliburn A2 Replacement Pods from ravenroute.com where you can get genuine products for vaping. Staying away from hoax products is important as it can destroy your inner body's functioning.