Trim Therapy
Harvesting cannabis is more therapeutic than you may think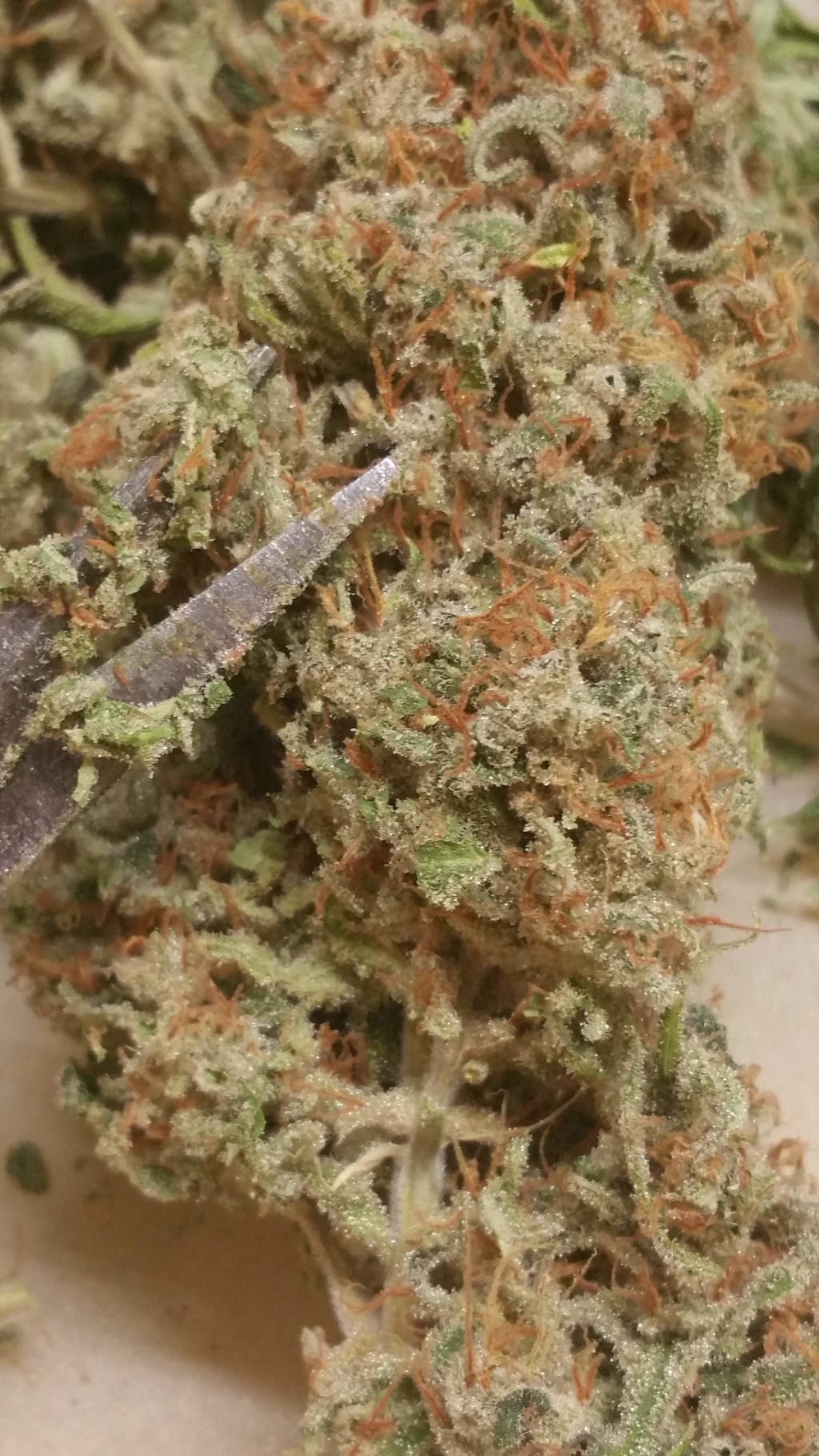 hand trimming helps to preserve the tricomes - picture taken by Author
With over half of the country in favor of the legalization of cannabis medicinally, recreational or both, it is my absolute pleasure to be able to share with you how trimming my own medicine has more healing properties than just smoking it.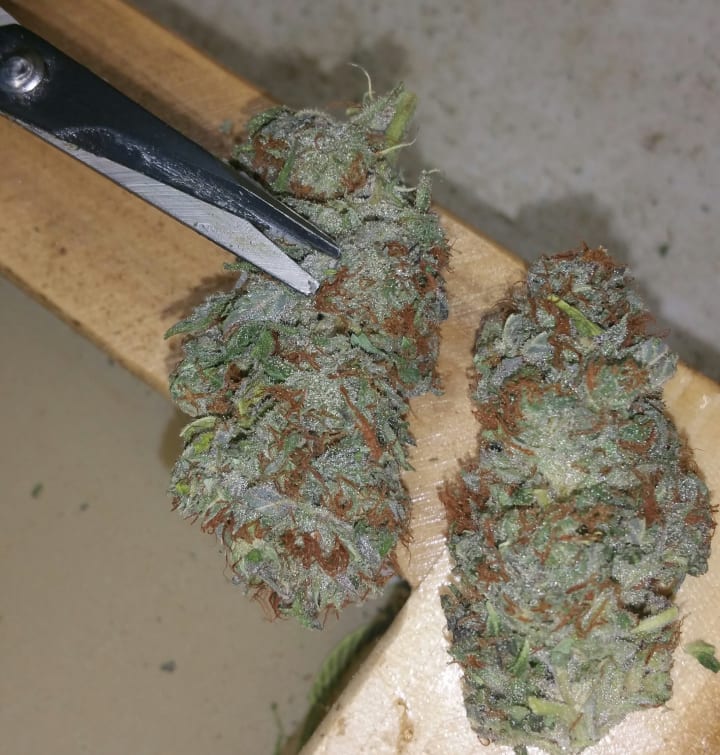 I have been a medicinal cannabis patient for over 15 years. Honestly, I believe I was medicating long before it was referred to as such. It is my go to for pain, discomfort and whatever else ails me. Don't trip though; I have no shame in using cannabis as recreational. I just don't have to worry about the hangover that alcohol gave me back in those days. I truly believe that cannabis is a safer choice.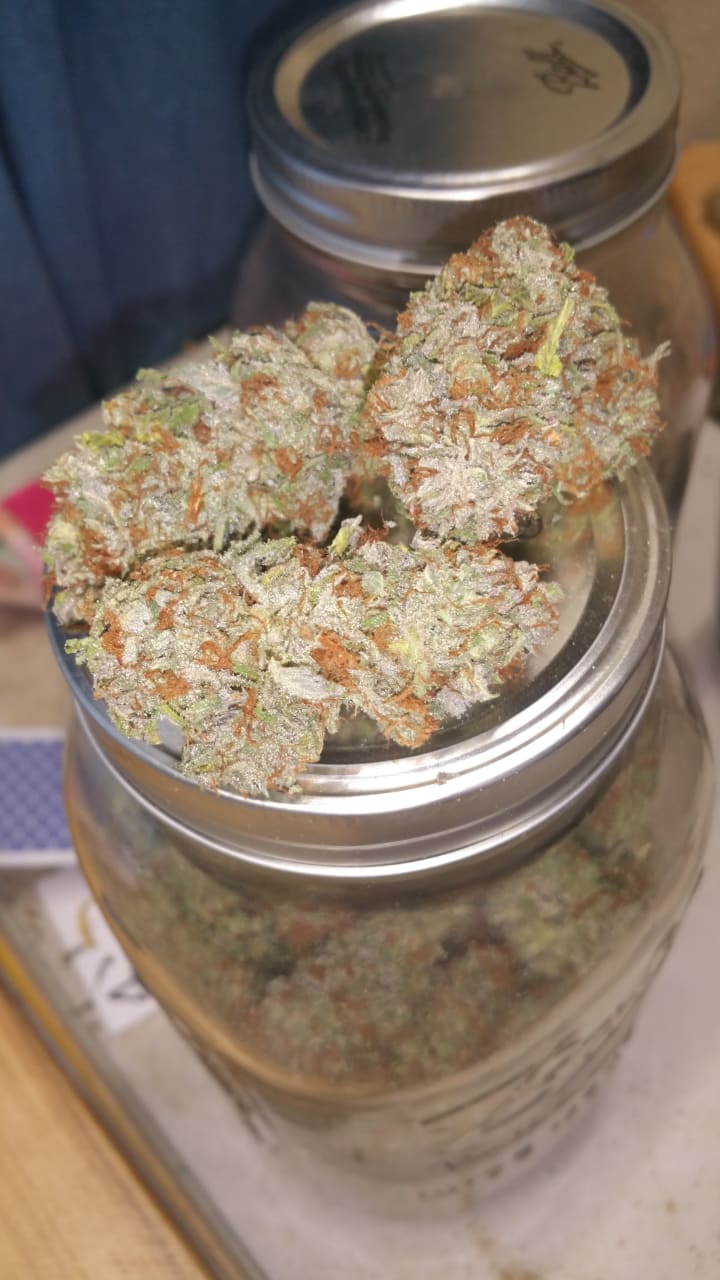 My medicinal use starting around 15 or so years ago when I discovered the first lump on the side of my thigh bone that hurt constantly for no reason and came out of nowhere. This incident was followed by many more discoveries of bone bumps along my collar bone and rib area. After a few accidents that led me to the hospital and to have some scans done, I was diagnosed with cervical spinal stenosis, spinal stenosis and disc degenerative disease. I was told that my body was riddled with bone spurs all up and down my spine and my right side is narrowing way faster than my left. Along with this, came Fibromyalgia, due to narrowing of the spine I have nerves exposed and God only knows what my body will feel and when it will feel it. I was given numerous prescriptions that made me more ill than I already felt and the side effects to these outweighed the issues I was dealing with in the first place. I decide to take my health and healing in to my own hands and that is when I went full on POT.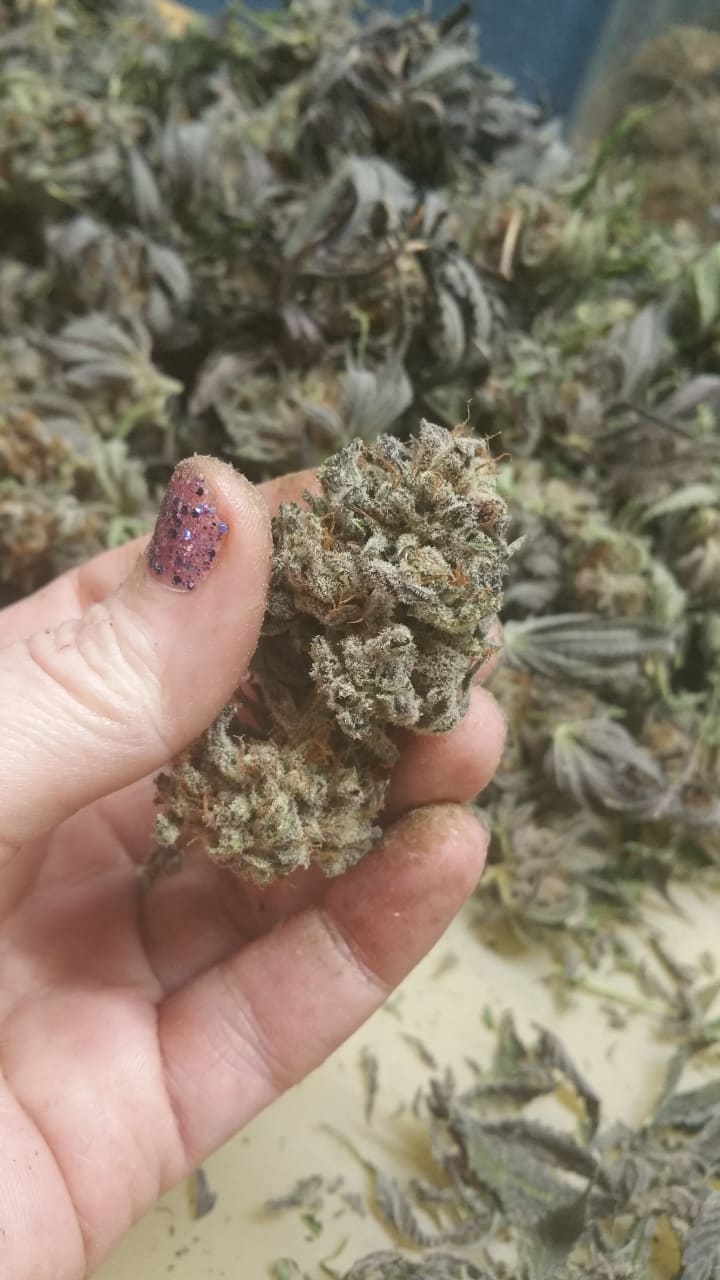 My husband became my provider/grower and away the adventure went. He has always been passionate about growing cannabis, so he was happy as hell to oblige. We took on 30 plants, we both were able to have prescription for 15 apiece, those were the good days, not quite like that here in Washington State now, but that is another story. I probably should medicate just to keep my focus on this story at hand LOL….anyways. He did the mixing and feeding while I helped with cutting clones, harvesting, and processing the cannabis into the many forms that I use to maintain my health.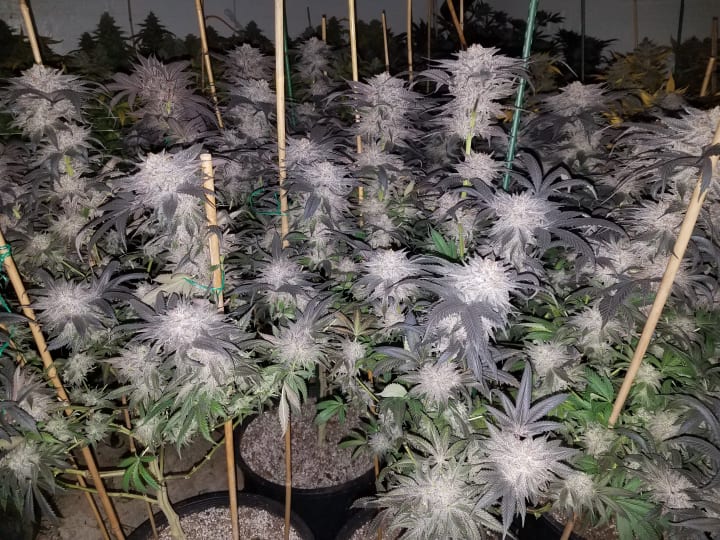 For those that have never watched the process of cannabis growing, I believe you are missing out on something that is really beautiful and unique. Every plant is so different, smells, structure, time of growth, color etc... It is truly a wondrous feeling to walk in to a grow room and see such pretty flowers blooming everywhere. I have said that it is hard to stay mad or upset if you walk in to a greenhouse full of blooming cannabis plants and have actually used my own garden to help friends and family get their minds right when having a bad day. Just being in the room creates a feeling of calm once you get yourself present in the moment.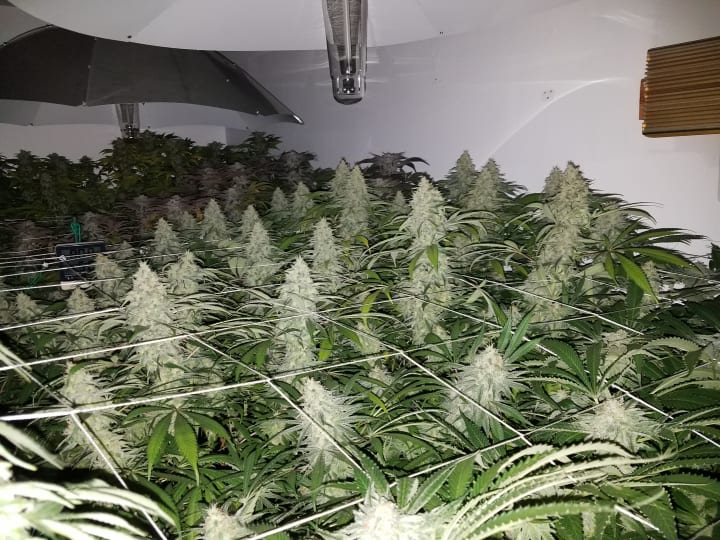 The real hands on therapy came when it was time to harvest and trim; I really enjoyed the plucking of the water leaves right before cutting them down. I would find myself getting into a rhythm and before I knew it 30 plants were done and ready to chop down. I can still hear in my head, plucka plucka pluck pluck pluck pluck… the sounds of the stems of the water leaves snapping off the stalks. It was such a rhythm ran task, only stopping to clean my fingers of any stickiness that built up. Some plants required more hand washing than others, but sticky fingers are part of the job hazards, so to speak. I would try to use my scissors during harvest but they would gum up so fast. I figured I would leave the scissors for trimming and be a little hands on with the plucking.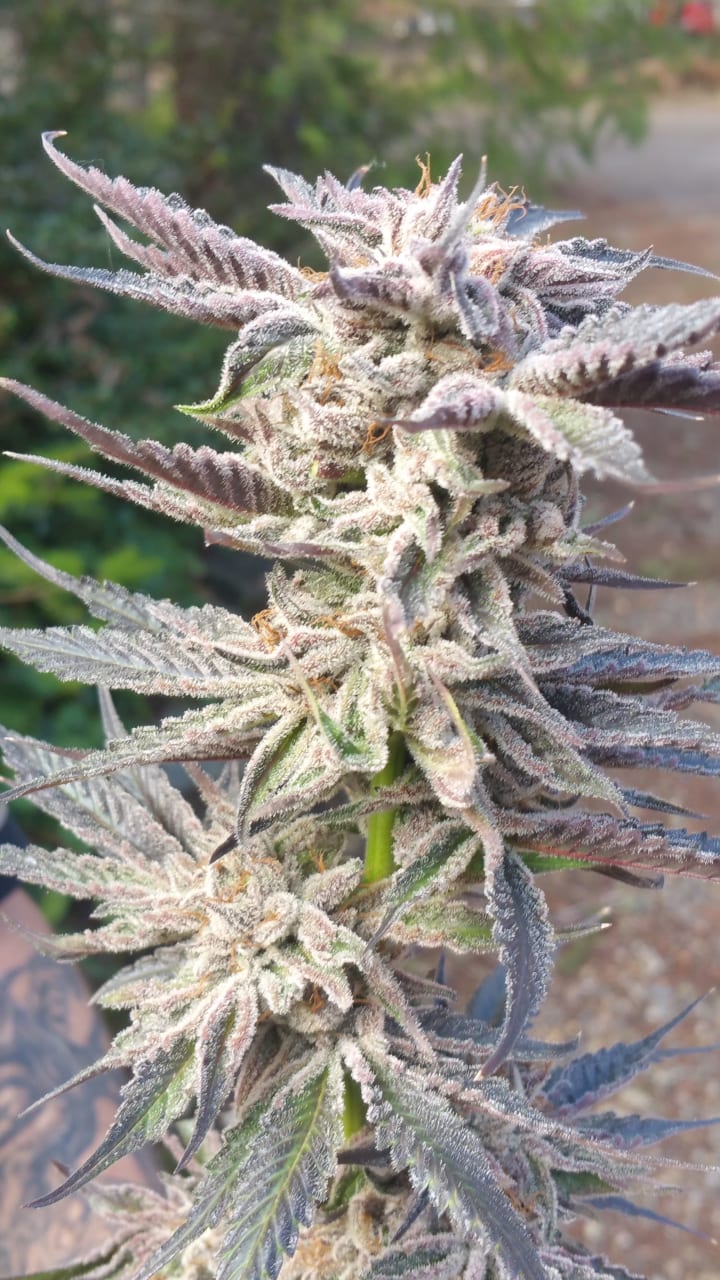 Once the plants were plucked, they got chopped down into sections and hung for drying. This process definitely took some time and it was hard to patiently wait to be able to taste our reward, but if you rush it, you will know the difference. I don't believe in using dehydrators, ovens, microwaves, or any other means to rush the drying process. I have learned that time is of the essence when it comes to getting the best effects and flavors out of your medicine. Generally, they hung for a few weeks, slow drying with circulating air and consistent cool temperature.

Once all dry, let the party begin. It started with calling my friends to see who wanted some trim therapy, generally, there was always someone who wanted to sit a day with me and enjoy hand trimming. I would start with cutting the nugs off the branch onto my silkscreen trim trays and create myself a little pile to begin with. Generally starting with the smallest buds first so I can get a proper feel and see how the bud looks and how to trim it without taking too much away from it. I would switch it up with a bigger bud just to have a gander at the beauty of it and allow myself to take a break from little nug trimming. I would find myself getting lost in the trichomes and I would want to make each and every nug picture perfect. I wanted to keep the structure of the bud and as many trichomes intact as possible. From then on it was a trimfest until the last branch was done. I couldn't let the branches hang too long cause then they get too crispy and fall apart to dust and no one wants their cannabis to turn to powder. We have all had that to dry weed that burnt up in a flash. I want mine to still be sticky and burn to last.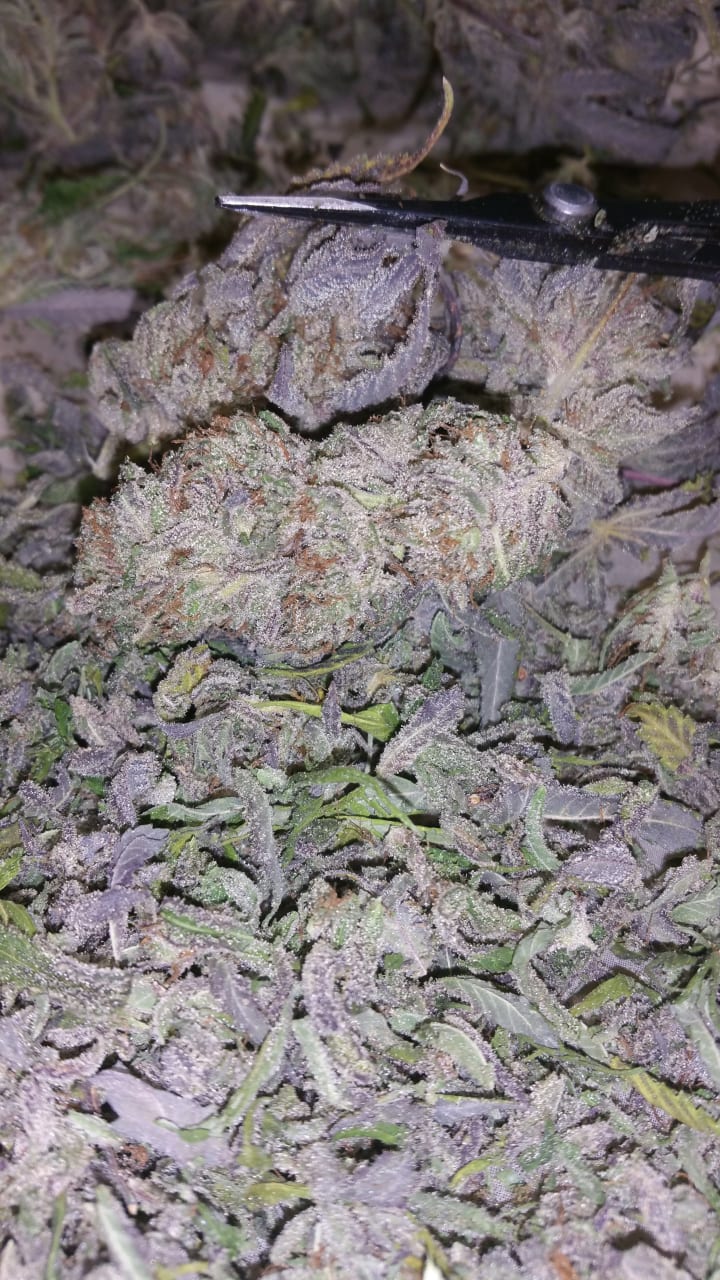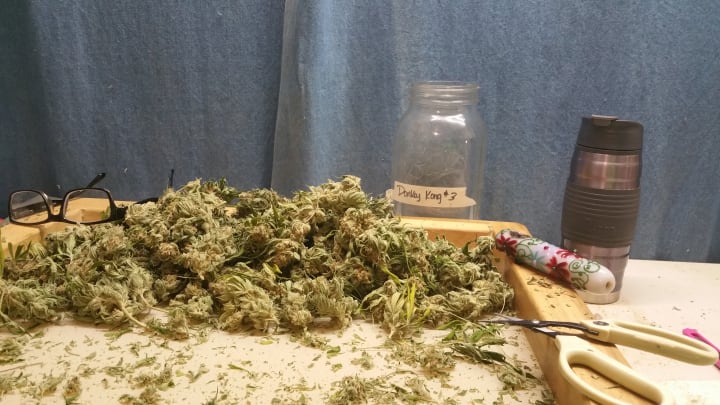 At first, the conversations would be consistent and then I would notice the silence. I would look around to my friends and see how deeply enthralled they were in the trimming process and how they would admire their work when they were finished. We would discuss the beauty of each and every nug. We would admire the trichomes and how they resemble sugar or glitter. We would compare the different smells, the amount of sticky, ease of the trim on that particular strain and spend our time happy, content, and blissfully unaware of the day's crap that we normally dealt with. Trimming transported us away from the hustle and bustle of everyday bullshit and pulled us back into living in the moment. If you weren't aware and present, a quick snip from your scissors will bring you right back in an instant.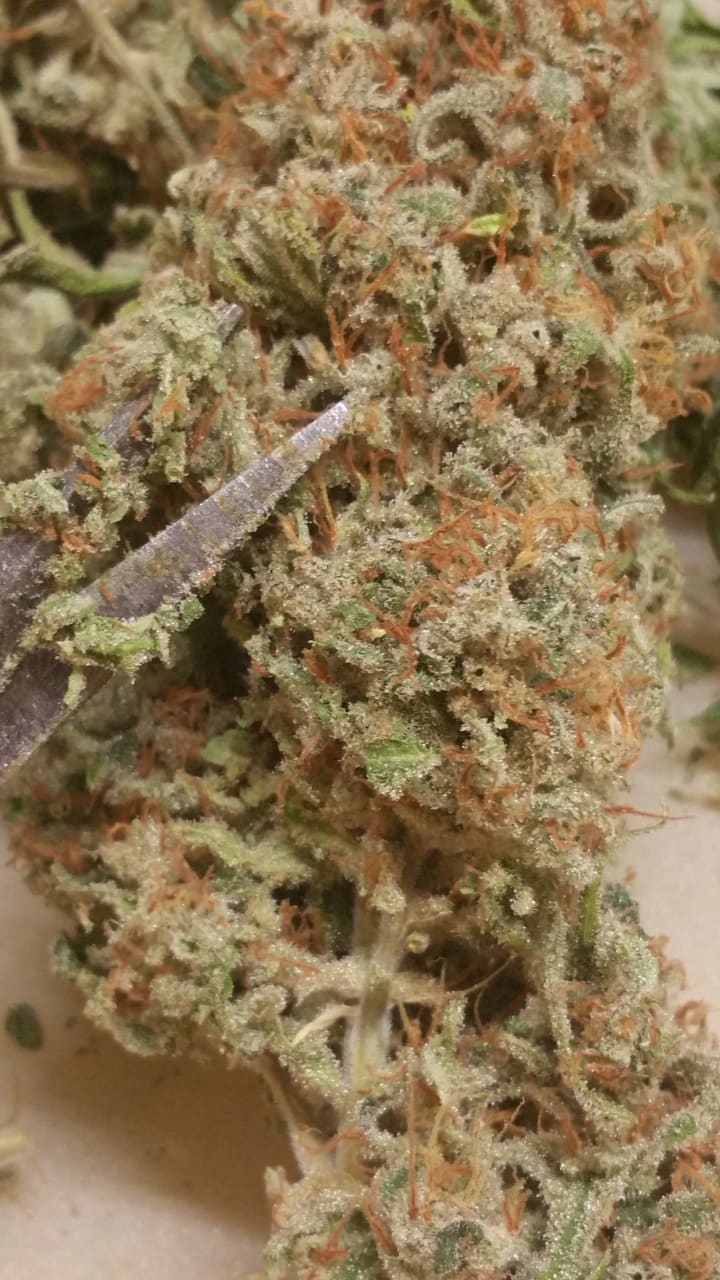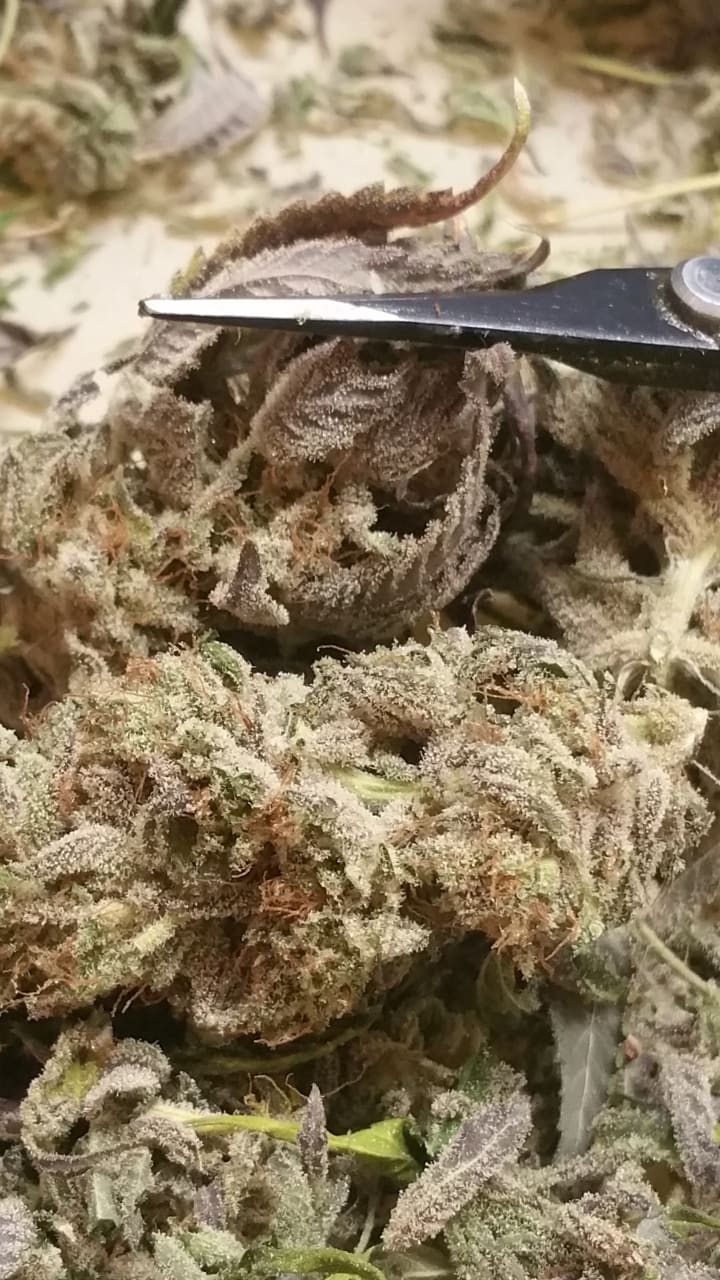 Trimming generally flew by and before I knew it, I had jars of pretty little hand-trimmed nugs that were touched with love, by the ones I love. Once it was all said and done the scissors got cleaned up and put away for the next harvest…therapy session….trim party…a gathering for health and healing…love.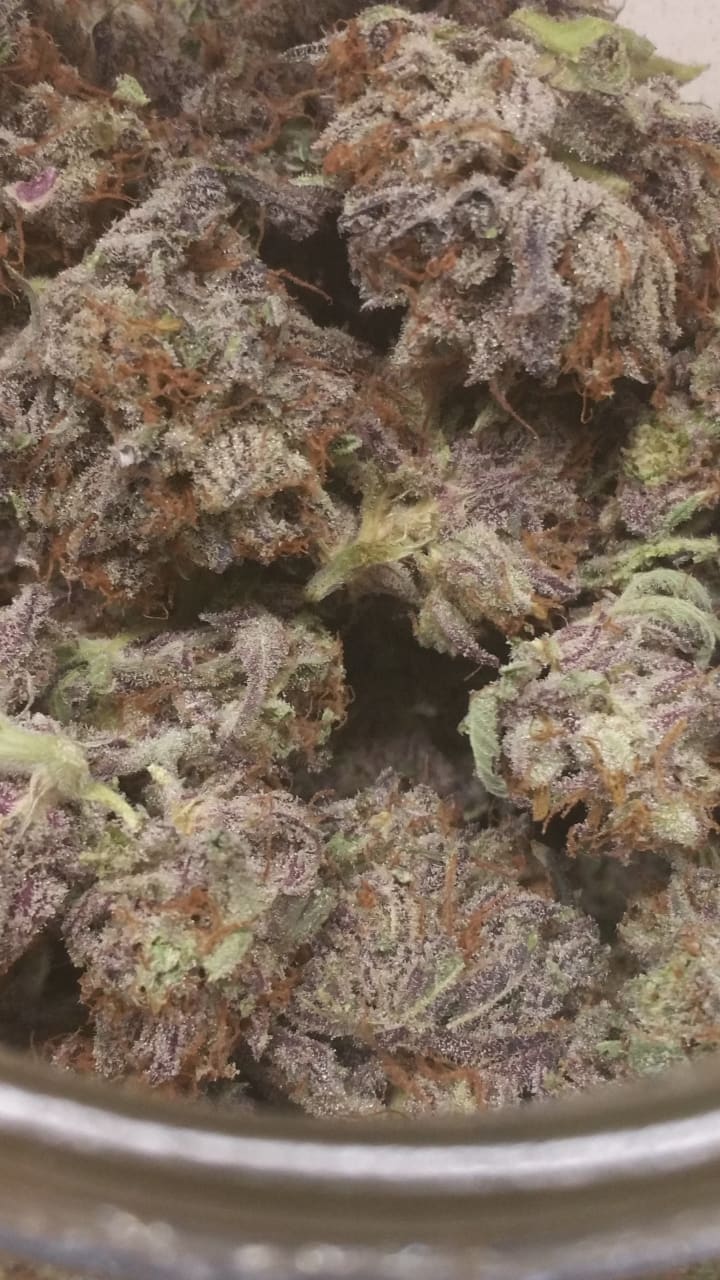 marijuana minute
About the author
Empath,Energy/Light worker, the blunt friend you were warned about, but probably need.
Love From My Family & Friends Keeps Me Grounded,
My Cannabis Use Keeps Me Sane.
I Am Here To Leave My Mark On This Planet
NOT To Leave A Stain.
How 'bout you?
Reader insights
Be the first to share your insights about this piece.
Add your insights