The Woman with the Pierced Ear
The Woman with the Pierced Ear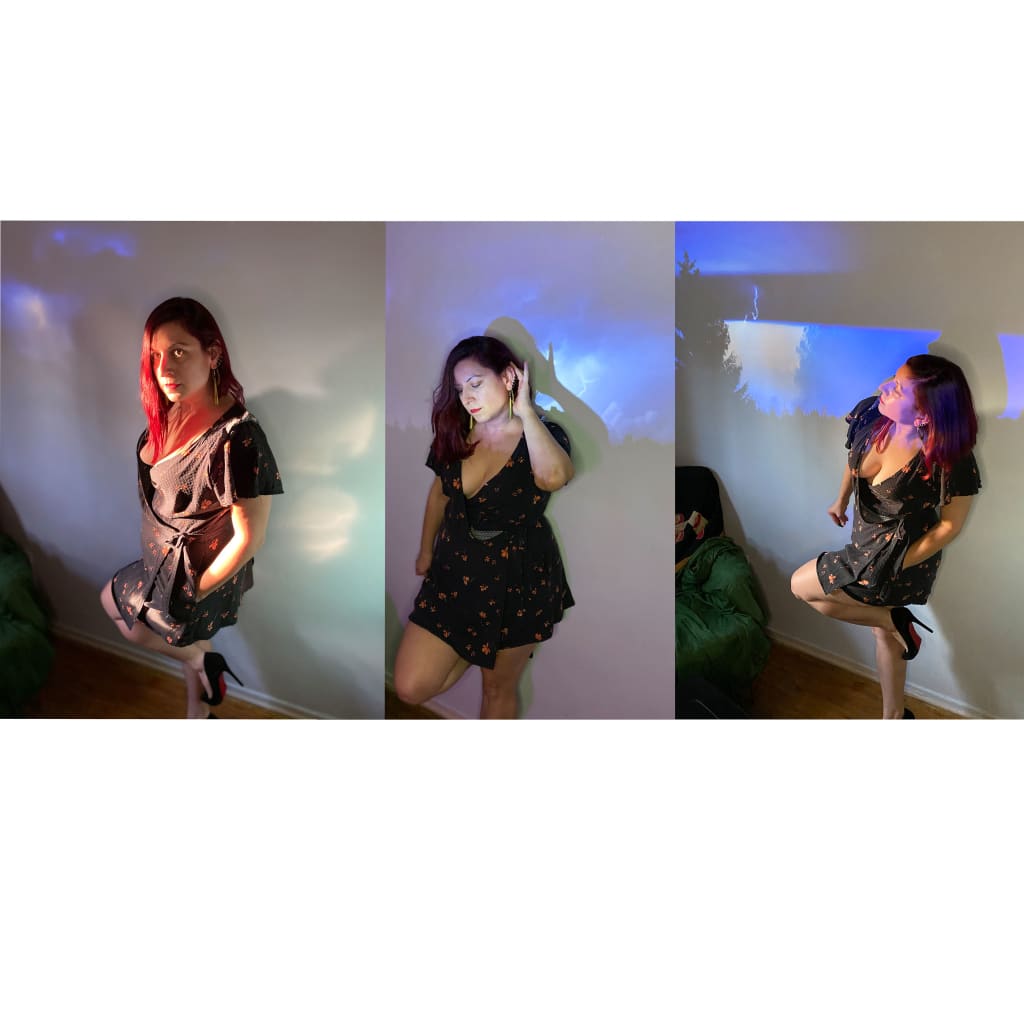 Piercings of Expression for taking my life back as a survivor of Child Abuse.
It was 1994, I had just returned from Mormon camp, hating life, as I was forced to go by my strict, abusive & negligent parents. Kurt Cobain had committed suicide & my Jr High School was just devastated. Kurt was the voice & the hero for my friends & myself . For me, Kurt's lyrics were a way for me to escape in my mind space, the years of verbal & physical abuse that was in my household. He understood me, his words were a blanket of comfort to me. I couldn't physically escape anywhere; I was forced to go to Mormon classes weekly. My mother, after her second divorce, became a single parent with 5 children, trying to work to support a family alone. Because of this, I would be left home alone to watch my 4 younger siblings ALL THE TIME.... I mean, I was only a kid & was forced with abuse, to watch children, when I should have had that time period to be a teenager. This may seem to be a common thread in households with cultish like religious followers, who have more children than they are capable of taking care of, but I digress. Then, it was off to school, also learning viola at that time, all while acting "normal", like I wasn't being broken at home. Amongst all the stress that I had as a child & teenager, Nirvana's music along with loads of Alternative rock at that time, was my safe zone. But the music can only take a person so far in their own mind, when a home life was always in shambles.
That was that breaking point that led up to my eventual running away from home. But this pilgrimage wasn't planned at all. There was a short moment my single mother was busy, so I took the chance to walk to a friend's home nearby, just for a movie. The movie led to dinner with his family & a kind gesture invitation to spend the night. That night turned into three days, then I was told by my friend that I had to go to a mutual friend's home because now, I had officially run away from home & his parents were questioning him if I had ran away from home. This friend had helped someone else run away from home, so he didn't want either of us to get in trouble, & he knew I deserved no more abuse at home. He took me to a party that afternoon, where his classmates from another highschool were throwing this massive rager in a backyard that was two acres. It was my first time being away from the restrictions of my abusive home. Some of the kids were on acid, as it had resurged in the 90's in the rave scene, some kids were singing together in the backyard, passing the peace pipe , that was dazzled with unicorns. How could I say no to that? Next thing I knew , I was laughing in a car on a munchy run to TacoBell, enjoying the beauty of the trees as we drove to the drive-thru. Many people spent the night after this party, as it was Spring Break. No one was missing school, & I had finally been able to enjoy a few days of what a teenager was really doing in the mid 90's.
A few days later, I found myself with a new friend, & she helped me color my hair a bright red with a lightning flash of blond to streaming down the front of my face; a very Bowiesque-Aladdin Sane-Era vibing do. She safely pierced my ear 6 times & pierced my nose as well. I was reborn; from this over-sheltered-abused-Mormon child, to this Alternative Goth Queen Bitch Teen that was done with the abusive home. I was ready to face the real music; the music at home of a tyrant , angry mother who decided that NOW, I was a terrible child for running away & it was finally the time to send me to my father, at 15 years old. I was on a one- way ticket to my father, from Miami to Los Angeles. The last time I saw him, I was 5 & it was a short trip to Disney World in Orlando, which I barely remember now.
This is the backstory to my first piercings. I have three tattoos in addition, but the piercings are the most visible to the public eye. I have maintained these piercings with the red hair, for my artistry. I receive many compliments from people who I wouldn't expect to enjoy piercings in one ear & if it makes someone smile, & be curious about me as a human being, then my adventure running away as a teen was worth it. Here, in the photo upload, is a triptych I took today in the most 90's floral dress I could find in my closet, whilst listening to the groove of Roisin Murphy's new record. I hope that sharing my experience shows that my piercings are my way of taking my life back as a survivor of child abuse.
My artistry portfolio can be viewed here, as I'm a classically trained violist, Costume Design & Fabrication, Photography & Styling
www.tamaravanessa.us
Thank you for reading! Have a great Halloween Week!
Tamara