Pup, Puff, Pass
Adventures of Pipilloti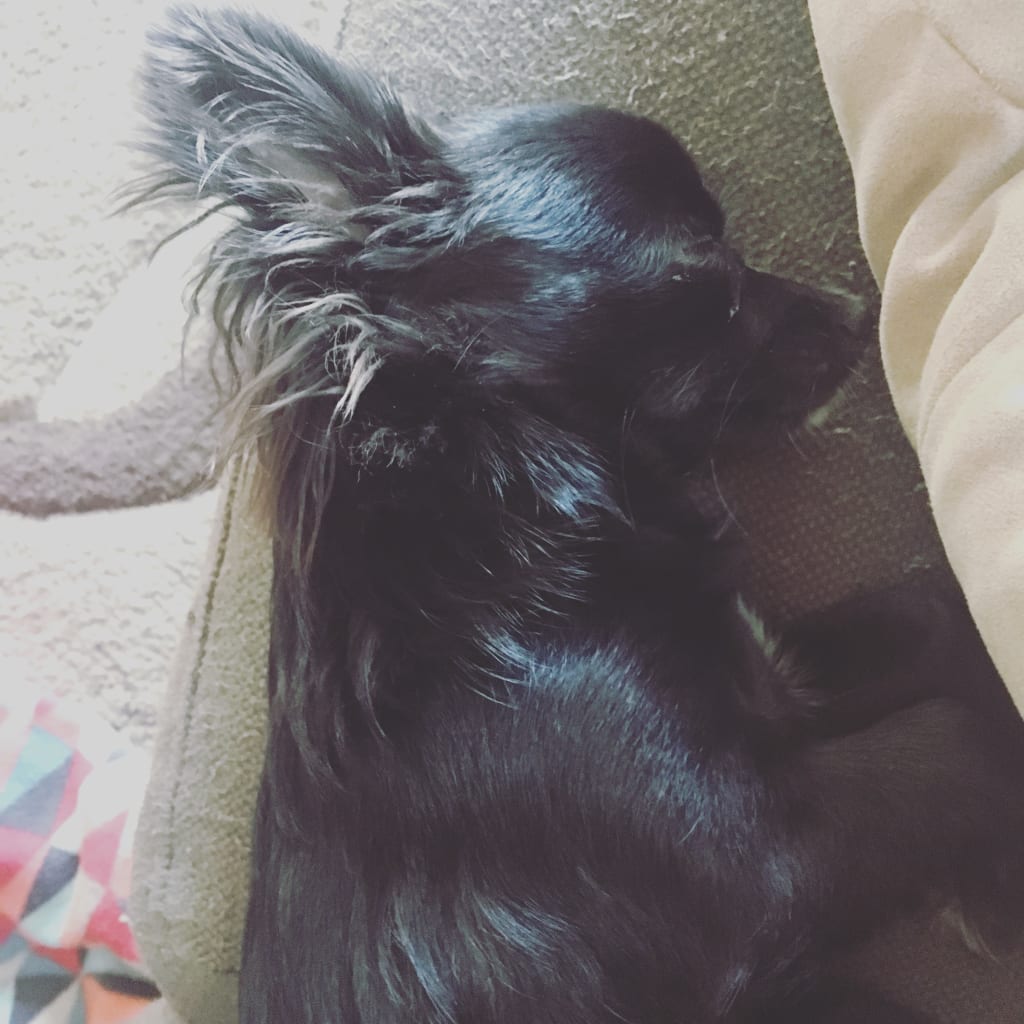 Pip the Chihuahua
Let me introduce to you, Pipilloti. Weighing in at four lbs. and three oz. and standing as tall and as strong as her five inch legs will allow.
Little Pip loves to be the center of attention and will cry literal tears when left alone with no one to cuddle. My boyfriend, Michael, and I take this precious nugget of floofy joy everywhere and anywhere we can! All eyes are on her when we enter a room. It doesn't take long before she steals the hearts of everyone with her oversized ears and uncontrollable butt wiggles.
This precious little pea is always full of enthusiasm and energy which is why we knew something was wrong last Monday.
We took Pip over to a friends house for a small Halloween gathering. She was elated, as usually, quickly wiggling from one person to another. When it was time to leave, we found her sleeping peacefully in a friend's lap and she seemed so tired from her tiny adventure.
Panic mode set in when we got home. I set her down shortly after we walked through the door and noticed that her head was wobbling. She tried to stand, but wobbled to the ground, her eyes alert as ever.
I called the nearest emergency vet open past midnight and they told us to bring her in immediately.
Tears were welling up the entire drive to the vet, thinking please let her be okay, please, please, please! We rushed her in and waited in silence as the vet ran her tests.
"Mom and dad of Pippilotti?" Called out the Vet tech, breaking the silence.
"Yes?"
"Come with me."
She escorted us to a small room for some follow up questions. Could she have eaten something? Did she throw up? Where was she all day? Have you noticed her bladder leaking? Question after question and no indication as to whether or not she'll be okay.
At this point, I'm coming to terms with the idea that my beautiful, wonderful, loving puppy might not make it out of this. I'm wracking my brain with all the moments she was out of my sight. All the moments I left her alone with someone else tonight. My mind is racing, my heart is pulsing, and my anxiety is bursting at the seams.
My mind goes blank as the vet enters the room.
"Did your dog have access to marijuana tonight?"
Michael and I stare blankly, wondering if we heard her correctly.
"It looks like a classic case of marijuana toxicity, but I need to know if I should rule that out," she continued to explain.
Michael let's out a chuckle of relief and explains, "yes, it's very likely."
Of course blunts were being rolled and passed around! It was a party! She must have grabbed a crumb off the ground.
"Is she going to be okay?" I interject.
"Yes, this is actually more common than you would think. For some reason, dogs love marijuana and just the tiniest dose can send them soaring!" The vet explained that she is just extremely high and that no dog has ever died from eating too much marijuana. All we could do was let it pass and keep loud noises and bright lights down to a minimum.
I couldn't tell if I was relieved or embarrassed, but I was ready to go home.
After a good night's sleep, Pip had come down from her high and was wiggling around once again.
Disclaimer: marijuana should not be ingested by dogs. Although they can not die, they experience high levels of anxiety and fear due to being physically disabled temporarily. Thank you.
humor
Hello. I like to talk about a lot of stuff. Hope you like it!
Receive stories by Jessica Teran in

your feed