Jenny Kush by From The Soil Farms
Rated 69 by The Cannafiles

Named for Jenny "Kush" Monson, pot activist and close friend to the breeders over at Rare Dankness, they wanted to create a strain that could "exude the same positivity and happiness" that their friend had in life. Those that knew Jenny conveyed that she only cared about others and wanted the best for everyone. Personally I didn't know her, I have only heard about her by way of coming across this strain bred in her honor. Research shows she was killed by a drunk driver tragically after leaving a music concert in Colorado. So unless you were blessed to have had her in your life shining such positive light, like me, you'll have to get to know her by way of this strain grown in memoriam.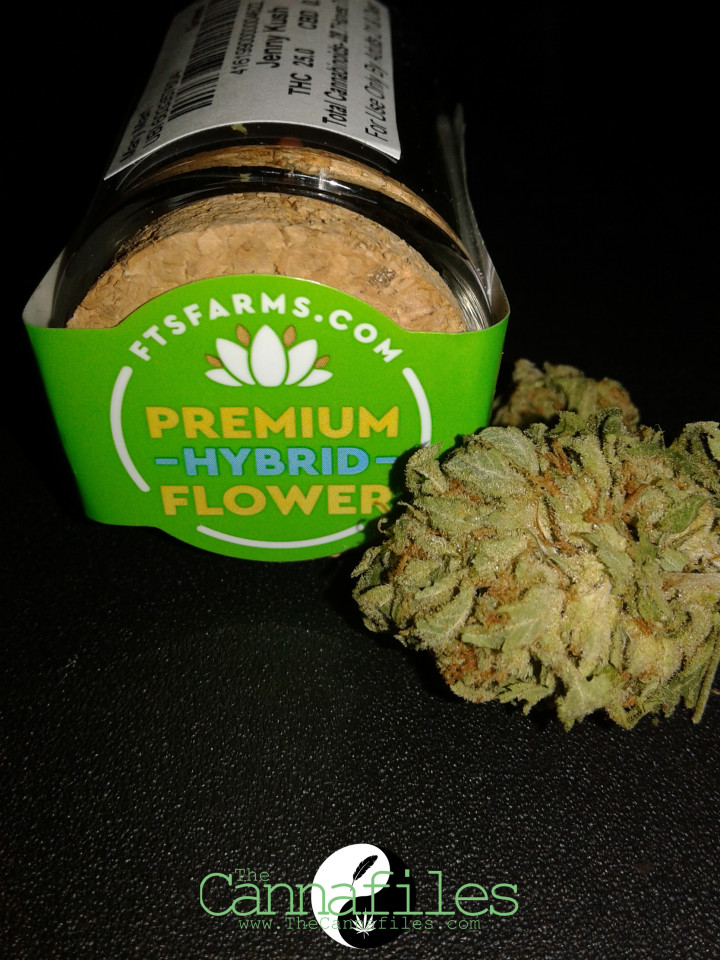 This strain brings together Amnesia Haze with Rare Dankness #2, a strain that elevates Rare Dankness #1 with their Grape Ape hybrid. By bringing in Amnesia Haze's lineage into the mix, they've elevated the strain with Laotian and Jamaican sativa dominant genetics, along with a Hawaiian indica dominant hybrid. So it seems the folks over at Rare Dankness have a message for us all about Ms. Jenny Monson—congregate and elevate. Come together and elevate each other. Care for each other, look after one another. Elevate others and others will elevate you.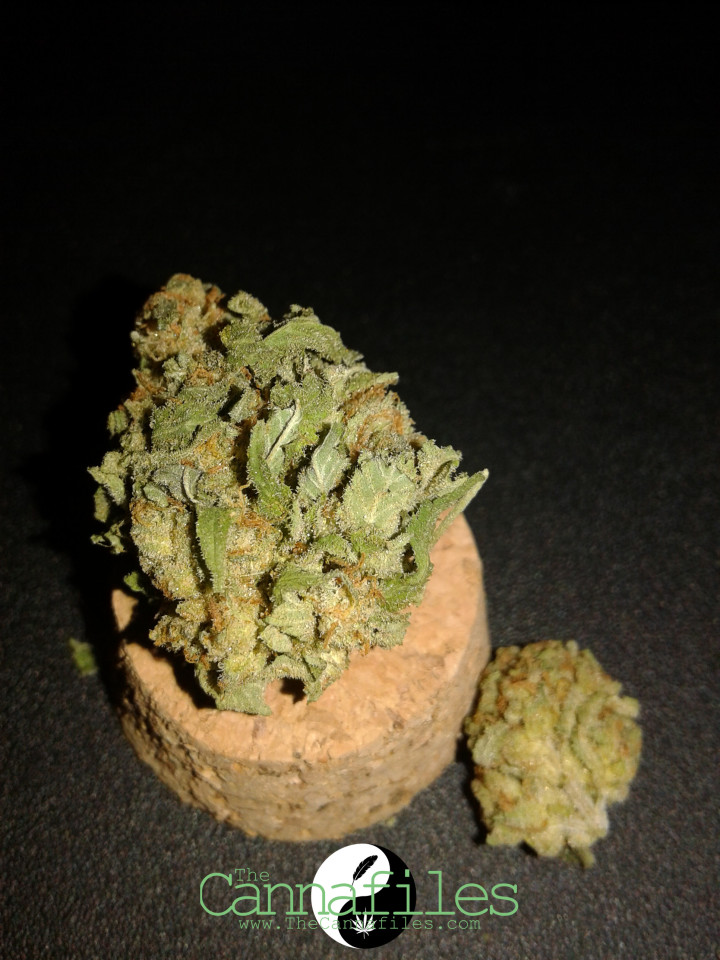 From the outset there is a beautiful bud in this jar. The cork-and-glass packaging is pretty classy, but corks can pull hydration out of the air so I'm a bit concerned about how dry this bud is. Ah—there's a thin layer of plastic between the cork and the buds. Still this weed feels a tad dry and the there seems to be a bit more sugar leaf than what I'd want. This is both a good and bad thing. A loose, shaggy trim will certainly help to protect the bud underneath. The giveaway is in product weight. Back in the day I might look at a shaggy trim from a grower as a good thing so long as he gave me a fat sack to counter for that excess leaf weight. But here on the recreational market, a gram is a gram. And that means I'll be rolling up more leaf than what I'd typically want.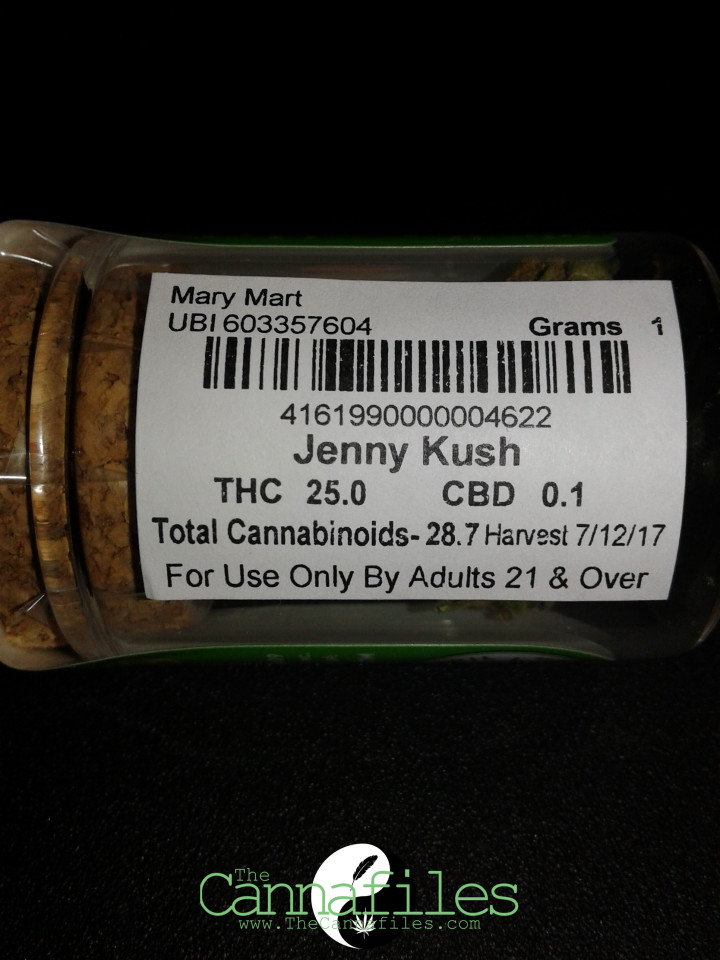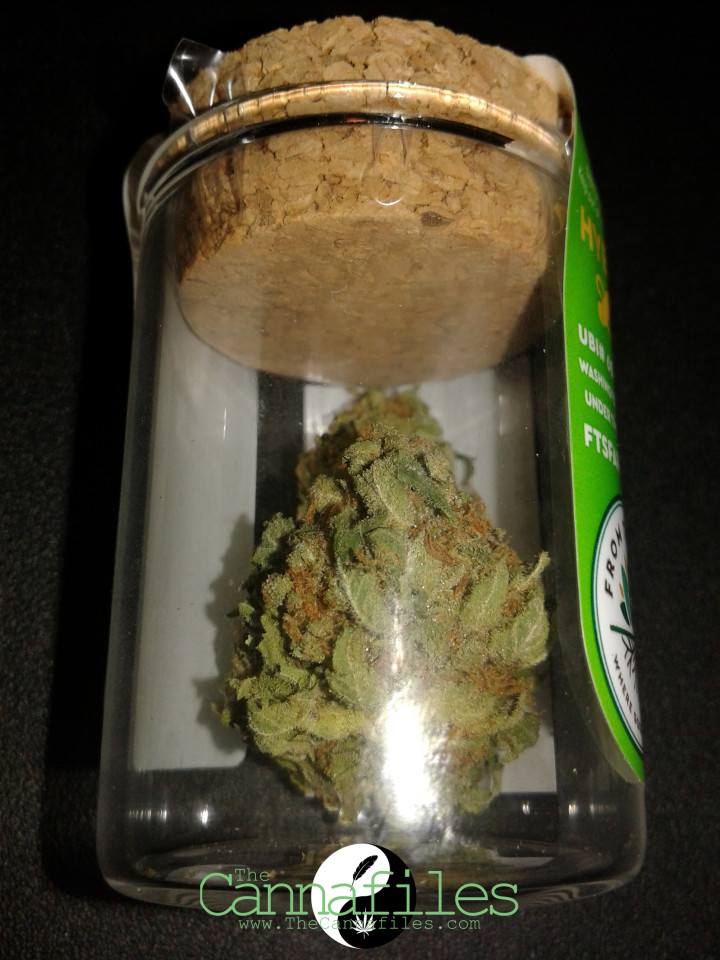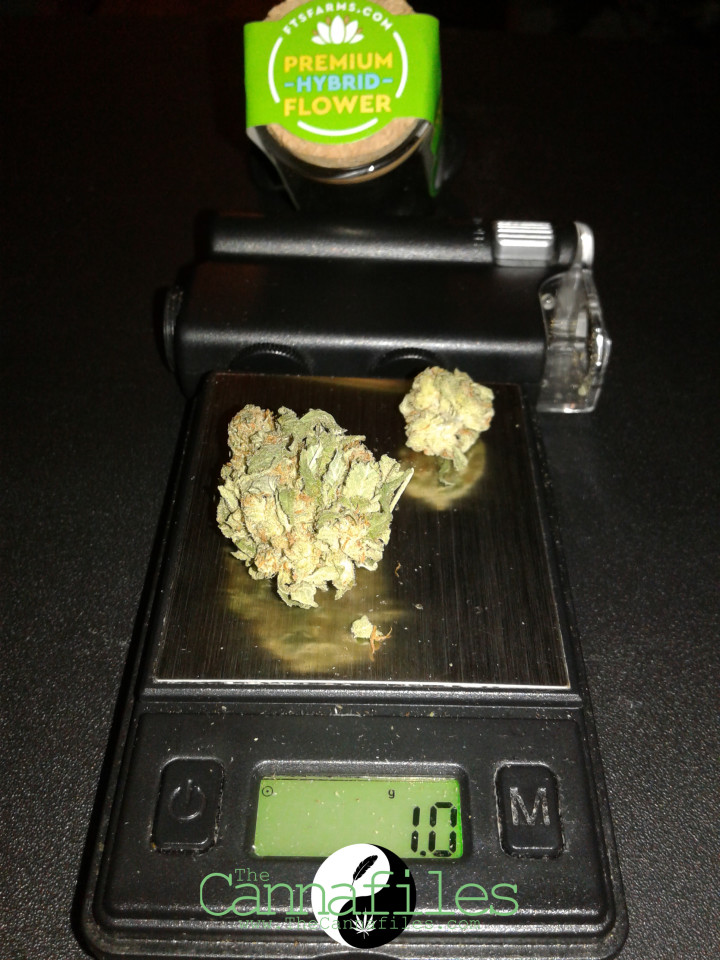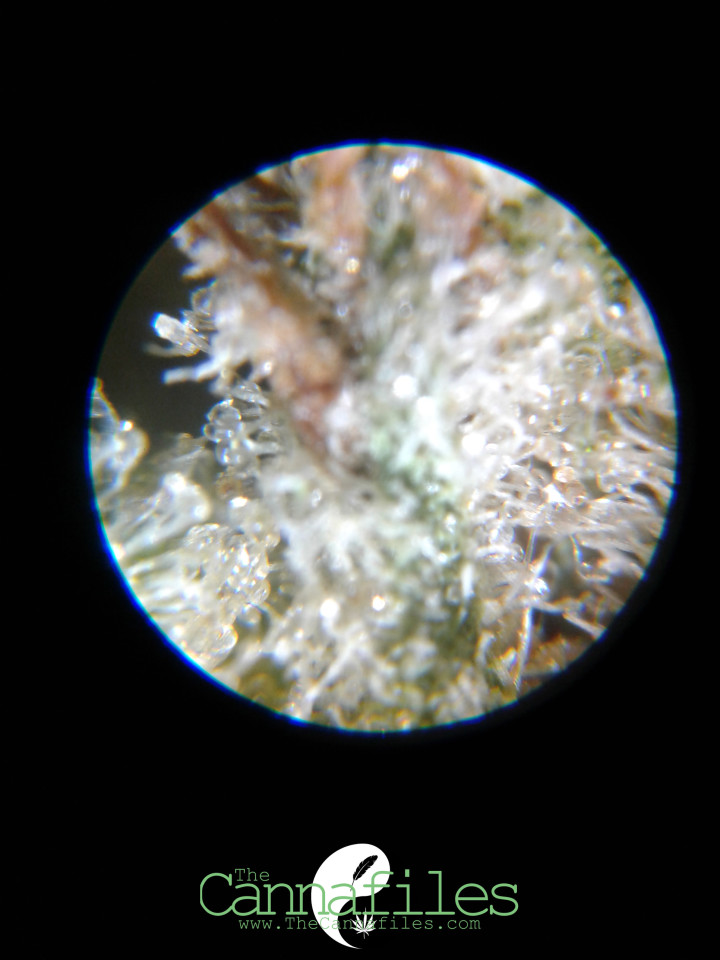 But she does look nice, shaggy though she may be. Nice mix of greens intermixed with red and yellowish-orange pistils. She's got a robust "farmy" look to her. Sorta frosty but it takes breaking her up to really see the trichomes. There are a lot of sessiled trichomes; there's also a good bit of headless, shriveled stalks with a milky-white color. There are lots of trichomes and just because they're sessiled doesn't mean they won't produce effects. Trichomes can be stalked or flat, but they all should have some sort of globular head or have a crystal-like look to them.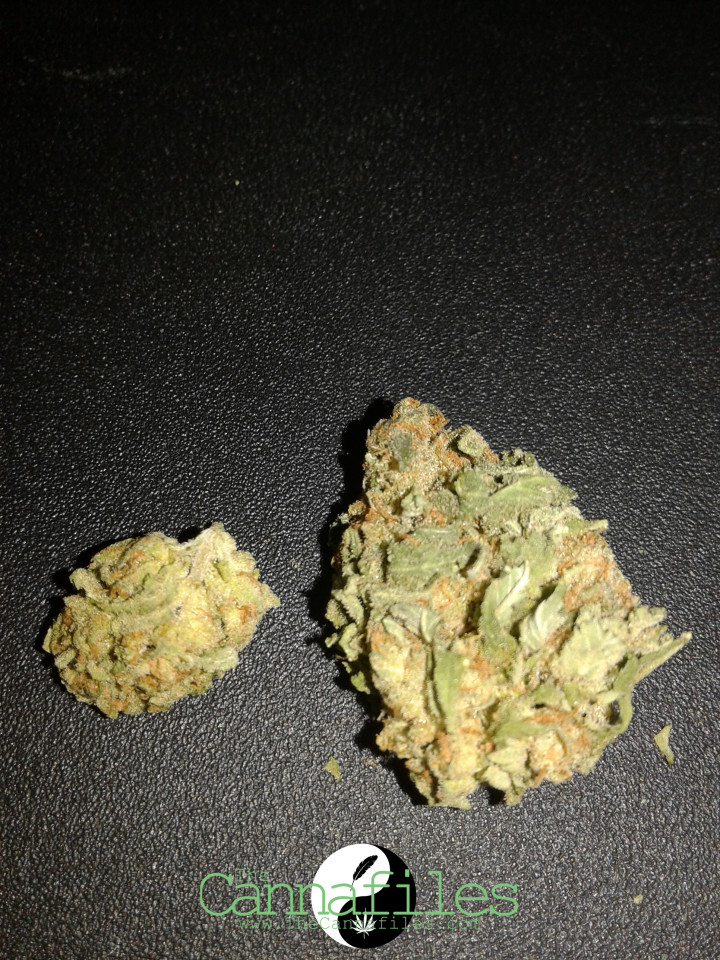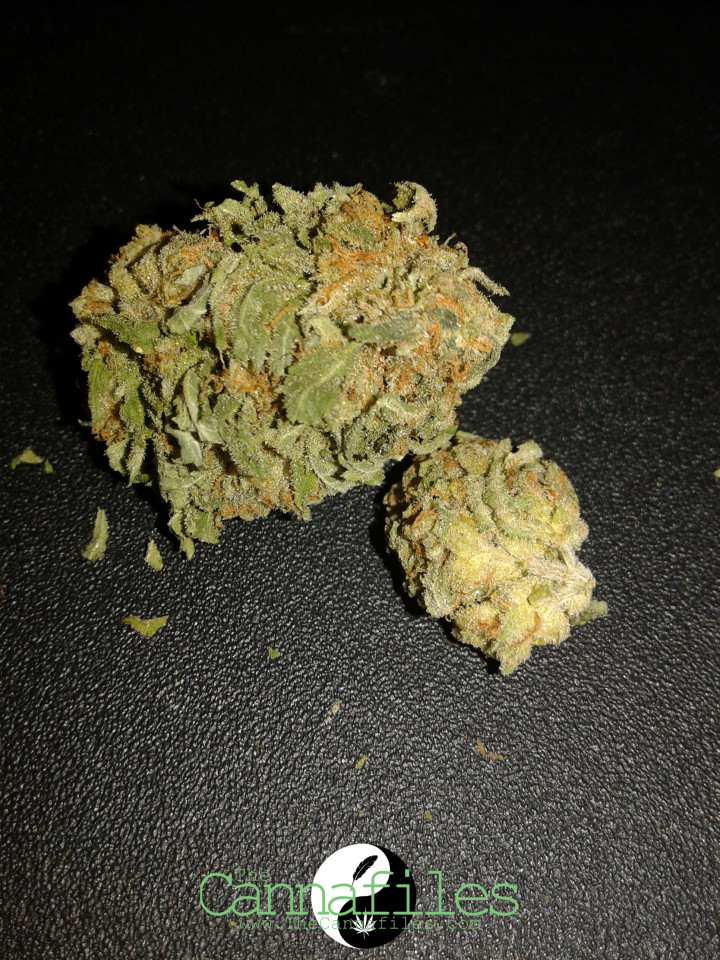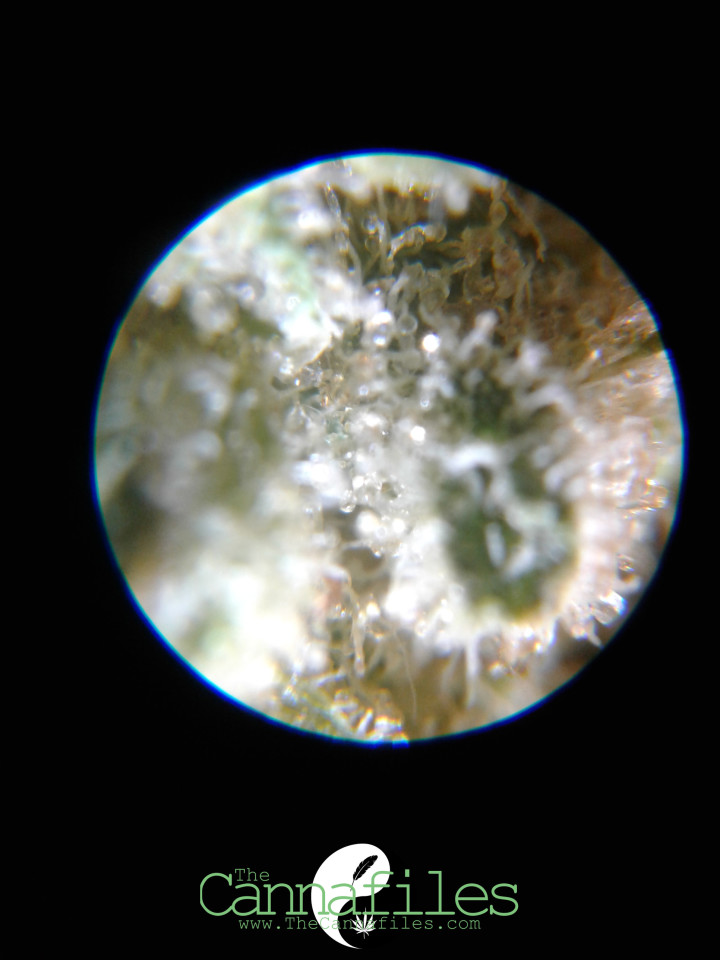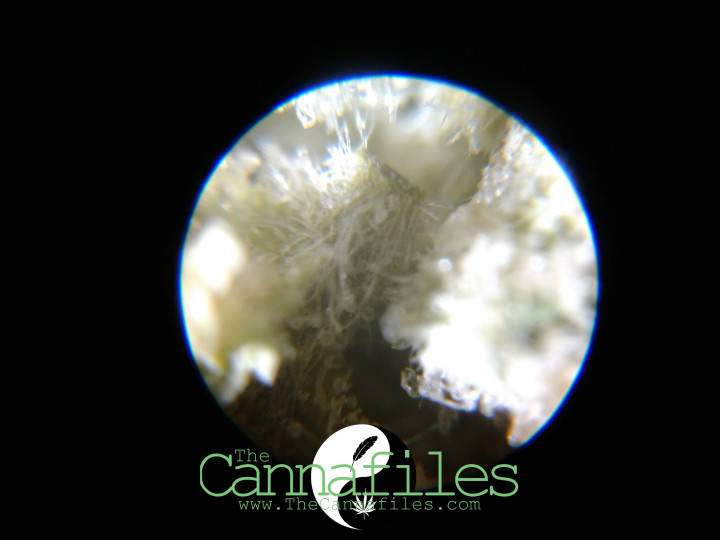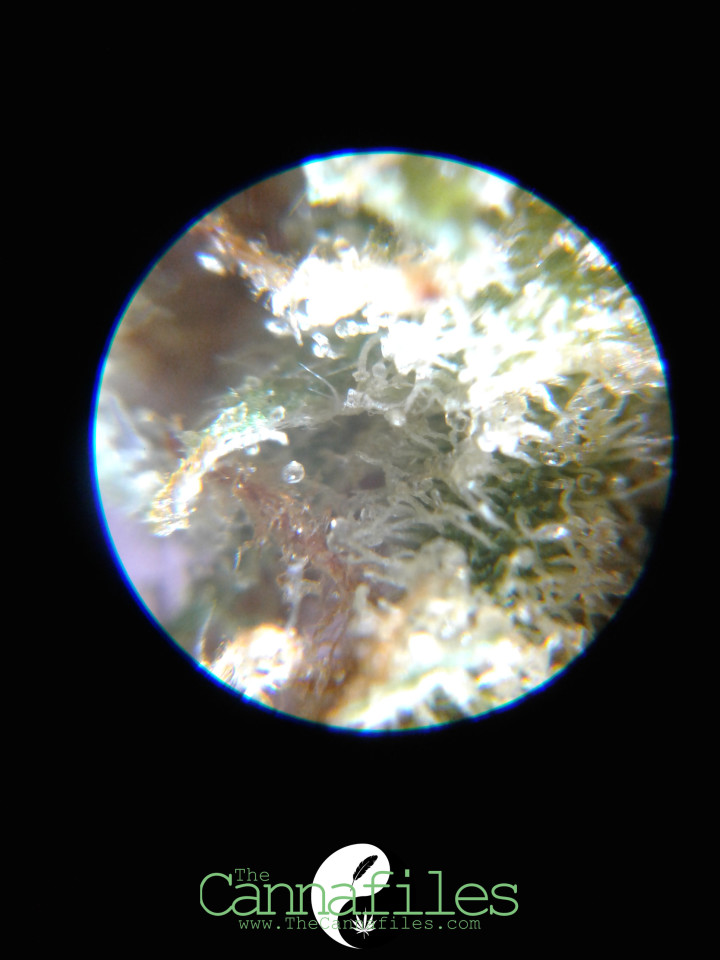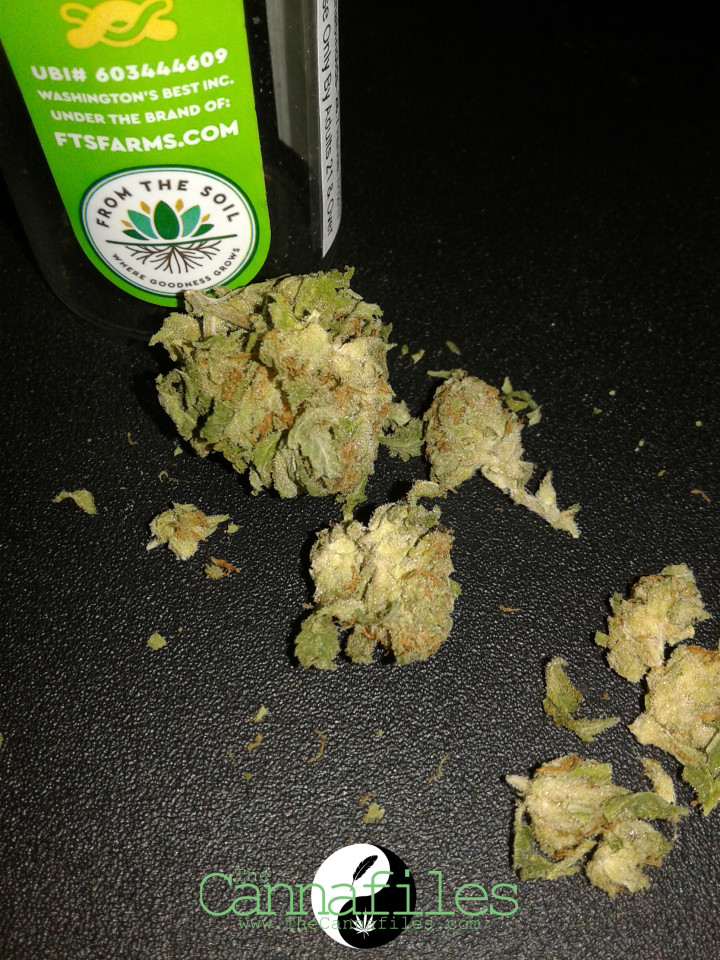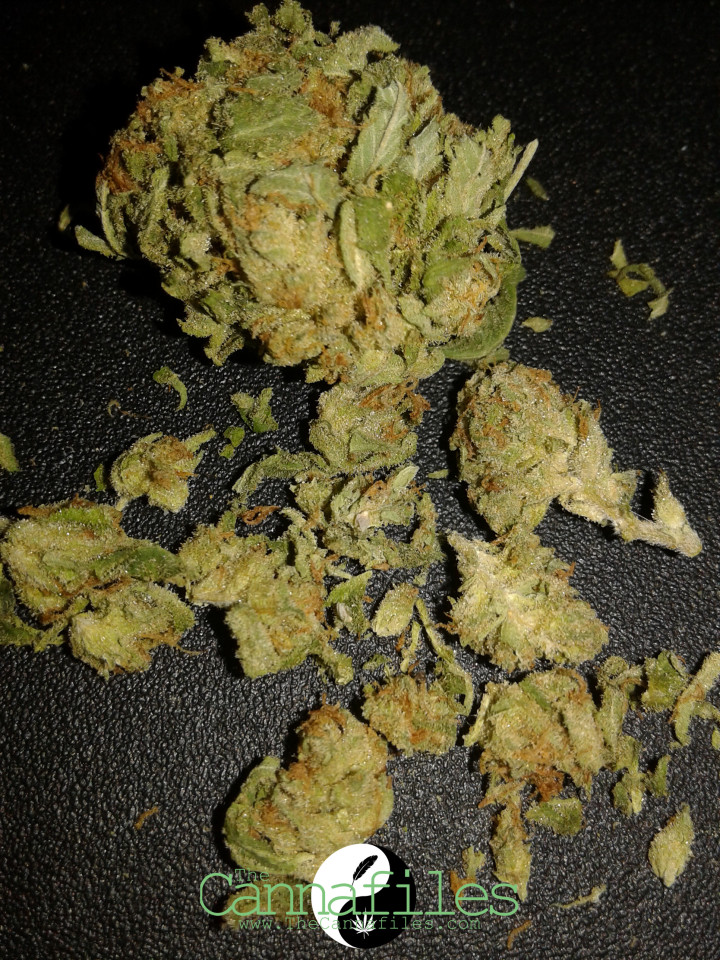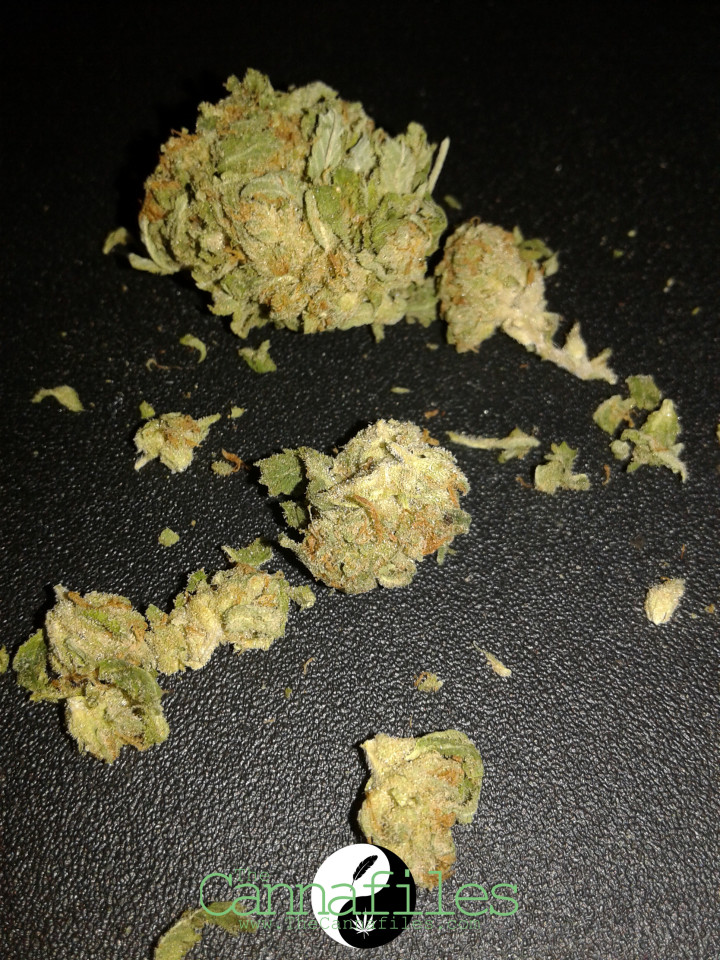 She feels dry and crispy. She breaks apart easily, almost falls apart too easily. I don't know if it's because From The Soil Farms does a hang-and-dry as opposed to cure when they finish, or if it's something to do with the cork packaging, or her age maybe could be a factor. Perhaps a combination of all three. She rolled up pretty good though. I didn't have too much spillage getting her into shape. From The Soil Farms grows pesticide free with a "living soil" that is very probiotic. This is about as organic as it gets without using the word "organic."
She lights easy and starts with a crackle, but settles in nicely. She starts out with that soft lemon and mango aroma coming through on the flavor. There's a soft skunky earthen undertone to the whole taste. A touch of pine comes through. She smokes clean. Easy on the throat and lungs. There's a pleasant feel in the mouth when inhaling. Halfway through and she's heating up, turning slightly bitter. She's losing her flavors before I get a chance to feel her effects. Getting into the bottom of this spliff and her flavor is gone. She's burning hot but feels fine against the throat and mouth. Lungs are slightly punchy. But I'd be damned if she didn't burn smooth and consistent all the way down to the roach.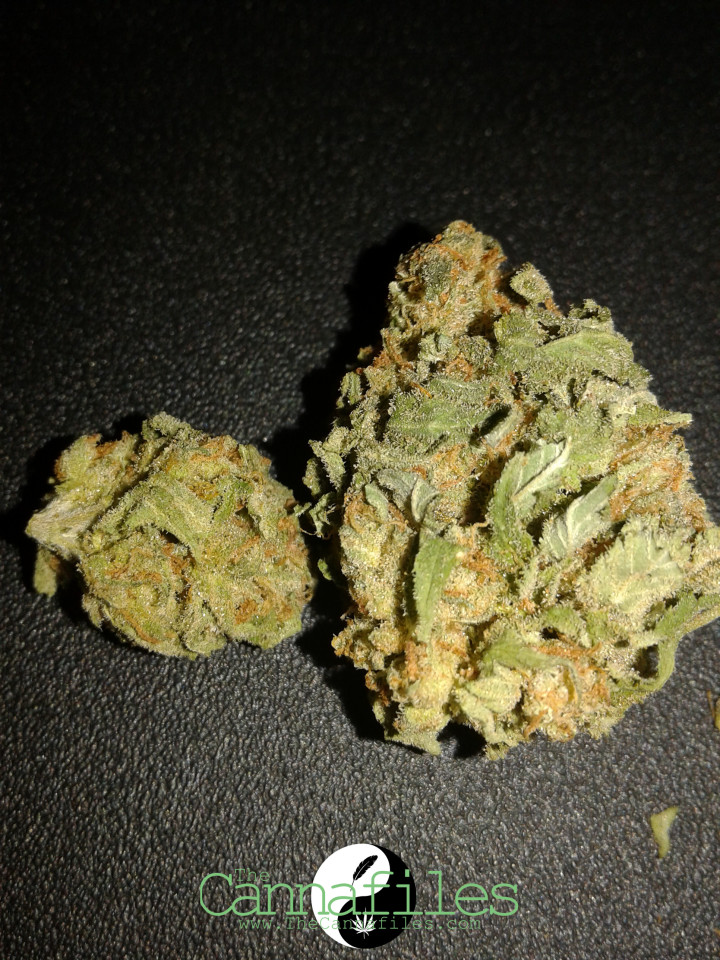 She's a creeper. Took her until the joint was near-done before she decided to show up and knock me around the head a bit. I love this fuzzy warmth around the eyes and ears. There's definite elevated expression to my mood. I feel altogether pleasant—I feel more together than I've had in awhile. I feel like smiling. I love this chill relaxation she's slipped me into. Jenny Kush is heady for sure; I've got that fuzzy goggle feel to the eyes. My ears are still fuzzy-warm, but she slid me right into a lovely chill. Not sedated…relaxed. Elevated as if on a cloud. Very nice.
Rough around the edges and not a lot to offer aromatically so-to-speak, or for the flavor, too, but a beautiful experience nonetheless. You definitely have to smoke Jenny Kush to appreciate her. I personally live with bipolar depression and this is the first strain I've smoked in some time that I could say truly helped elevate my mood. I've been in a funk for awhile. But I don't really want to get into all that because I'm finally feeling good.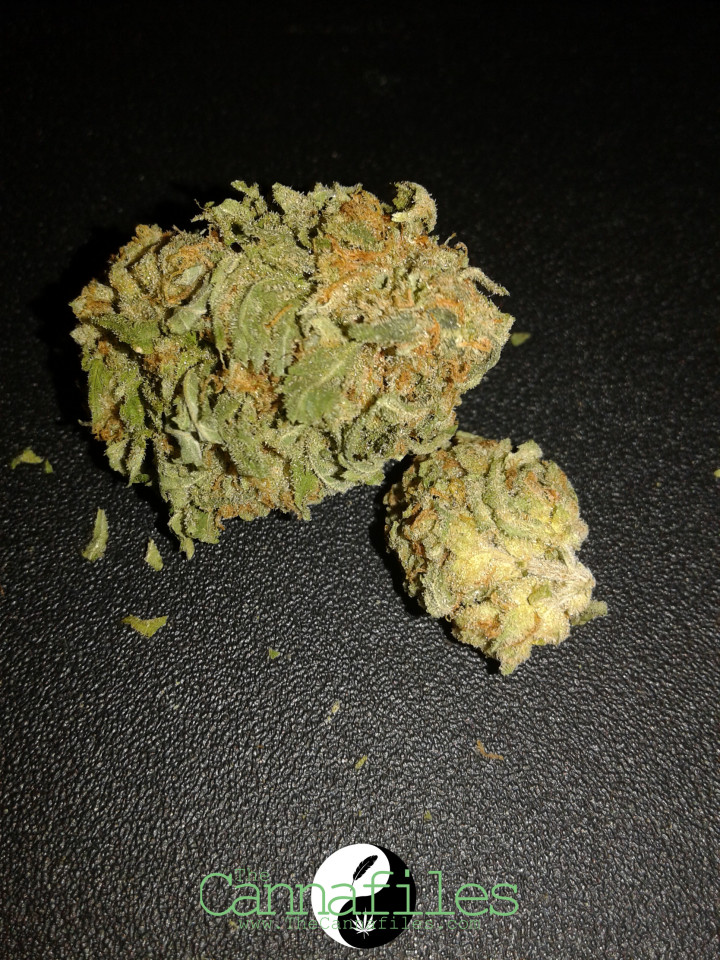 It's too bad Jenny "Kush" Monson is no longer with us. Because if the way this strain makes me feel is the way she made others feel, well her loss is a true American tragedy. What a beautiful smoke to have bred in honor of what seems to have been such a beautiful person. A large loss to not only so many people's lives, but the cannabis community altogether. The breeders at Rare Dankness wanted to grow a strain that shined a light on Jenny's qualities, her personality, her light. And I think they did a great job, as Jenny's positive light shines through.
Better your cannabis consumption with this official cannabis rating journal. This beautifully designed notebook contains enough pages for 100 entries with spaces to note cannabinoid and terpene content, phenotype and genetics.