Feel the Vaping Zenith With Air Bar Series
Air Bar Series Reviews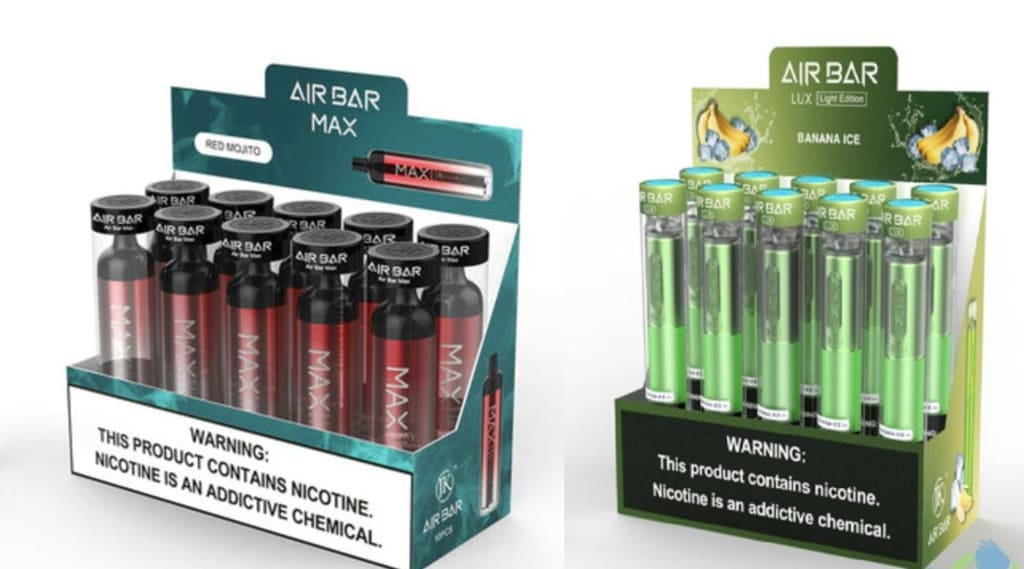 In the current milieu, premium vapor draw and flavor production can be guaranteed through many vapes and here we will give you an overview of how vaping on the Air Bar series, you can make your vaping paramount and relax to a level beyond any other available standards. Air Bar Series, which includes the basic Air Bar, Air Bar Lux, and Air Bar Max covers all the three categories of vapes ranging from the light vapers to the heavy ones. Now, let us give you a brief overview of all these vape units so that you can decide your match.
Air Bar (Original)
This vape stands in line with the Puff Bar but has a slightly different design and color appeal. The total e-liquid capacity is 1.8ml which accounts for 500 puffs that are smoothly delivered to the vaper's mouth by deploying the battery of 380mAh power. Suitable for MTL vaping, it supports those who are on the verge of beginning to vape. Apart from the beginners, it is meant for casual vapers too. The nicotine strength is 5% per the weight of e-juice which leaves all the 500 draws strong enough to please your throats. The flavors range from fruits like Pineapple, Guava, Banana, and Peach to Cotton Candy and MAMBA.
Air Bar Max
This pod offers 2000 puffs, 5% salt nicotine, and comes pre-charged with an integrated battery of 1250mAh. The 6.5ml pre-filled juice makes sure you maximize the enjoyment of vaping. It is a great tasting vape that is excellent for both experienced vapers and also newbies. The flavor list of Air Bar Max comprises 23 tastes.
Blueberry Lemon Ice
Cranberry Grape
Guava Shake
Apple Shake
Kiwi Berry Ice
Melon Shake
Cool Mint
Banana Shake
Lemon Shake
Red Bull Ice
Pudding
Blueberry Raspberry
Peach Mango
Strawberry Mango
Air Bar Lux
This one is designed as a mid-sized vape and has a classy design with a captivating bright white light that adds opulence to your vape time, every time you inhale. The nicotine strength is as good as 5% the weight of vape juice. The e-juice of 2.7ml allows 1000 tight puffs that you can hit in your favorite flavor option. Following are the flavor options of Air Bar Lux
Black Currant
Banana Ice
Shake Shake
Grape Ice
Mixed Berries
Watermelon Ice
Triple Shake
Banana Shake
Blueberry Ice
Blueberry Pomegranate Ice
Blueberry Raspberry
Coconut Grove
Cranberry Lemonade Ice
Sunset Cocktail
Watermelon Apple Ice
Raspberry Watermelon
Raspberry Grapefruit
Strawberry Watermelon
Paramount Clouds with Air Bar Vapes- Air Bar, Air Bar Max, Air Bar Lux are disposable and are portable. They can fit in your palms and need no maintenance. Just start vaping and dispose of it carefully. Also, these are designed using hi-tech technology and therefore are anti-leakage units and thus your travels can be easy with a selection of any of these vape systems! All these pod mods, with their colorful sleek designs and smooth mouthpiece, will make your vaping high-end. It is going to be a luxurious experience with these!
Is Air Bar better than Puff Bar?
Both are formulated for beginners and those who vape light and casual. It depends on the vaper's choice to decide which one is better. There are two factors where Air Bar leads Puff Bar. First is the number of puffs. In Air Bar, you get 500+ puffs while in Puff Bar 300+. The second factor can be the design and flavor list.
Are there fake Air Bars?
Suorin has devised the Air Bar,Air Bar Max, Air Bar Lux by using utmost technological advancement. But still, there is a probability that you end up having a duplicate one. For this, we advise you to order from ravenroute.com, an online vape store that stands for Genuity. If not then you must cross-check by scraping the anti-counterfeiting code and scanning the code using your mobile's camera!