Cheech and Chong Interview
Cheech and Chong open up about where acting ends and reality begins in a vintage interview.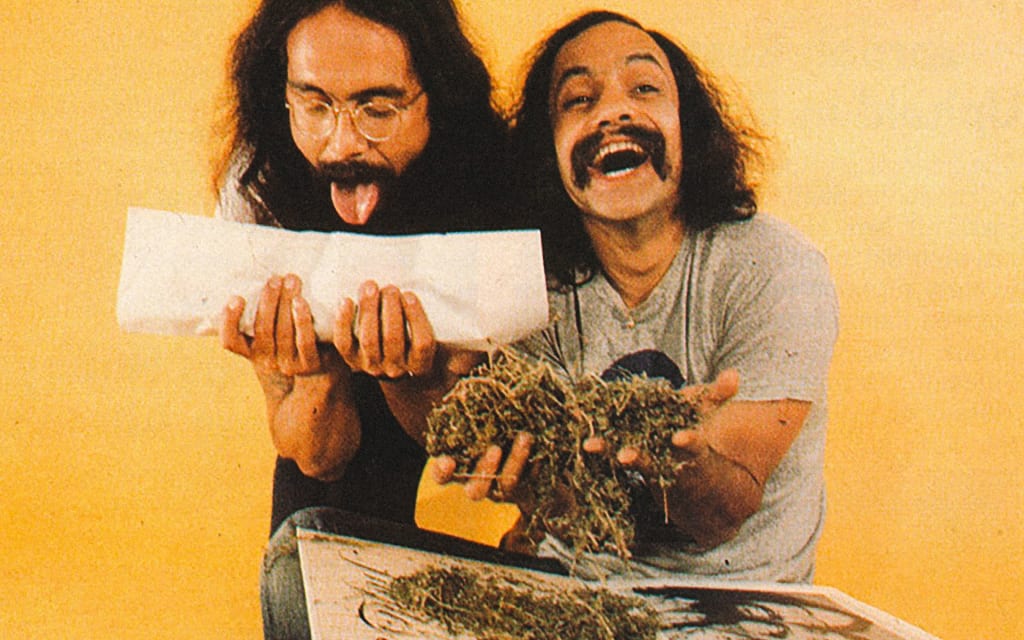 The original stoner duo, successful beyond their wildest weed dreams, iconic comedy duo Cheech & Chong achieved cult status by defining an era with their funny, insane, irreverent, counter-culture, no-holds-barred satirical comedy routines. Cheech Marin and Tommy Chong's amazing success was more fate than plan. They ended up in the right place at the right moment. In their own marijuana infused words, phenomenal success began with stand up comedy which led to hit comedy albums, hit films, shattering comedy album sales and breaking box office records. Their stunningly successful streak in comedy albums transitioned to films in 1978 with their first movie, "Up In Smoke," the biggest comedy-hit of 1978, grossing over $100 million at the box office.
By the time Hustler sat down with Cheech & Chong in 1985, they were prepping for the release of what would be their last comedy duo album. Get Out of My Room was both an album and short-form video. Cheech would famously leave the duo to pursue an independent acting career following its debut. The opening track "Born In East L.A." was a mainstream hit. The interview with Hustler would turn out to be an insane romp with some strange anti-semitic humor about Hitler and Nazis. Its bizarre tone was telling for a duo that would soon spend decades pursuing different paths.
Hustler: You're working on your first record album since 1978. Is most of the material completed?
Cheech: We've got a couple of lids worth.
Chong: We're going to do a lot of Nazi humor. "Hitler was right" jokes. Ya know, we think he got a bum rap.
Cheech: Yeah, we wanted something that's hot, today, fresh out of the oven. For the album I wrote a song called "If I Knew You Were Coming I'd Have Baked a Kike." The working title for the album is Fuck All You Jew Cocksucker, Ripoff Record Producers, Especially...
Chong: Don't mention his name! That cocksucker will sue us! Our old producer had us tied up in "contractual obligations"; that's why we haven't been able to do an album for seven years. Those guys hang on like shit to your basketball shoes.
Cheech: We'll probably do a lot of music humor. Our stuff has always been based on the music mentality more than anything else, and that mentality is stronger now than ever. Today's scene is like virgin territory for us.
Chong: I want to do a skit on a born-again rock 'n' roller, some guy who got religious but then gets tired of having to get up at four in the morning to go out and sell flowers. He wants to go back to the old days of having fun all night and waking up at three in the afternoon—you know, back to the true path.
The thing that's funny about rock 'n' rollers is that when they're playing in bars, getting laid by different chicks every night of the week, getting free food, drinks, drugs, having a great time, they're not happy. They feel like they're in a rut. So the next thing you know they're playing huge fucking concert halls, eating off plastic plates backstage with a bunch of accountants, and they say, "Hey, let's get back to those old bar days. That's when this was really fun." In a way, that's what Cheech & Chong are doing right now. We've been movie stars. Now we want to go back into the studio and have some fun doing an album—just like in the beginning.
Cheech: We want to get back to where it's just Tommy and me in the studio, without 700 other guys standing around eating jelly doughnuts, saying, "Where's lunch? When do we wrap?"
Chong: I'm real intrigued with the whole he-she trend, like Boy George and Michael Jackson. I'm working on a skit called "Girl Bill," about a rock 'n' roll bar room bouncer who's trying to cash in on the latest trend by being a dyke. I work out in a gym, and I see a lot of Girl Bills. Real cute, with lots of muscles.
Cheech: I like girls with muscles. They're hot! They have muscles that men don't have—like the lower twatoids. They can get you in fuckholds.
Chong: And like if you're in the country and your car gets stuck, they can push you out. And you can win bets with them, like in arm-wrestling contests. You can get free beers.
Cheech: I know this one girl called Pillows. She's bigger than both of us. She wears combat boots. These girls have some great special exercises, like contractions—bear down, relax, contract, relax, contract. They have amazing control of their sphincters.
Chong: The funniest thing going on right now is all these drug and alcohol rehab centers. I want to do a skit where Man is in the Betty Ford Center with a bunch of celebs. "Hey, Desi Jr., you want to get high, man? Hey, I know you just got cleaned up; so it's really gonna hit ya good, man. Hey, Desi, never mind what your mother says; she's on downers."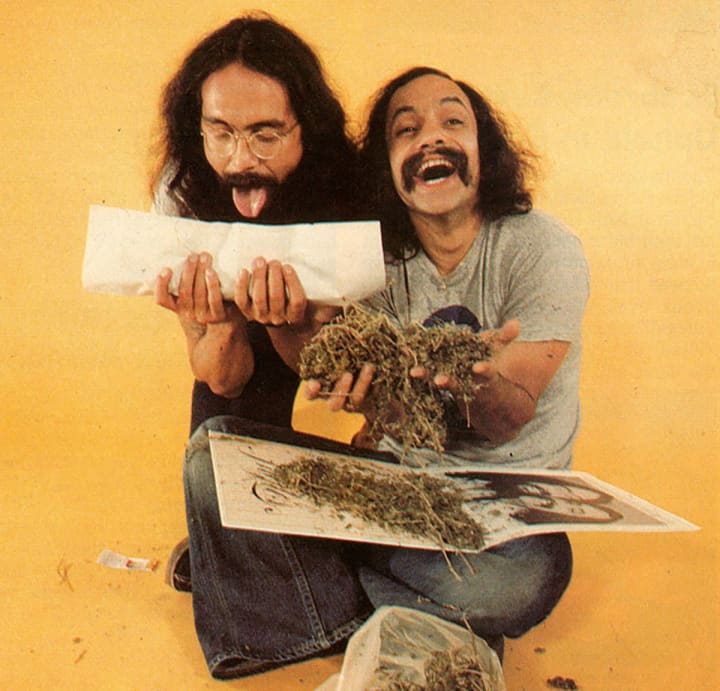 What are you going to do after you finish the album?
Chong: We're going to make the ultimate Cheech & Chong movie. It's going to be called Sex & Drugs & Rock 'n' Roll. It'll be straight-ahead rock 'n' roll. This movie is not only going to be rated X, it's going to be rated Cheech & Chong, so just stay fuckin' back if you can't handle it. Tell Larry we're going to do some wheelchair jokes. Maybe we'll even write him a part.
Cheech: We're in a unique position because we're our own genre. It's like Elvis movies. The great thing about our characters is that haircuts and styles might change, but that street-guy survivor mentality will always be there.
So Cheech & Chong plan to stay hip with the times?
Chong: There's only one animal that relates to the times, and that's the media. They're always trying to put labels on things, to spot trends. There's this old joke about a farmer feeding his pig. The farmer is holding the pig up so it can eat apples off a tree. The farmer's friend says, "Hey, wouldn't it save time if you pulled the apples off the tree and gave them to the pig'" The farmer says, "Yeah, but what is time to a pig'" So that's our answer to that question.
Cheech & Chong: What is time to a pig?
Say, what kind of drugs have you guys been doing lately?
Cheech: I can't smoke dope anymore. Ever since I got pneumonia, my metabolism has changed. I think I'm allergic to it. I get sick, and I retain water. I get bloated, like some hypoglycemic reaction.
Chong: I still do a little bit of hash, but only civilized amounts. Ya know, we never really were that into drugs. We always satirize what everybody else is into. That's our genius, doing it in a way that everybody believes... I mean, we're actors.
Over the decades, the fine line between acting and reality has faded. Both Cheech and Chong are significant marijuana activists and successfully transitioned their routine into a lifestyle. Their movies and albums are part of most stoners introduction to the ways of weed. There is an entire cottage industry built around the stoner superstars. Though in the 1985 interview, they both played down their continuing role in the marijuana culture, the resurgence of the legalization movement of the early 21st century pulled them quickly back into the mainstream. Irrespective of millennials sensitivities as to the authenticity of the comedy kings, the two have achieved a cult status level and will always be remembered for their contribution to the comedy and more importantly the pop culturalization of marijuana.
The last studio album recorded by comedic due Cheech and Chong, Get Out Of My Room marked the end of an era. Only two songs were released as singles, Born In East L.A. and I'm Not Home Right Now. Born In East L.A, a parody of legend Bruce Springsteen's Born In The U.S.A, was later turned into a feature film.