At that time, because his 8-year-old daughter was too good-looking, the Iranian father resigned as a bodyguard. What happened to the girl later
People say that "good-looking skins are the same, and interesting souls are one in a thousand." In real life, whether it is to have "good-looking skins" or "interesting souls" is something to be proud of.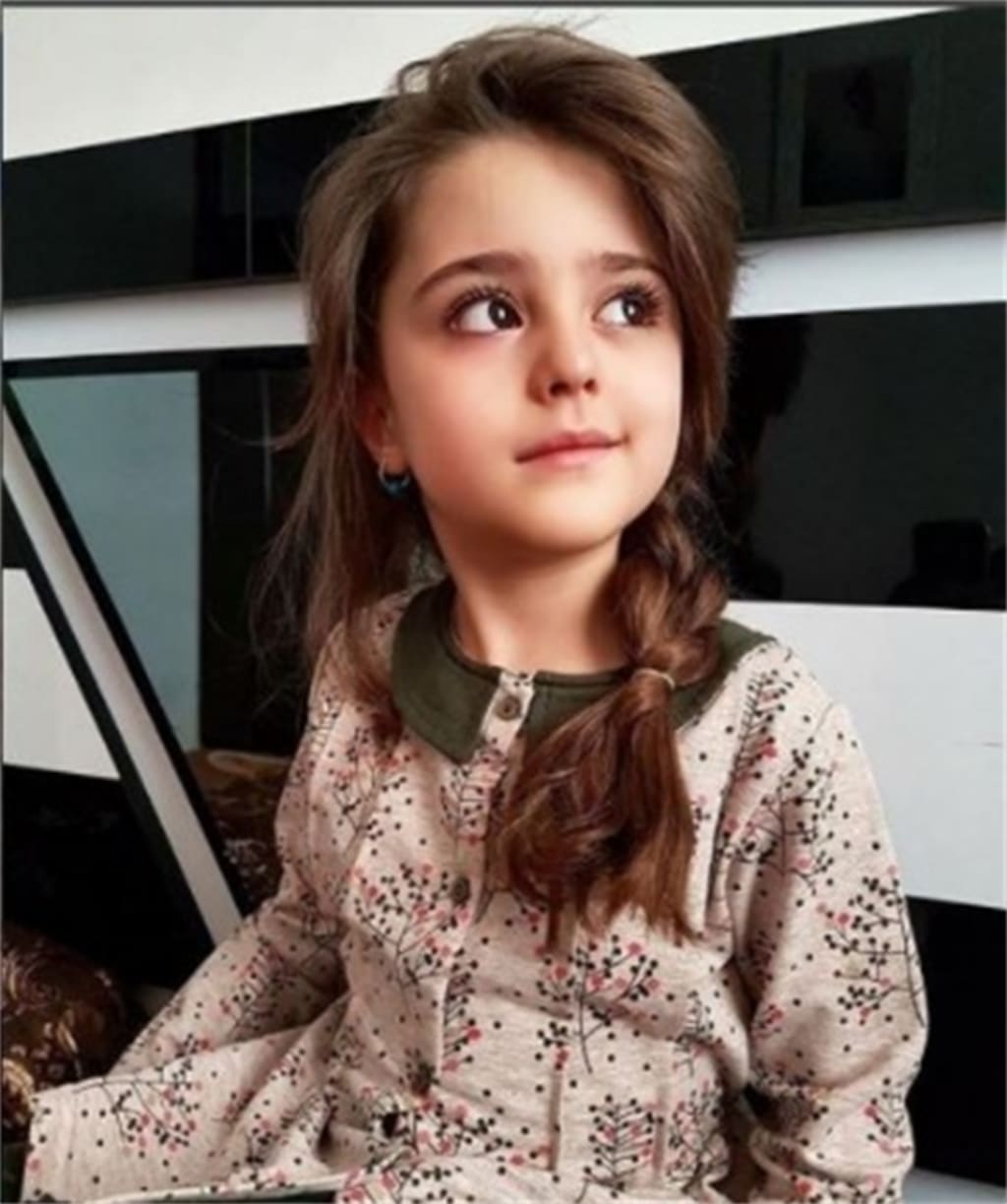 In the era of modern Internet development, many people choose to share their selfies or photos of good-looking relatives and friends around them on social platforms, and some people even share photos of good-looking passers-by that they have captured.
On social platforms, these photos with "unbelievable looks" can easily get a lot of likes from netizens, and sometimes even attract the common attention of netizens from different countries.
In the winter of 2018, an eight-year-old girl from Iran was reported by many domestic media because of her super high appearance, which attracted the attention and admiration of many domestic netizens. Now that four years have passed, what is the status of this girl who has amazed the world?
1. Stunning appearance
This girl with super high value is from Iran. Because of her outstanding appearance, she was named "the most beautiful girl in the world" by Iranian media. Her real name is Mahdis Mohammadi, and her transliterated name is Maher.
Little Maher was originally born in Iran, and her parents took her to live in Afghanistan. After relocating to Afghanistan, the local social and political situation was tense. For the sake of safety, Little Maher's parents took her to live in Dubai and Turkey successively.
After going through many places, the Maher family still chose to return to Iran. At present, the little girl's family has settled in the northern city of Tehran, Iran.
Since Iran does not use the AD calendar locally, but uses the Persian calendar, it is accurate to say that the birthday of the little Mach is August 16, 1391 in the Persian calendar.
According to their social accounts, at the beginning of May 2016, her parents began to share photos and videos of their daughters on ins (foreign social software). The name of their registered ins account was the girl's full name. His father, Ali Yousef Mohammadi, was in charge of the management.
At first, Maher's parents just thought their daughter was good-looking, and like many parents who posted babies, they shared their daughter's photos on the website. In the end, I didn't expect that one of my casual actions was unintentional.
Sharp-eyed netizens on foreign social platforms quickly discovered this beautiful little girl, and they all expressed that they were amazed by the girl's super high appearance.
When the girl was the most popular from 2016 to 2019, she almost maintained nearly 20,000 likes under each social feed. The videos posted by the girl's parents have also been reposted many times, and can even be pushed to the top.
Mahdis's looks led many to mistake her for a live-action Disney princess. Because her appearance is almost perfect, with a high nose bridge, a pair of deep eyes covered with thick eyelashes, her skin is fair and translucent, like a baby's skin, not only that, she also has long black and beautiful hair, her mother She likes to comb her different hairstyles, which is also reflected in the photos her mother shared on social platforms.
Many netizens commented on Mahdis's photo: "When she is not smiling, she is a quiet princess, and when she has a smile on her face, she seems to be an angel who has fallen from the world."
Some people say "the eighteen changes of the female college". Many children who were cute when they were young may not necessarily be good-looking when they grow up, but Mahdis has been beautiful since childhood.
Although she only became popular in China in 2018, she actually showed her excellent appearance when she was a child. At the age of four, she became a child model with her super high looks, so she was very young By then, she had become a well-known "child star" near her home.
Through the photos shared by the Maher family on social platforms, it can be found that Mahdis's super high appearance is actually due to the inheritance of his parents. Maher's father is also very good-looking.
Looking closely at the photo of the father and daughter, you can even find that little Mach's deep eyes and straight nose are exactly the same as her father's.
It is reported that Mach's mother belongs to the second generation of Afghan immigrants, and his father is a native of Iran. Mach is actually a mixed-race beauty. Perhaps it is because of this excellent genetic inheritance that the appearance of a fairy like Mach appears.
Not only that, because the photos of little Mach were taken and shared by her parents, and there was no contract company or team. Therefore, the modeling and dressing up of the little Mach's departure are all done by her mother, so the beauty of the little Mach benefits from her mother's unique aesthetics to a certain extent.
Little Mach's mother likes it very much and is also very good at matching clothes and styling for her daughter. There are almost no identical makeup in the photos of little Mach appearing on social platforms. A variety of shapes and well-matched clothes also show the advantages of little Mach's appearance to the greatest extent.
Two, both happy and worrying attention
As the popularity of Mahdis on the online platform remains high, the normal life of this small family has also begun to be affected.
Many things have two sides, just as the writer wrote about his own experience of raising flowers, "there are joys and sorrows, laughter and tears, flowers and fruits." There is a happy side and a worrying side.
A daughter's popularity and being loved by the public can be said to be the proudest thing about being a parent.
It is no exception for little Mach's parents. Accidental life sharing has brought their daughter into the public eye, and the praise from netizens from all over the world is not only beyond their expectations, but also surprised them both and honor.
After being noticed by everyone, her parents are also more active in sharing the beautiful photos and life videos of little Mach on social platforms.
In addition to the popularity on social platforms, mainstream media in many countries have also begun to turn their attention to this beautiful girl. The social account used by Mahdis' family to share photos of Mahdis has also attracted more and more attention. At the stage of just becoming popular , Mahdis's social platform account has more than hundreds of thousands of fans. As of now, the official account of Mahdis has 165,000 fans.
When it was the hottest, as long as her parents just updated some of the latest life photos of little Mach, they could get tens of thousands of likes and hundreds of comments in a very short period of time, and the number of views on the account dynamic was even more.
With the increase of popularity, many companies also throw olive branches to the little Mach family, hoping to cooperate with her. And because of her outstanding appearance, little Mach has successfully won some beauty pageant championships and became a popular child model, which has also won her many invitations to fashion events and advertising magazines.
Although it is said that "be famous as soon as possible", becoming famous too early has actually brought a lot of bad influence to little Mach's life. Due to her super high appearance and super popular popularity, little girls are often surrounded by people in real life.
Many ardent fans even squat near the little Maher's house just to see her in person.
Sometimes when walking on the road, many passers-by would hug and kiss such a beautiful little girl when they saw such a beautiful little girl, which brought a lot of trouble to Mahdis.
Little Mach's parents are actually quite worried about their daughter's ability to become an "Internet celebrity" on social platforms, because they realize that "fame and fortune are a double-edged sword", their daughter is famous at such a young age, and with so many fans, she is often in school The gifts from fans may have a certain impact on the little girl's simple world view. They don't want their children to be pampered and arrogant and lose themselves because of these gifts and praise.
And because of the complexity of human nature, the parents of little Mach are also afraid that their children will be targeted by bad people in their lives. Therefore, rather than being famous, little Mach's parents actually hope that she can have a carefree childhood like other ordinary girls and grow up safely and healthily.
3. Father who voluntarily resigned
As a Middle Eastern country, compared to the living standards of the people of all walks of life in the Iranian country, Maher's family belongs to the local middle-class family. Her father, Ali Yousef Mohammadi, has a stable job and a relatively high salary. treatment. But as a father who loves his daughter, with the popularity of little Mach, he began to worry more and more about the safety of his daughter going out.
Such concerns are also related to the local social environment. Like many other Muslim countries, the social and political status of Iranian women is relatively low, which makes the personal safety of many women unprotected.
Women are more likely to encounter danger when they go out alone, especially a girl with good looks like little Mach, who may face even more danger.
After the little Mach became famous, the father of the little Mach has repeatedly expressed the hope that his daughter is safe and healthy, free from any harm.
So in 2018, Ali Yousef Mohammadi chose to resign to protect his daughter's safety out of consideration for his daughter's safety.
After resigning, he had more time to accompany Xiaomahe. Not only did he personally take Xiaomahe to and from school, but he would also guard his daughter's side every step of the way when Xiaomahe went out to play, fully showing the "model father" 's responsibility.
With the announcement of this news, many netizens immediately boiled, and many media used this as a gimmick to draw up headlines to attract netizens' attention.
Such misleading news has also raised a lot of doubts for Mach's parents. Many people think that little Mach's parents are actually going to make money through his daughter's popularity, so his father chose to resign.
But in fact, the little Mach's father made the decision purely from the consideration of his daughter's personal safety.
And since the popularity of little Mach, her parents did not deliberately package her daughter to go on the road of Internet celebrity development. Little Mach is still receiving school education. In her spare time, her parents will choose to take little Mach to learn piano and other Artistic skills, and will also travel with little Mach to see different landscapes around the world.
They are working hard to cultivate her cultural and artistic accomplishments so that little Mach can enjoy a happy childhood.
Fourth, the status quo after growing up
It has been four years since 2018, the most popular year for Mahdis in China. The 8-year-old girl has now grown into a 12-year-old girl. As the popularity fades, domestic news reports about her a lot less , Occasionally, the media digs out old news and once again laments the beauty of the girl, but there is little news about the current situation of the girl.
This also seems to show that little Mach's parents are indifferent to fame and fortune tutoring, and did not use the child's beauty as a tool to gain fame and fortune.
Perhaps Mach's parents deliberately reduced the frequency of their daughter's trip abroad, deliberately avoiding excessive disruption to their daughter's life when she grew up.
At present, Xiao Mahe has adapted to school life, and is no longer worried that his excessive beauty will attract the exclusion and jealousy of his classmates, nor will he be worried that there will be fanatical fans squatting in the community again, and live a normal life like his peers.
But on social accounts, Mahdis's daily photo sharing has not stopped. Compared with the frequency of sharing at the beginning of the account's establishment, the frequency of dynamic updates of her account has become lower in the two years from 2021 to 2022. Last year, the account was basically updated every other day. It will be updated once or twice a month, and the latest update in 2022 will be in June, which is half a year after the last update.
Judging from the latest photos, Mahdis is still very beautiful when she grows up. Compared with the doll-like image before, her eyebrows and eyes are now open, and the young girl's tenderness has faded, and she is more delicate. In the art photos, she is more dignified and has the temperament of an international supermodel.
In the life photos, her long legs fully show her height advantage, and the little girl's face is always full of enthusiastic smiles. It is conceivable that she has been well cared for by her parents in the past few years when the heat has subsided. .
Conclusion:
From being famous at a young age to being dull today, the good news is that the appearance of this most beautiful girl in Iran has not changed much. From the photos of her happy smile, we can feel the happy family behind her. Ambience.
At the beginning, many people ridiculed her father's resignation to be his daughter's bodyguard, but now, his father actually made the most correct choice.
Now that little Mach can be born with such a temperament and live such a happy life, it is inseparable from her father's selfless dedication. For Mahdis, it may be more meaningful to be able to enjoy an ordinary and happy childhood than the halo of "the most beautiful girl".