Air Bar Max VS Air Bar Lux - Which one's better?
Air Bar Comparison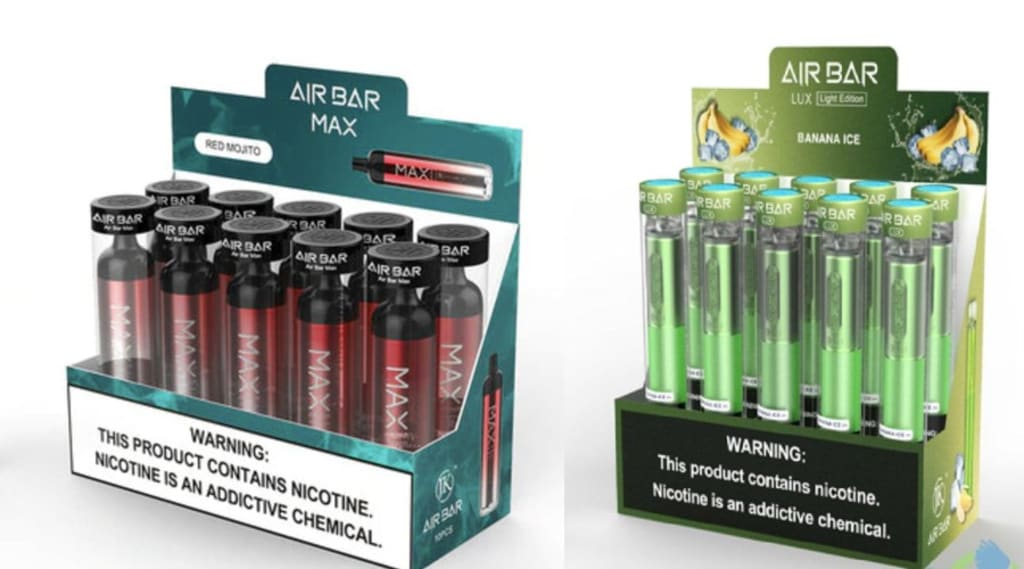 When it comes to vaping, everyone have lots of question about vaping pods, mods and juice, only that matter is clean taste, giant clouds, durability and satisfaction. The popularity of these new Disposable Vapes are spreading like fire among the vapers.
Air Bar Max and Air Bar Lux are the boys of Suorin vaping company. Founded back in 2013, it has gained enough popularity globally and now has approval to sell its products in around 90 countries. Its Air series is recently in the talks due to its high-quality unique flavors, affordable prices and long-lasting devices.
So, let's discuss what exactly both the pods Air bar max and Air bar Lux have for you on the table.
Available in gold, teal blue, red, midnight green, blue, and silver gold, Air Bar Max is a colorful yet powerful portable vape that can tag along throughout the day. Comes with an integrated 1250mAh battery and is equipped with 6.5 ml vape juice.
Constructed from the durable zinc-alloy, the chassis of this pod is relatively impact resistant and durable, protecting the battery within. It has the ability to produce massive vapors with incredible taste. The 2000 strong puffs it allows hit the spot right away, leaving immediate satisfaction. Starting from just $14, this pod has proven that quality cannot always be expensive, and can be affordable too.
Top Feature Highlights
Draw Activated Firing Mechanism
20 Juicy Flavors
Integrated 1250mAh battery
Sturdy Construction
Leak-Resistant
6.5ml vape juice
5% Salt nicotine
Exclusive 2000 puffs
Air Bar Max Flavors To Choose From
Cherry Blossom Grape Aka Sakura Grape
Watermelon Ice
Holly
Red Mojito (Cranberry Mint Lime)
Shake Shake
Aloe Blackcurrant
ALPPS (Icy Mint)
Berry Shake
Blueberry Blackcurrant
Blueberry Lemon Ice
Cranberry Grape
Guava Shake
Apple Shake
Kiwi Berry Ice
Melon Shake
Cool Mint
Banana Shake
Lemon Shake
Red Bull Ice
Pudding
Blueberry Raspberry
Peach Mango
Strawberry Mango
Starting from just $11, Air Bar Lux Disposable Vape comprises a compact design with an elegant appearance brought by a popular zinc-alloy chassis construction. Its well-designed and ergonomic, powered by an external 500mAh battery that aims to make your vaping experience incredible and hassle-free.
One of the most versatile vaping devices that you can bring and use everywhere. It is designed to work with 5% salt nicotine and vape juice capacity of 2.7ml. The 1000 puff count and its large smoke volume can be used for a longer time. From capacious battery to great flavors and vape juice capacity to steam production, Air Bar Lux Disposable Vape is no disappointment.
Top Feature Highlights
Draw Activated Firing Mechanism
1000 Puff Count
5% Salt nicotine
20 authentic flavors
Lightweight & Portable
Thick & Tight Puffs
Ideal for newbies
No Leakage, No Maintenance
Precharged 500mAh battery
2.7ml vape juice capacity
Air Bar Lux Flavors To Choose From
Black Currant
Banana Ice
Shake Shake
Grape Ice
Mixed Berries
Watermelon Ice
Triple Shake
Banana Shake
Blueberry Ice
Blueberry Pomegranate Ice
Blueberry Raspberry
Coconut Grove
Cranberry Lemonade Ice
Raspberry Watermelon
Strawberry Mango
Strawberry Watermelon
Sunset Cocktail
Watermelon Apple Ice
Raspberry Grapefruit
The Verdict
Both the Disposable Vape Pods are designed for high-quality e-cigarette liquid, including 5% salt nicotine. The designs are great and the designers have clearly worked on ergonomics, made of zinc and aluminium alloy. Be it Air Bar Max or Air Bar Lux, both the disposables have some amazingly luscious flavors and draw. The draw activated firing mechanism makes it easy and simple to use. The difference that can be spotted is in the battery power and puff count. If you are new to vaping and want to try some new flavors Air Bar Lux is best and if you need long-lasting vaping sessions, go for Air Bar Max. As simple as that! If you want to buy any Disposable Pod in Discounted Prices You Must Visit ravenroute.com Raven Route is one the of best Online vape Store to Buy vape juice, Vape pods, Vaping devices online.