What Could We Have Become?
If Only We Had More Years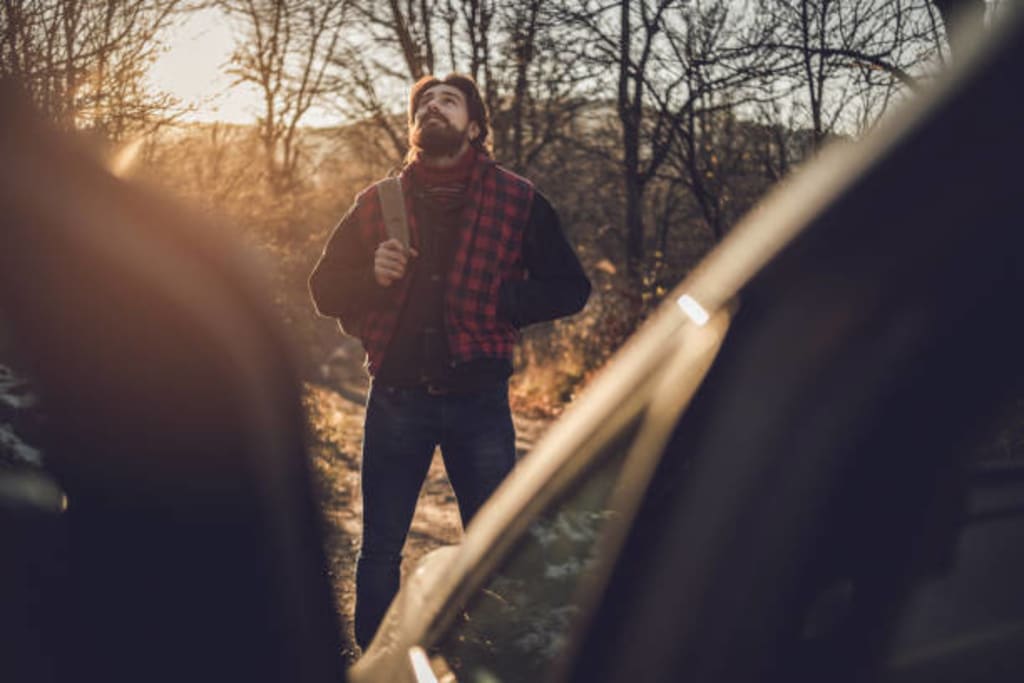 Man in the woods. | iStock, Milan Markovic
We'd talk until the birds sang in the morning.
You liked coffee with a side of cigarettes.
I'd sit in a corner with your t-shirt on;
I ate burnt toast with a side of jam.
We'd listen to soothing music
and search for something folksy.
I remember you standing out in the garden
with your wide-brimmed hat. You'd look at the lilies;
you wanted to make sure they were hydrated.
You dreamt of raspberry bushes and snowpeas.
You'd sit on the ground and let grainy soil sift
around your fingers.
We'd walk around the neighborhood
with our chocolate lab with the golden spot.
I called him Lucky you called him Douglas.
We'd go to a prairie field. Watch the grass wave in the wind.
The monarch butterflies searching for purple blooms.
We'd hike for an hour.
The dog panting for some water.
We'd picnic near the river. Egg salad,
ham sandwiches, banana nut muffins, and yogurt cups.
Play some fetch with Lucky.
You always wore denim and that symmetrical smile.
Your beard sharply outlined your jaw;
I liked to touch it.
We'd sleep under the stars. Lucky
hogged the blankets. Wake to morning dew
and sit in chairs. You'd poke the fire
with a big stick. I sometimes wore
your jeans. I liked the big pockets.
You'd drive us home in your '92 truck.
Windows down; dog sticking his head out.
There was a quilt on our bed.
It was red and yellow. Your grandmother
made it. I liked the way our bedroom
felt. The dim lights, the fox statues,
the vinyl record player, the antique blue glass,
the barn door that led to the bathroom.
We had a big window with a view of the backyard.
We had a vast land. I loved listening to the quiet:
just the sounds of land, trees, and animals.
You were my sweetest love. I'll always treasure
waking up
finding us
sharing the same pillow.
Laughing as you traced
my moles
like they were constellations in the sky. Crying
when I went through
a miscarriage,
and you holding me until I fell asleep.
We'd dance in that room. Listen to Johnny Cash.
I liked to put my boots by yours.
The size difference amused me.
I wanted to capture all of it in a jar
to take my home with me wherever I go.
You'd put photographs of our house
in my hospital room. I loved the picture
of you standing on a deck
looking at the lake. The sun's rays
in your chestnut hair. I loved the picture
of Lucky with a red bandana
around his neck. His tongue hanging out
like he was laughing at a good joke.
I wanted to take all these beautiful moments
to the other side. I wanted to kiss you
while you were sleeping, but I was afraid
you wouldn't know it was me.
I was afraid my touch wouldn't be the same.
I was afraid I'd make you feel worse.
I hate seeing you alone. I sometimes
try to comfort you by speaking to you
as the candle flame, the gentle breeze,
the raindrop out of nowhere, or the soil
that clings to your hand.
love poems
About the author
Freelance writer. Undergrad in Digital Film and Mass Media. Master's in English Creative Writing. Spent six years working as a journalist. Owns one dog and two cats.
Reader insights
Be the first to share your insights about this piece.
Add your insights