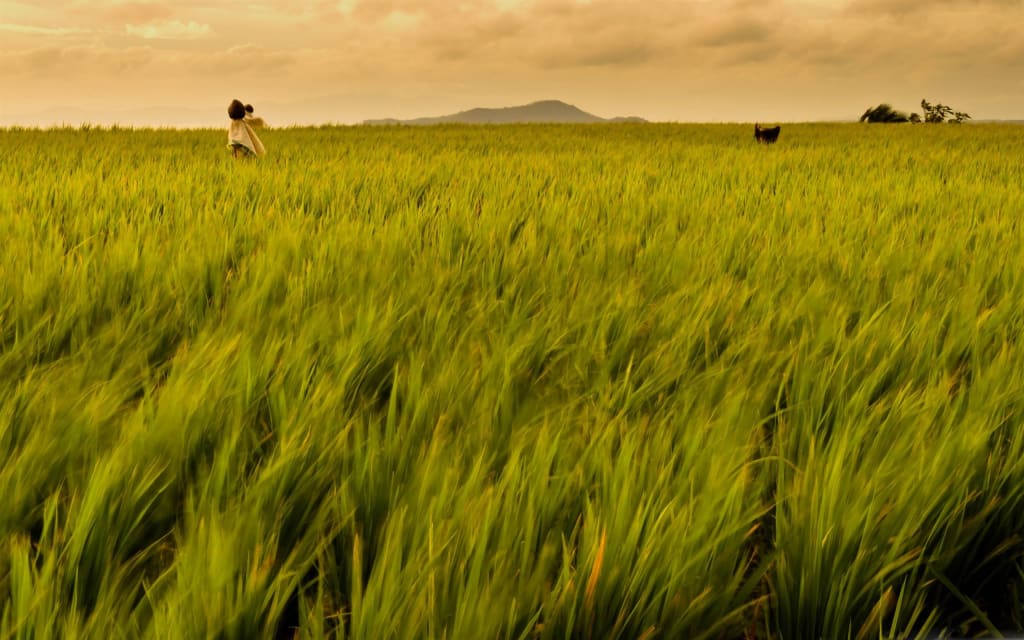 The wind, oh the wind, it sings a song,
As it dances through the paddy all day long.
Its melody echoes through the field,
As the stalks sway, they seem to yield.
The rustling leaves, they seem to speak,
As the wind caresses each and every sheaf.
It's a symphony of nature, a sight to see,
The wind, the paddy, and the melody.
The breeze, it whispers secrets untold,
As the paddy sways, it seems to unfold.
A story of nature, a tale so true,
Of the wind and paddy, and the sky so blue.
So let the wind dance and sing its song,
As it weaves its way through the paddy all day long.
For its melody is unique, and its sound so sweet,
A perfect harmony, a poetic treat.
The wind, it whispers of distant lands,
Of travels and journeys, of shifting sands.
It carries the fragrance of faraway flowers,
And the memories of forgotten hours.
It breathes life into the paddy field,
Giving it strength to grow and yield.
It's a gentle push, a loving caress,
That guides the paddy to success.
The wind, it paints a picture so serene,
Of lush green fields, and sky so clean.
It's a canvas that's ever-changing,
A masterpiece that's always rearranging.
It's a reminder of nature's grace,
Of its beauty, and its peaceful pace.
So let the wind continue its dance,
As it weaves a tapestry of chance.
For in the whispers of the wind,
Lies a story that will never end.
It's a song of hope, a song of love,
A melody that's as free as a dove.
About the Creator
Unlock the secrets of the fictional world through the power of reading these contents. Join me on a journey of discovery, where we explore the unknown, unravel mysteries, and find inspiration in the most unexpected places.
Reader insights
Nice work
Very well written. Keep up the good work!
Top insight
Easy to read and follow

Well-structured & engaging content
Add your insights