The Summerhood Child
When Childhood Memories Come Home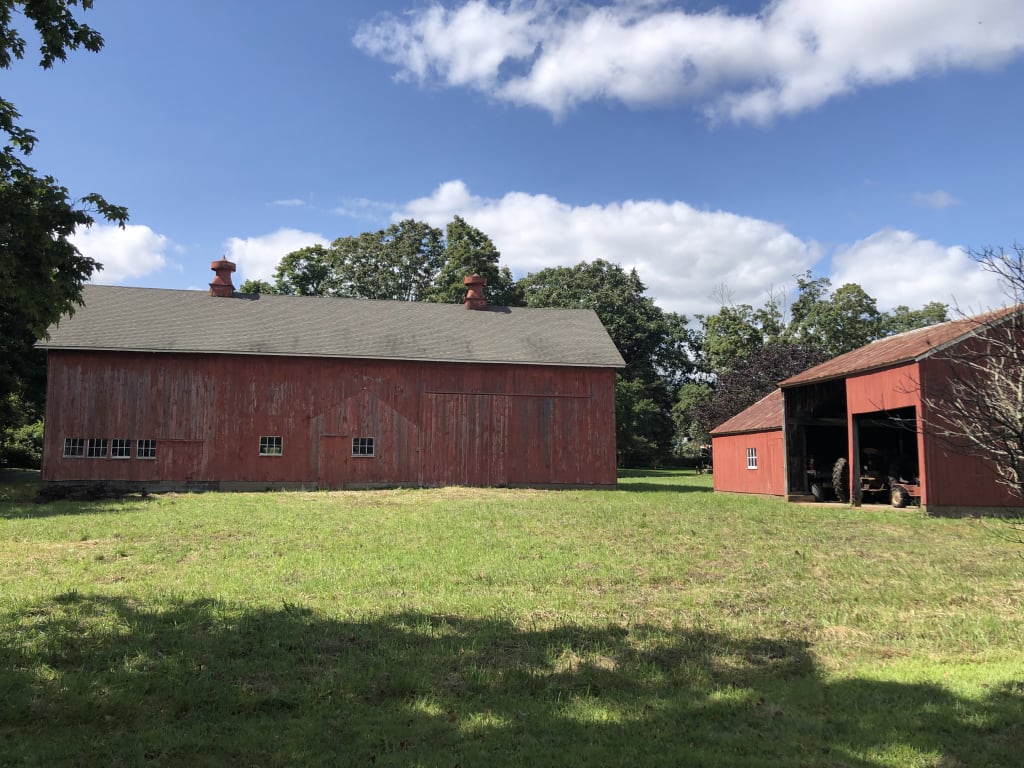 The Davis Barn, August 2021
I heard a rumble from far and deep
A train approaching that broke my sleep
in a hammock strung between
two August trees—
Its horn when wailed, did yesterday hail
revealing my lost childhood to me.
And suddenly I recalled
as from this sleep, I crawled—
two boys like small shadows playing,
for endless summers ever praying.
In falling-leaf circles ran their leaps
floated up on jumps, sank back on feet—
I hoped that I could join them
but their bodies were all too cloud and wind
and their faces kept eluding me
but I thought I saw their grins.
The Davis barn enticed their feet
to climb the pungent bails—
to gather hay inside their sneakers
and poke skin between their toes.
In the hayloft above they discovered
the props of the annual Little Folks Fair
stored inside the musty belly
of this red-wooden dragon.
Little Miss Muffet's tuffet and
the old woman's giant shoe-slide,
the puppet stage, the pony cage—
And a tall old grandfather clock
its pendulum still, no tick no tock
no climbing mice, no striking hour—
Just the breath of fermenting must
mixed by boys disturbing dust.
Then I saw their ghostly shapes
propped against a split-rail fence—
and heard their voices counting clouds,
noting shapes—as this day came suddenly to life
from all the hours of yesteryear folded and placed
in the cedar-lined bureau of memory.
As the days turned to dusk
and the summers ended
now too far from fantasy
those two boys became up-ended.
With utter completeness, both boys are gone
and so early, one gone for good—
the one I called the Summerhood Child.
He lived the make-believe years
the best of any child—
and I got to share each fun, each fight,
and as a bonus, I chanced the privilege
to remember and to write.
I know too soon I must join him
when my life journey has reached its end—
until then I still haunt those yards and streets—
I hear the ghosts of yesternoon's children
running for the bells of the Good Humor man—
I'm still friends with that ancient sun
that licked alongside a dozen red tongues.
And on certain days when I stop below the tree
that held the boards of an old fort and see
the last remaining sign—
a single weathering board nailed up high
trying so hard to touch the sky—
all the scenes of childhood loves
come back to eyes and ears and heart.
And I walk by his old house
that seems to hold still
in those days when Cisco and Pancho
rode bicycle horses, twirling tree-branch guns.
Decades have passed
yet the summer neighborhood still moves
still runs with life, with love—
with new children who come and grow and go—
and the trains still fly past the neighborhood
at ninety miles-an-hour—
yes, the sleek and silver and power-filled trains
carrying the faces of strangers
who never knew of the small world we called home
that belonged to me
and the Summerhood Child.
sad poetry
Jason is a newspaper reporter and fiction writer. His books include: Ode on a Martian Urn, The Legend of Hobbomock-The Sleeping Giant, The Growing Sweater, and Venus Remembered. Jason lives in his childhood home, in Guilford, Connecticut.
Receive stories by Jason J. Marchi in

your feed