The Snake and the Rat
When we face our shadows, we become reborn through our own self-sacrifice, embracing the greatness of humanity, its duplicity, and the seemingly endless cycles of our lives.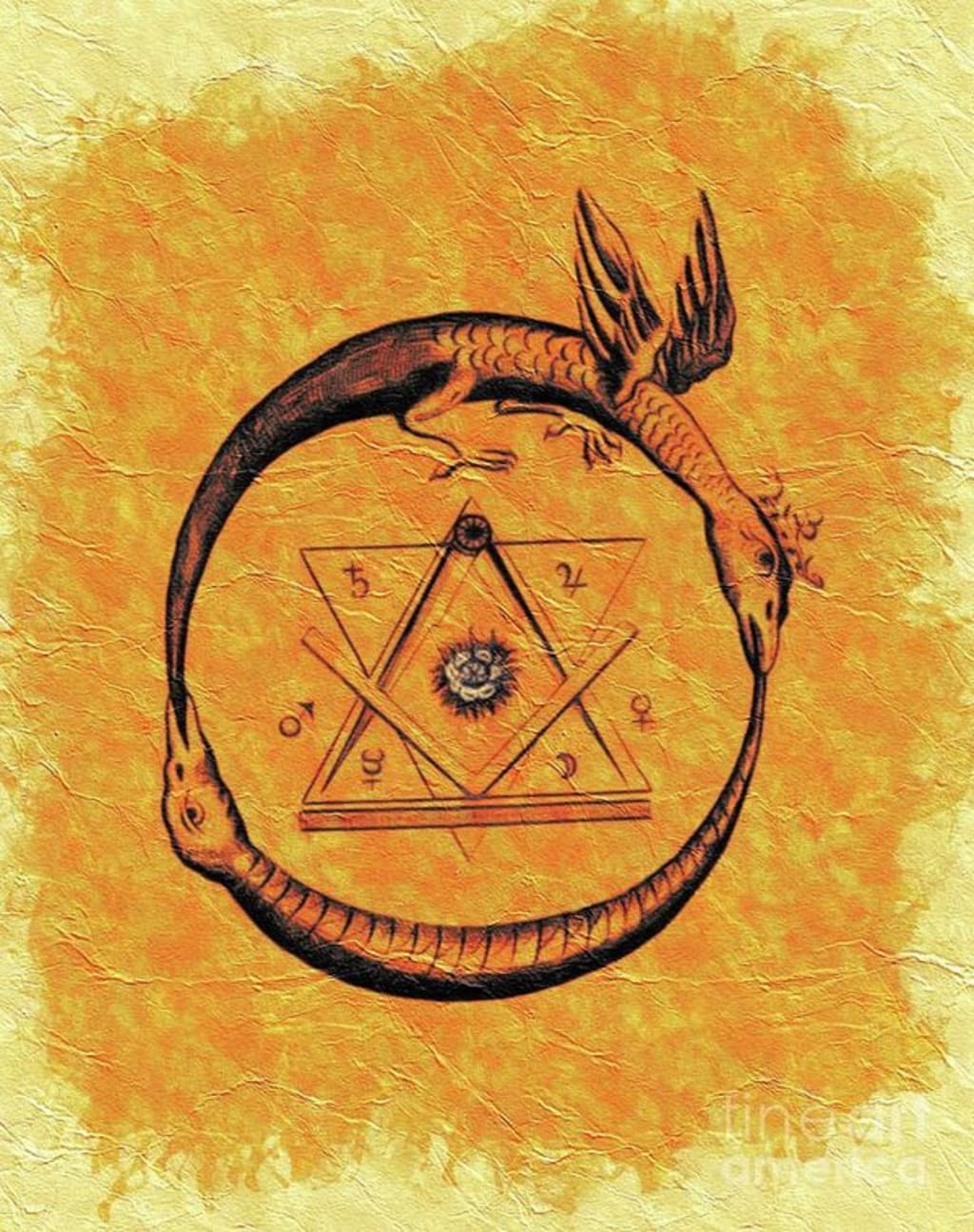 How do I define this curious mind?
Body and soul remain intertwined
I'm living, yet I'm barely alive
With all odds against me,
I fight for my right to breathe
while I creep towards the edge
of insanity
What is the meaning of a dream
without any perspective?
If you can't see past the lines,
then the page means nothing
If you remove your disguise,
maybe then you may see
what lies in-between-
The triangle of life is more
than it seems
A simple shape can be so intricate
Three ends come to a point,
and yet there's much more than that
A solid surface to ground us,
and two sides of a story
with three different faces
In the silence, there is a
fine-tuned ringing,
distinguished by these same 3 points
to which the archer's bow will sing
As it stretches out before you,
an arrow lands right at your feet
But still, you miss the point
and the patterns, they continue
A knock in the distance causes you
to wake up from your dream
Open up the door to find
the answers that you seek
They say it isn't over until
the fat lady sings,
and yet she stands there silently,
naked and serene, nothing
more than a generic scene
plastered in your head
But what does it all mean?
If the question lies inside your mind,
does the answer lie within your dreams?
Or is it all around us,
in the world as we perceive it?
A snake slithers in the grass,
searching for a rat to eat
but there is no food to feed it,
so he moves onto the nearest
thing he sees,
devouring the flesh of your
poor, helpless feet
With an arrow lain there next to you,
still, all you do is scream
You bite your tongue and pray
to the clouds above your head
while it eats away at your legs
Still, you wait and bleed
You wish to escape this awful fate,
but now you cannot run
You stood there as it ate your legs
and nothing can be done
So, you sit and stare off into space,
just hoping the snake won't return
You call upon your angels,
and you call upon your God,
but no savior comes without the truth,
and this soon, you will learn
Redemption comes with sacrifice,
one which you must make for yourself,
lest the soil below you crumbles
and the little you have left
falls victim to the serpent once again
Watch the flowers bloom around your tomb,
creating your epiphany
Announcing the arrival of your
slowly-churned victory
The wrath inside you will subside,
and soon you'll see what's in-between
the lines of a very strange triangle
Look down at the caterpillar
lurching at your feet
and watch as she transforms
If you wish to grow your wings and fly,
you too must be reborn
Through darkness, you will reach the light
In sickness, you'll find death
Draw the line between the two, and
you might just reach success
A new life, defined by your own mind
True peace from deep within
In-between the darkest times,
you'll find metamorphosis
Dispose of all your emptiness,
False idols and false comforts
Then, you'll see you're truly blessed
Relinquish that which brings distress
In shame, there is no solace
The sickness you've created
will bind you until death
unless you starve the serpent
and create a new life path
Manifest the God inside,
Free your mind of this sick design
and the universe will do the rest
Grab hold of what's inside that's died
and pull it out before it festers
Reclaim the power deep inside
Hold true to that which gives you life
amongst these dying souls
Your purpose is to prosper,
so just let it be and watch it grow
Unleash the tides below which have
been held back by your broken soul
Just live within each moment
as if you'll never grow old
I know that you feel lost right now
Your conscience is wearing thin
You're searching for a place to live,
but you forgot how to live
with yourself
Forgive and you'll forget the pain
Just live within your higher place,
and soon you'll find that nothing
can prevent you from succeeding
Your wings will grow
and the triangle
will show you all you've needed
Change your ways and mend your
thoughts to manifest the best in you
The demons that you've let inside
will run in fear
Just make it clear
they cannot hide, nor can they run
as long as you can face them
Don't fear the things you cannot see,
just breathe in deep and let it be
Keep going until you've got nothing
and then you'll have whatever you need
Let go of the past
Break away from your habits
Kill all the negativity
and the truth will set you free