The Safety of Trust
An Acrostic Poem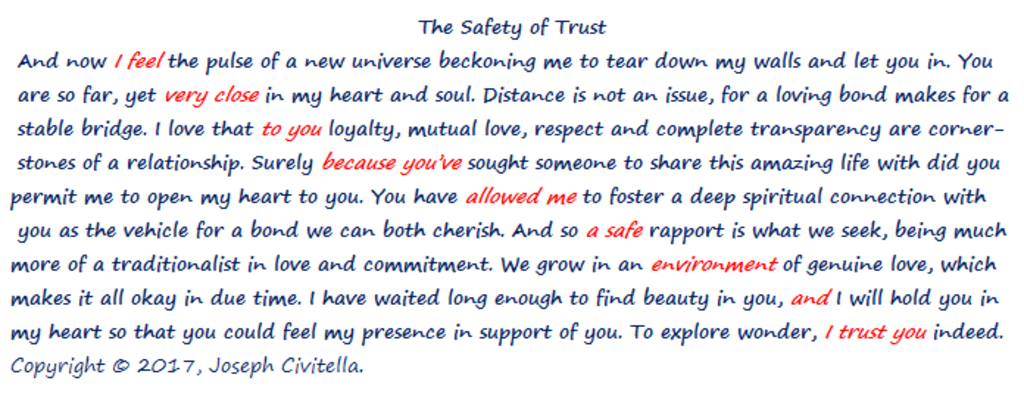 The Safety of Trust
And now I feel the pulse of a new universe beckoning me to tear down my walls and let you in. You
are so far, yet very close in my heart and soul. Distance is not an issue, for a loving bond makes for a
stable bridge. I love that to you loyalty, mutual love, respect and complete transparency are corner-
stones of a relationship. Surely because you've sought someone to share this amazing life with did you
permit me to open my heart to you. You have allowed me to foster a deep spiritual connection with
you as the vehicle for a bond we can both cherish. And so a safe rapport is what we seek, being much
more of a traditionalist in love and commitment. We grow in an environment of genuine love, which
makes it all okay in due time. I have waited long enough to find beauty in you, and I will hold you in
my heart so that you could feel my presence in support of you. To explore wonder, I trust you indeed.
Copyright © 2017, Joseph Civitella.
love poems
Joseph Civitella
Joseph Civitella, PhD, is a life-long student of metaphysics – the quest for truth, meaning and purpose – and is an ordained minister in the International Metaphysical Ministry. He operates the School of LifeWork (www.schooloflifework.com).

See all posts by Joseph Civitella →