The Loneliest New Year's Eve Ever
The story of ma petite soeur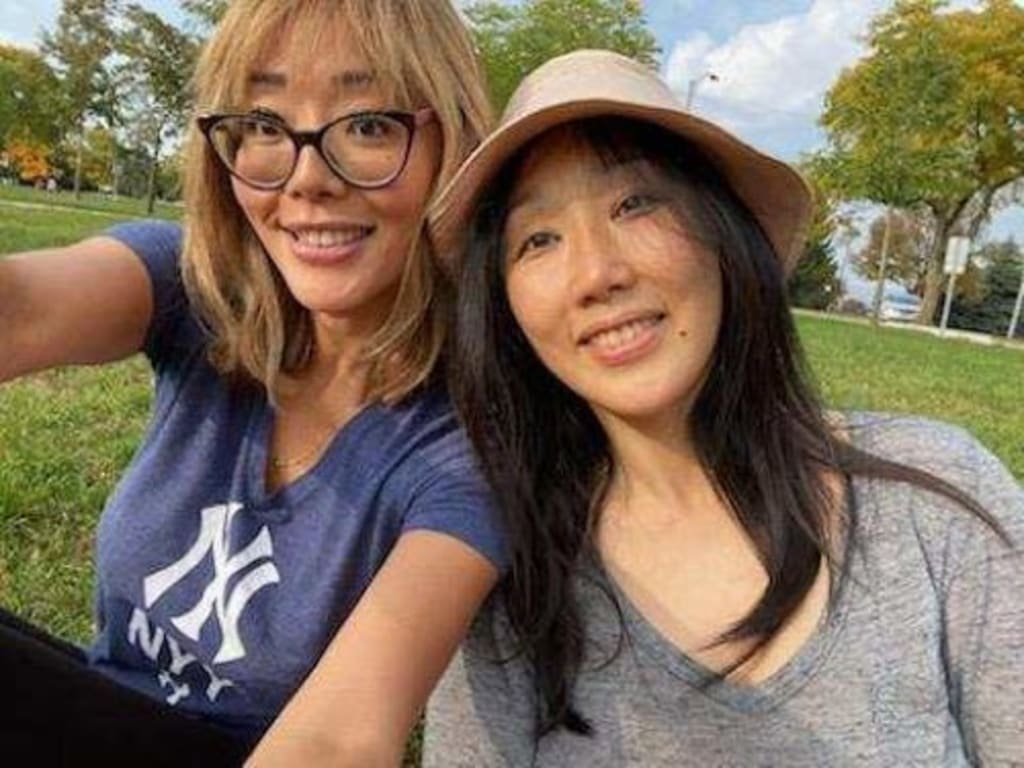 Avec ma petite soeur
The Loneliest NYE ever
Part I.
My sister and I had planned to meet on New Year's Eve -
we had talked about it for days - I was going to go over to her new place near Navy Pier, donned with some champagne and strawberries, plop down on her velvety red couch, possibly light some candles and watch a film with her.
Per the plan, I go to the local grocery store in the suburbs of Chicago around 4pm on December 31, 2019.
I pick up a few items like -
strawberries,
a bottle of $20 prosecco champagne,
almonds,
chocolates,
a carton of orange juice, and
two giant navel oranges.
I call my sister after I check out, using my black, outdated, blackberry phone. She doesn't pick up.
In the typical fashion of ma petite soeur, she sends a terse text message saying she is out of town and is in Miami for a few days
Shit, what am I supposed to do now? I think to myself.
It's snowing pretty heavily, with serpentine whirls of crisp, menacing snowflakes landing uninvited on my limbs - it's a f*cking blizzard, actually.
I think - I don't want to go back to my place partially cohabited by the cantankerous elderly owners ;
so I decide to hop on a bus to Rosemont, where there awaits the blue el line which will transport me to downtown Chicago - my original destination, only sans my anticipated New Year's Eve companion.
I wait for the bus for about 30 minutes in the freezing temperature, with two loads of groceries sagging at both of my arms like a pair of unwanted children.
When the bus finally arrives, I curse under my breath underneath the thick, oppressive weight of the snow and the merciless elements and feel zapped of all energy and strength.
Part II.
I arrive in downtown Chicago, near the centerpiece attraction Millenium Park where the giant silver bean sculpture holds and steals all the passersby's gazes;
as I haggardly emerge from the subway station, fearing the snow, I am saddled by the brown bags of groceries that are increasingly putting a strain on my tiny frame.
I grudgingly trudge through the snow, deciding to head way to the Millenium Park, where rows of empty benches patiently await (due to the inclement weather).
My only companion at this time is the $20 bottle of Prosecco champagne, which keeps burrowing into my legs through my jeans, making painful grooves, but eagerly awaiting to be satiated
I thank my sister for unexpectedly cancelling our plans so I had to make this harrowing two-hour journey to enjoy the company of the blistering cold,
this bottle of cheap wine,
and the company of strangers who will probably be posing for photographs under the "Magnificent Christmas Tree,"
(gifted by the Chamber of Commerce of Chicago).
-----------
Part III.
I perch myself down on a random bench in the Park, and
slowly pull out the bottle of cheap champagne;
I open the lid carefully
and begin to swirl the alcohol inside my mouth, trying to discern the flavor.
I get a few strange glances from passersby and groups of family members and couples posing sentimentally under the gaudily-lit Christmas tree;
I decide to send a perfunctory, belated New Year's Eve text message to a friend on the East Coast in Washington D.C. to keep up my spirits.
All thanks to my irresponsible, unpredictable little sister - ma petite soeur
Part IV.
A stranger sits down on the bench next to me.
An uncomfortable silence ensues...
I ponder in my head whether or not I should ask what his name is.
Instead, I say nothing.
Just two strangers adjacent to each other, joined by the dark, blurry, loneliest New Year's Eve surrounding them.