Ten Sentiments
An Acrostic Poem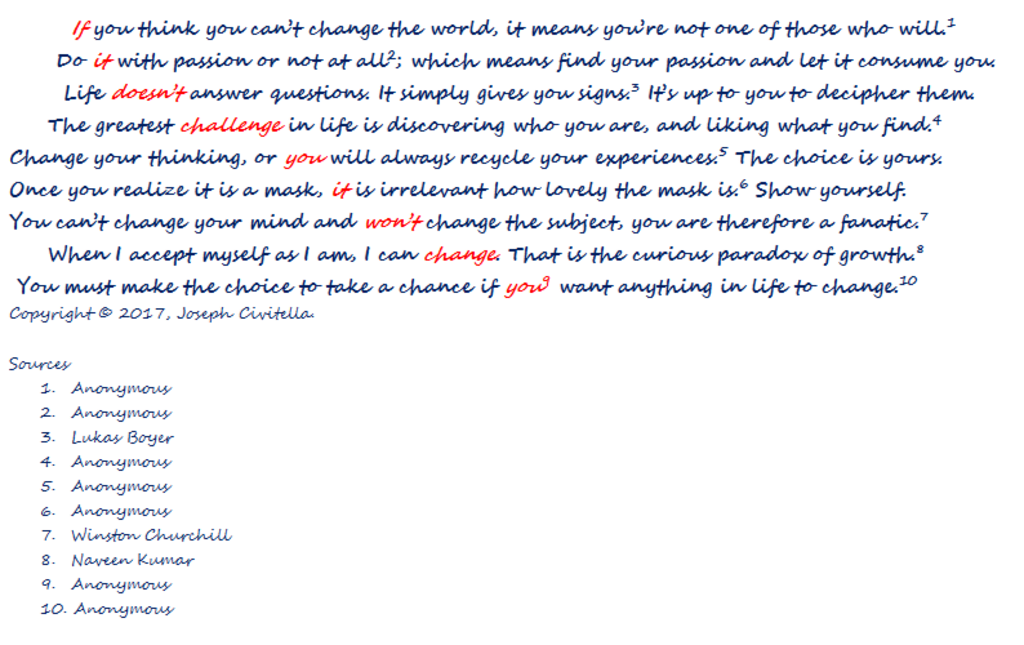 If you think you can't change the world, it means you're not one of those who will. (1)
Do it with passion or not at all(2); which means find your passion and let it consume you.
Life doesn't answer questions. It simply gives you signs.(3) It's up to you to decipher them.
The greatest challenge in life is discovering who you are, and liking what you find. (4)
Change your thinking, or you will always recycle your experiences.(5) The choice is yours.
Once you realize it is a mask, it is irrelevant how lovely the mask is.(6) Show yourself.
You can't change your mind and won't change the subject, you are therefore a fanatic.(7)
When I accept myself as I am, I can change. That is the curious paradox of growth.(8)
You must make the choice to take a chance if you(9) want anything in life to change.(10)
Copyright © 2017, Joseph Civitella.
Sources:
1. Jacque Fresco
2. Anonymous
3. Lukas Boyer
4. Anonymous
5. Anonymous
6. Anonymous
7. Winston Churchill
8. Naveen Kumar
9. Anonymous
10. Anonymous
inspirational
Joseph Civitella
Joseph Civitella, PhD, is a life-long student of metaphysics – the quest for truth, meaning and purpose – and is an ordained minister in the International Metaphysical Ministry. He operates the School of LifeWork (www.schooloflifework.com).

See all posts by Joseph Civitella →