Soupe A La Turbid
Don't go into forests at night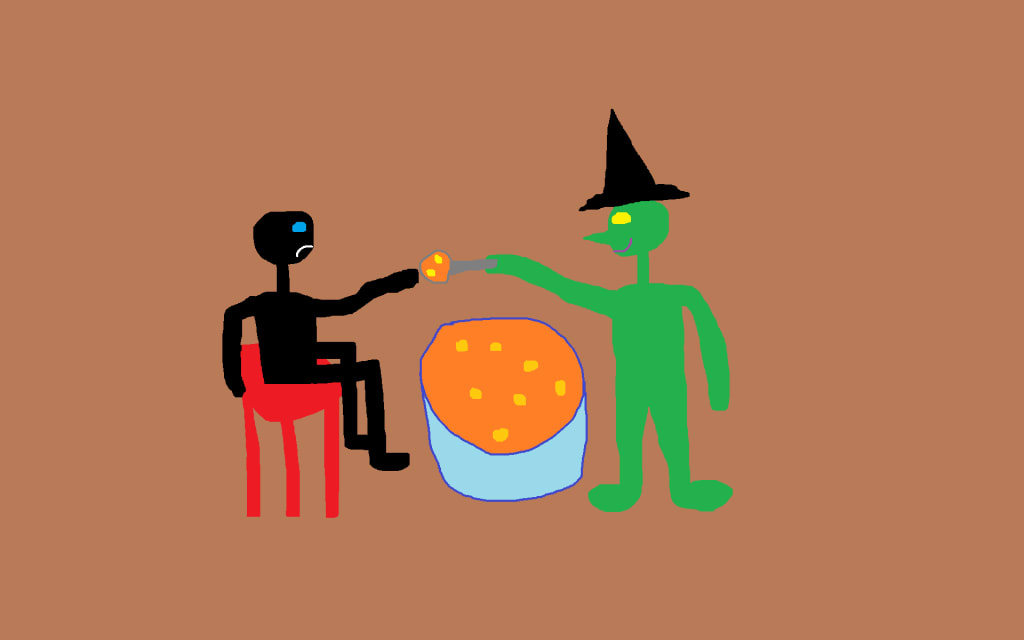 Would you drink this soup to live?
Go past a town where everything's right,
Down a gravel road, then turn right,
Into a forest without any light,
Into a forest where you'd better step light,
Deep in the forest with limited sight,
Lies a little cabin that's in plain sight,
Peek in the window this misty night,
And you'll wish that you had gone to bed tonight,
Cause what you see, will surely give you a fright,
A bubbling cauldron that looks like a fright,
Staring at its contents, your stomach twisting tight,
You try to take a step away, to find that you're caught tight,
And from a backroom comes an odly sounding bite,
And then enters an ugly witch with a gastly overbite,
She used a wooden ladle, to stir the soupy blight,
She looked up and saw you, eyes pathways to blight,
You tried to flee, to get away, but try as you might,
She came out and grabbed you and you struggled with all your might,
She brought you in and hugged you tight,
You realized your ghastly plight,
She poured into her cauldron soup a little pinch of spite,
She dropped into her cauldron soup a ragged looking kite,
Some eyeballs, newts and power draining kryptonite,
She poured in ten full cans of sprite,
She brought you a spoon and bid you alight,
On a stool, not cedar, not pine, not white,
You looked with disgust at that turbid soup,
But you wanted to live, so you took a scoop.
About the Creator
One of my favorite hobbies is thinking. I love to create fantasy realms in my mind, be it for stories or poetry. The one thing I was missing was a proper platform to share my fantasies. It's time I got Vocal. Hope you enjoy :D
Reader insights
Be the first to share your insights about this piece.
Add your insights