Snow Light at Midnight
My Love Confessions of Winter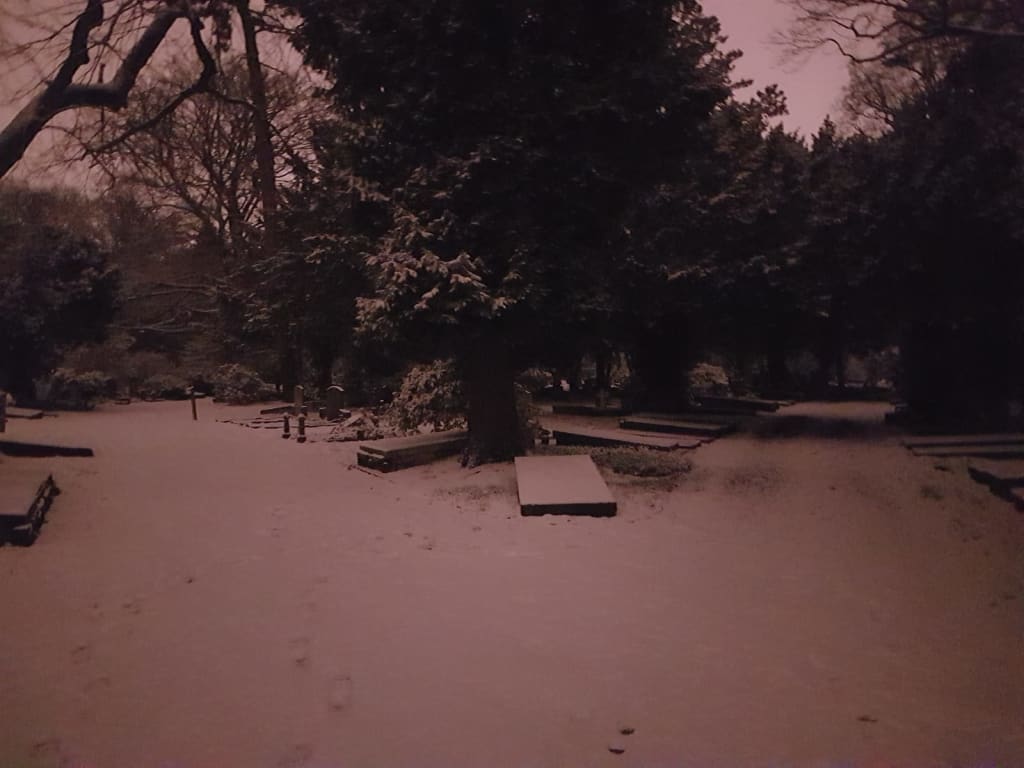 A cemetery on a snowy winter night by Nicole Kunefke
Daylight wanes as nightfall arrives early and untamed
Everyone snatching favorite scarfs, hats, and mittens to match
Cozy winter nights curled up in fuzzy pajamas by roaring hearths
Evening drives through neighborhoods lit with Christmas colors so bright
Many hours laughing with family, just us three decorating our aging tree
Bravery of something new; Sinterklaas poems and carrots for his horse, too
Eve of Christmas merrily spent with loved ones and Christmas Rock Orchestra
Reveling in their looks of joy and surprise at secret gifts devised
***
Joyous traditions don't always keep dreary cloudy days at bay
A new home so wonderful yet births a yearning for sunlight
New year, new life; snow lighting up the world at midnight
Under the stars we walk, the scent of chimney fires near and far
A bed of dead acorns beneath our feet, nightly wanderings out of a dream
Risking a fall while ice skating with my lover so tall
Yearly cycle of hopes and wishes begin anew for me and you
***
Foaming cups of hot cocoa with sweet spices, milk, and marshmallows
Eager pockets waiting for boxes of discounted chocolate
Boiling pots of hearty soups, chili, and gumbo roux
Rumbling thunder in the distance a reminder of winter's persistence
Umbrellas shield against pelting hail and freezing rain without fail
As each day waxes more and more to even the season's score
Ready now for the rustle of butterfly wings, the warm breath of spring
Yearning for that elusive sunlight, a half-year of treasured paradise
--------
My First Seasonal Poem: Shades of Autumn - My Love Letter to Autumn
Many thanks for reading! If any of my poems are to your liking, please feel free to like and share them!
About the Creator
Aspiring Fantasy & Horror Writer. Chaotic Night Owl. Freelancer.
My blog where I write all about my immigration from the US to The Netherlands: mydutchimmigration.com
Find me on FB & Twitter: KismetDragoness
Reader insights
Be the first to share your insights about this piece.
Add your insights