Rise Like The Sun
His rays like whispers summoning me outside to have some fun.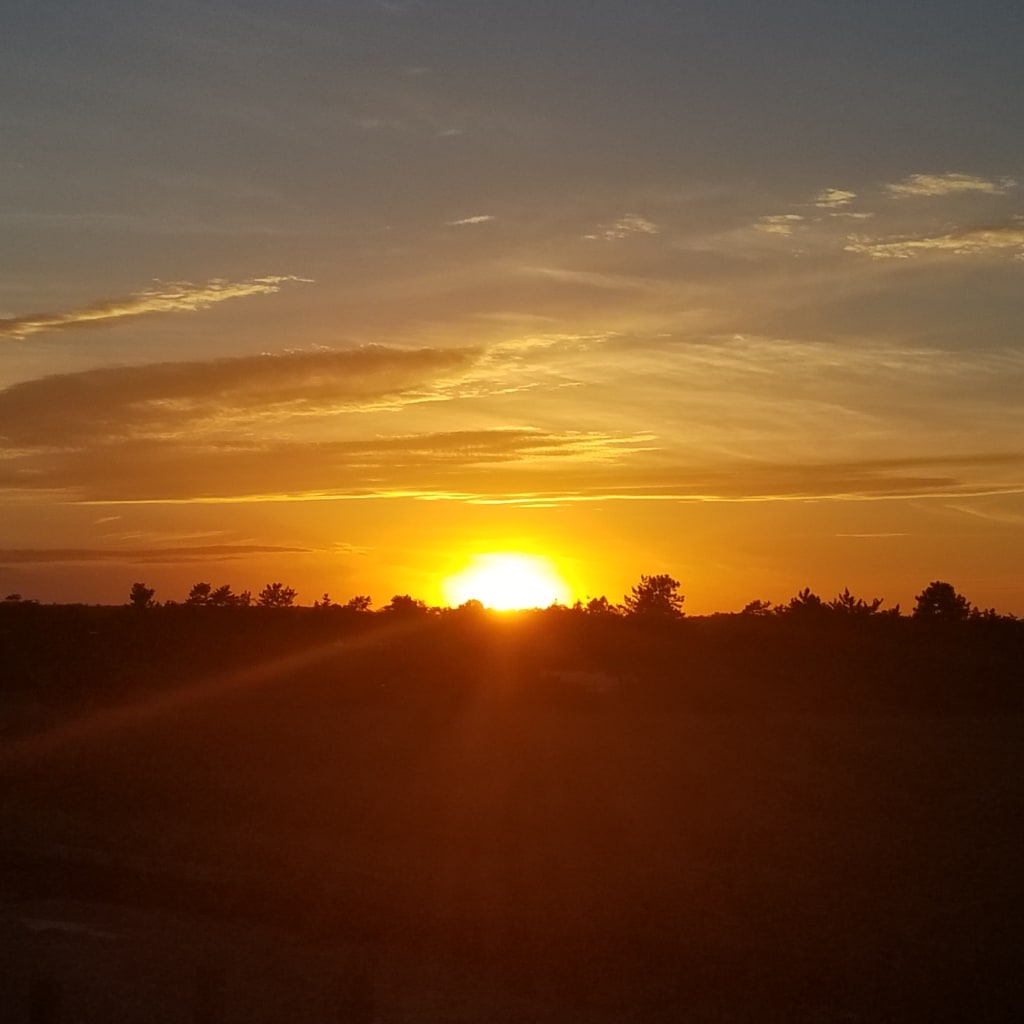 Photo Taken By The Author
When the Sun dips below the horizon
It does so softly
On the heels of pastel-painted skies.
*
After the culmination of a scorching summer day,
He exits in a fiery and bold display.
The sky is ablaze with radiant shades of orange and scarlet.
*
As the Sun rises and the world awakens in his stead
Golden skies summon us from our cozy beds
The promise of blue skies, forefront in my head.
*
Overhead, shimmering sunlight
Playing peekaboo from behind the fluffy white.
I close my eyes.
Gently inhale. Sun-kissed warmth.
*
I feel the whisper-soft breeze across my face
Raising my arms towards the sun
I imagine I've sprouted wings from my back.
*
Pushing off, I'd take flight.
Soaring above the treetops
Taking in the world below.
*
Sadly, wings are one thing I lack.
So, instead, I stand, warmth upon my cheeks
And I wonder, what does the Sun see?
*
The Moon is our confidant,
Our comforting friend always there in the night
She watches over us as we sleep.
*
Yet the Sun guides us each day.
There each morning as we set the tea to steep,
Watching from above as you secure your babe in her car seat.
Warming my shoulders as I head out for a leisurely stroll.
*
Come afternoon, as we splash in the sea
I know if I look heavenward it'll be the Sun staring back at me.
As he warms the gulls soaring overhead with such contented glee.
*
During our picnic when heavy clouds hint of evening showers,
It's still the Sun keeping us warm with his incandescent powers.
Holding them at bay until he's tucked in for the night.
*
Mister Sun sinks below the horizon,
He's no longer in sight
I thank the Sun for another perfect day.
Now I look forward to the morning and his first glowing rays.
. . .
If you've enjoyed reading this, please consider giving it a "like" by clicking on the ❤️! If you'd like to read more of my writing, be sure to subscribe! Tips and pledges are voluntary, and so greatly appreciated!
This poem was originally published on Medium:
Reader insights
Be the first to share your insights about this piece.
Add your insights