Renz Julian "CK7"
A tribute song to Colin Kaepernick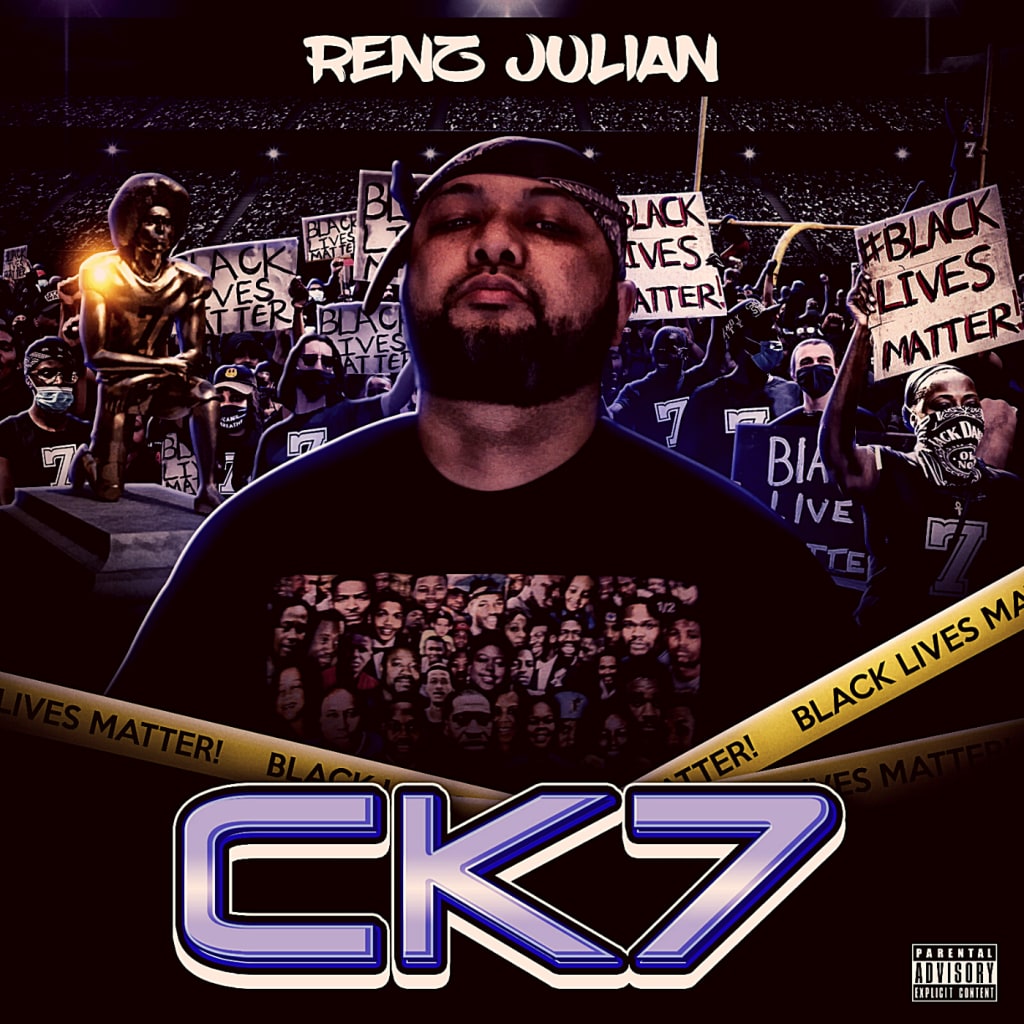 At this point it seems Colin Kaepernick will not be signed to an NFL team. I've been a 49er fan my entire life and I saw his rise from Alex Smith's backup to Super Bowl starter in 2012. He threw for over 300 yards and almost lead them to a comeback victory. The week before he rushed for 181 yards (still an NFL QB single game rushing record), and threw for 263 and 2 touchdowns. If you look at the stats comparison between Kaep & Steve Young for the first three years, the numbers are almost identical. Kaep was 21-8, 6261 passing yards, 41 tds to 15 picks, and 1004 rushing yards. Young went 19-10, 6113 passing yards, 43 tds with 15 picks, and 1223 rushing yards. His stats are right on par with Steve Young the hall of famer. For all those who say he's not in the league because he sucks need to look at the truth. They also may need to look deep within themselves and admit they may be part of the problem. This country has a history of racism and cruelty towards black people and it hasn't gone away. A black man took a stand for social justice. There is an obvious problem with police brutality in this country and all he did was take a knee to bring awareness to it.
Looking back four years later the NFL commissioner Roger Goodell admits he was wrong in his stance against players protesting during the national anthem. Now in an interview with theguardian.com, he was quoted recently on June 5th; "We, the National Football League, admit we were wrong for not listening to NFL players earlier and encourage all to speak out and peacefully protest," said Goodell. "We, the National Football League, believe black lives matter." In August in appearing on a Youtube interview with Emannuel Acho Goodell had this to say; "I wish we had listened earlier, Kaep, to what you were kneeling about and what you were trying to bring attention to." So with this recent flip flopping of positions, why not make things right and assign the man to a team. It is the right thing to do, and only way for the NFL to be viewed on the right side of history. Ultimately they will not, and this will be a black mark on the record of Roger Goodell and the NFL that they may never recover from.
In another hot and bloody summer, we have seen no change in the current conditions of our communities where these tragedies continue to happen. With the recent police shootings of Jacob Blake, an unarmed man shot seven times in the back. George Floyd, killed by a police officer who kneeled on his neck for 8 minutes. Ahmaud Arbery was shot fatally while being pursued by police while he was out for a jog. We have to mention Breonna Taylor who was killed by police while she was asleep in her own home as they entered on a no-knock search warrant. All of these events occurred in 2020. Kaepernick took a knee in 2016 for these same type injustices that have been going on for years, and continue on today. So for a man to be blackballed from the league just for wanting to protest against these types of crimes against humanity is a complete tragedy. I wrote this article and song to do my part in protest. To continue to shed light on this subject, and keep Kaep in our hearts and minds whether we watch and continue to support the NFL, or pull the plug on it and turn it off.
Renz Julian "CK7"
Chorus:
No justice, no peace, this a protest on one knee
Malcolm X, Luther King, CK7
No justice, no peace, this a protest on one knee
Pac Shakur, to Ali, CK7
Thangs' aint the same how it used to be,
Yet it's the same damn thang', how they look at me
Put a black fist in the sky, now they shook of me
Lookin' thru my wallet, diggin' thru my pockets, then they bust at me..
Verse 1:
Sacrafice Kaepernick could it be the master plan,
Sheddin' light on injustice, he the sacrificial lamb.
Does God got a bigger plan for original man?
African slave trade in the USA today the same scam.
So what's the game plan? Power and wealth, its time to change hands.
Reparations take it, the legislation we change it.
With revolution solutions, run through _______Patriots, throw a bomb on em, hail mary and we makin' six.
Touchdown ____ on the ground he a racist pig
They don't want change, they used to systematic racism.
Take a knee, ___ knows_____ unarmed they wanna' shoot
Imma' leave a piggie in a _____ quick
With bare hands, tired of havin' to tap dance and square dance
Back and forth for a fair chance.
I air em out they scared now.
Better give that man a job cuz' he qualified, corporation tear it down.
By Lorenzo "Renz Julian" King
performance poetry
About the author
Lorenzo "Renz Julian" King is a Bay Area (Oakland/Antioch, Ca) hip hop artist, founder of the record label Field Of Dreamz Ent., & radio station 510radio.com. He's a former Pro and NCAA football player turned entrepreneur, and father of 2.
Reader insights
Be the first to share your insights about this piece.
Add your insights