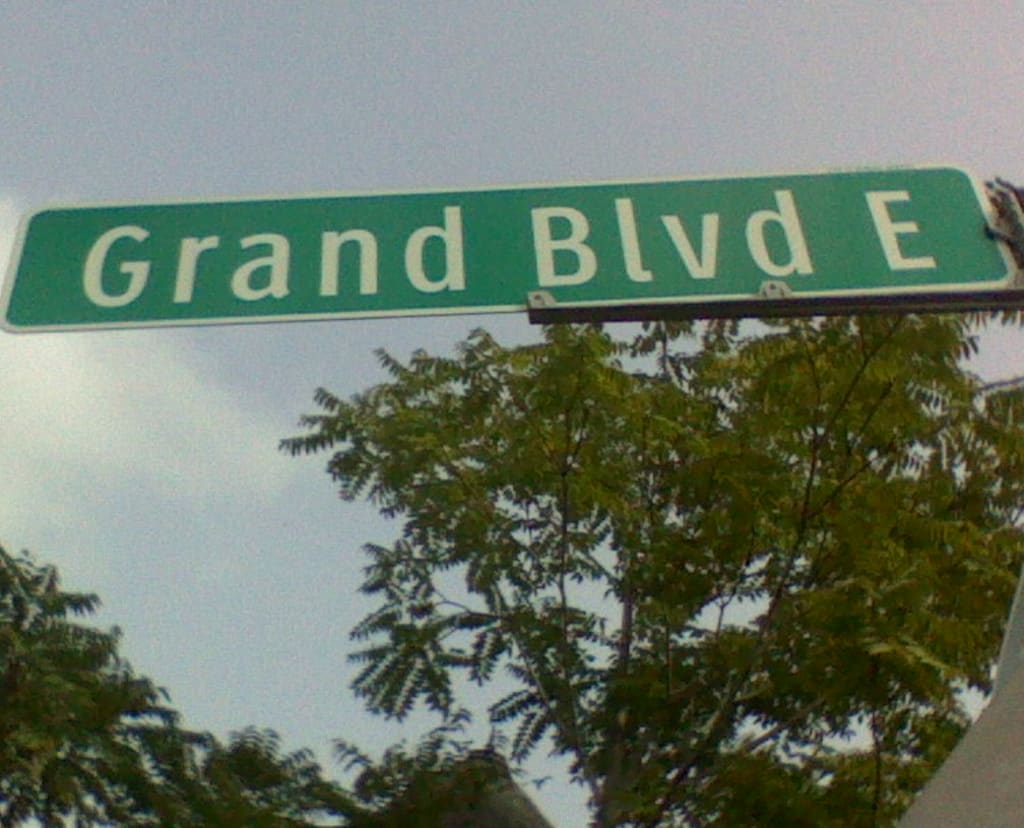 Summer vacation, took some time off, Broward I'm gone...
313, whattup doe..ya Haitian Prince is home...
Welcome to Detroit...
Na, not 7, 8, or 9 Mile...
We East Side, Boulevard, down the block from Belle Isle...
Speakin of the Blvd, somebody cruisin, bumpin Mase 'Welcome Back'...
Great timing; hit the street in my Pistons throwback...
First day back in the city, man, what's the move?...
Maybe a Tiger game, or visit the memorial to Proof...
Slide to the corner store, should I get a pop or Bacardi?...
That's when I hear a voice behind me, 'Hey, are you Jabari?'...
My brain places the voice as I turn, confirm it with my eyes...
'Damn..Tara!? This a helluva surprise!'
'Aint seen you in years..you cut your locks?!...where my hug!'
'Cut em last summer..n you ain't seen me cuz I moved to Florida, duh!..
I'm just here for vacation.. damn, it's good to see you, homie!'
'Boy, lets catch up!' ~ 'I'm wit it; lemme buy you a coney.'...
Can't agree on which Coney Island; we hit up Big Boy instead...
Seein her smile, hearin her laugh, memories racin through my head...
She teachin art, tryna work up to bein a professor...
I realize bein a college dropout prolly not goin impress her...
But I guess bein in her presence again made me bold & reckless...
Casually ask if she still talk to D & pretend to focus on my breakfast...
Now she playin wit her milkshake, mood turned sober...
Said her new dude been puttin hands on her since late October...
Nowhere to run to, all her family moved outta state...
I'm seein red, pick up my phone, pushin away my plate...
Drop cash for the bill, tell Tara she got a place to stay...
Get in the car n think bout what you bring with you while we on the way...
I know I shouldn't get too deep in it, but like I said; I'm reckless...
Blade on me, I'm pissed, & protective; that fool betta not test this...
Look over and see the hope in her eyes at the prospect of escape...
That's all I need; I'm thoroughly invested in the path I chose to take...
We pull up to the apartment, start baggin up her room...
We have less than a hour, this coward should be back soon...
Her phone rings, it's him, now she's got terror on her face...
A neighbor called n told this clown she brought a man into the place...
She shoves me to the back stairs, says meet her in the back parking lot...
'Ha, ha, ha...ti madam, sa wap di'm la?!'
She's confused, and I admit she has every right to be...
It's just that kinda nonsense brings the Haitian temper outta me...
Like I'm goin flee the scene and let her face his wrath alone?...
The door flies open: 'You got this **** in my home?!'...
I let her say her piece, and watch as he predictably loses his shit...
Talkin bout how she ain't goin nowhere and somebody wig gettin split...
Now for the record, I haven't moved, still holdin a garbage bag of clothes...
But all bets are off when his right jab connects with her nose...
I start forward, forget my blade at the small of my back...
I see him reach, time slows down, I hear a click-clack...
I see him squeeze the trigger, hear more of a bang than a boom...
I see the flash, hear her gasp, I smell the smoke in the room...
Six feet away and he missed; I'm not givin him a second shot..
Reach for my knife but my arm won't move; why my neck feel so hot?...
Touch my shoulder; my fingers come away damn and red...
Touch my neck; THERE it is, feels like a fire startin to spread...
Hmm...guess he really shot me; now she screamin as I go down leakin...
The coward hauls ass, I'm on the ground, havin a hard time speakin...
Do me a favor, Tara.. tell baby sis n baby bro I been proud...
Spent years pickin on em n never said it out loud...
She shushin me, 911 on speaker: 'Ma'am, put pressure on the wound!'...
She keep sayin 'Bari, look at me!'...I'm captivated by the spinnin room...
That's odd; why the angels playin Biggie's 'Hypnotize'?...
I'm tired, for just a few minutes, let me close my eyes...
She so insistent I stay awake; why she don't want me dozin off?...
Now I'm SURE I hear Biggie…oh; my alarm clock goin off…
Always the same nightmare, constantly hauntin my sleep…
Been a decade and a half, will I ever find peace?
performance poetry
About the author
Haitian-American dude, 35 yrs old as of press time..
Reading good work is like enjoying amazing ice cream..
Writing good work is like that solid work-out..sure, it's kinda draining but definitely satisfying in the end.
Reader insights
Be the first to share your insights about this piece.
Add your insights