Ready for an Ugly Sweater Party!
A rant about a gift better left unwrapped. Or not, depending on your view.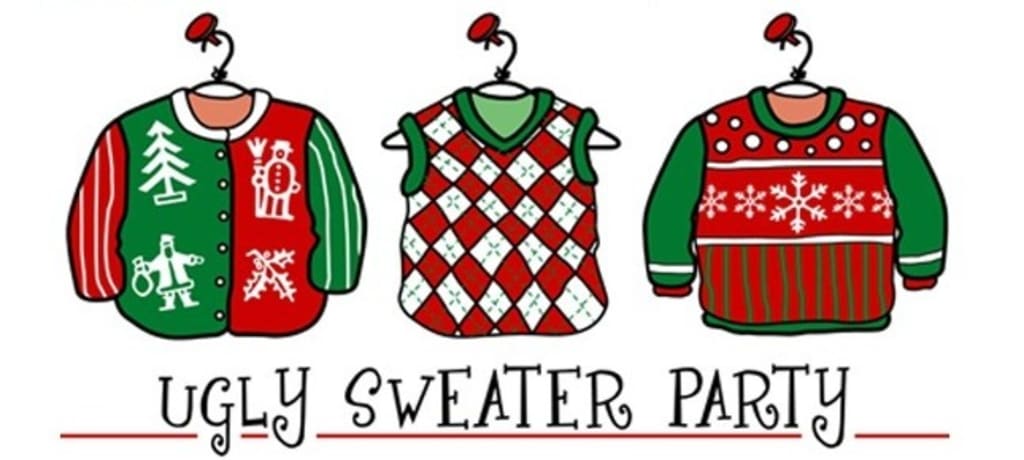 Image courtesy of Tyson's Biergarten
Now before you go about calling me a spoiled and ungrateful child,
I must stress that I truly appreciate conventional gifts.
Handmade, even.
In fact, I'm happy with anything I receive;
At least I know the gift giver was thinking of me,
Or perhaps just wanted to give that impression, anyway.
With the latter in mind, there are nevertheless times when I could tell
That neither a thought nor any effort
Was contributed to the gift-selecting process.
You think, what was going through the person's mind
As they were decoratively wrapping up their big surprise for you,
Excitedly awaiting your ever-so-jolly reaction?
Or if they really were that lazy, they'd just plop that stinker
In a used store bag and stuff it with colourful tissue paper.
How... considerate.
I understand that it's hard to find the right gift
For someone who you rarely see,
Let alone spend time with,
And in the case of family members,
They'd usually consider what they think is best for you
When preparing it last minute
Because it usually never is planned ahead, quite frankly.
We all like sweaters, right?
They're snug, soft,
And most importantly, allow you to breathe.
Well, the one I got as a pre-teen for Christmas from a family friend
Was itchy, stiff,
And the moment I tried it on,
I forgot that oxygen was a very tangible concept.
And the worst part is,
It had the most atrocious colour combination of neon pink and orange.
How... retro.
Support the cause.
Pull out your unbearable sweaters and join me in a groovy itch fest.
I'm not about to samba solo!