Puzzle of the Universe
from the Polish original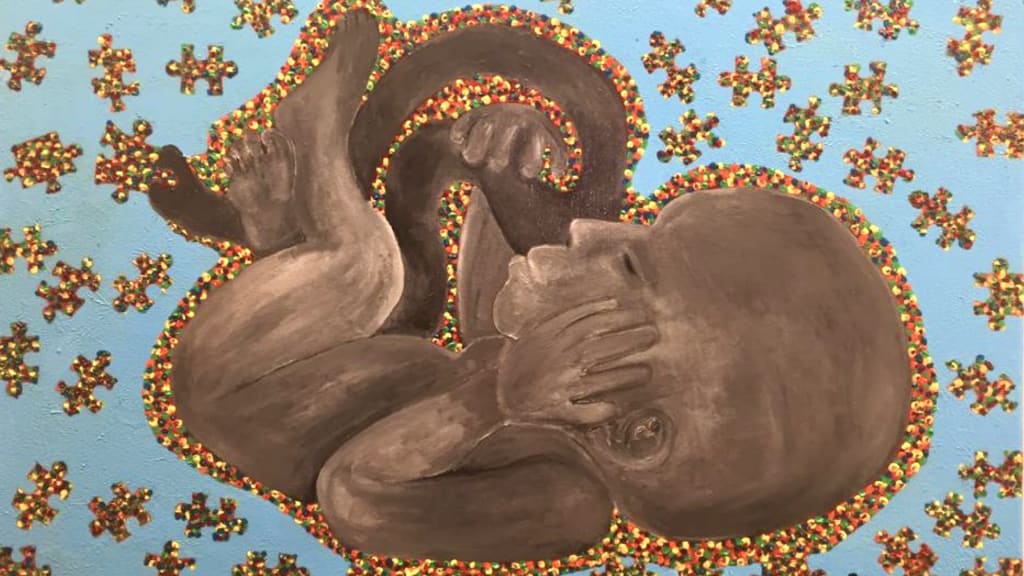 "Puzzle of the Universe" - original painting by Tadeusz Grabowiecki
Under a firmament full of stars
I hang like a painting on the wall:
human, emotions, color, me,
you know my shades, my love.
Somewhere in the labyrinths of grey towns
we came across each other
full of love, my blue eyes shone
and found me for you.
One snowflake among many
yet different from all the white ones
so ordinary but so unique
what you don't have in yourself, you won't find in someone else.
Green river, swimming against the tide,
avoiding what with the current life brings
somewhere there before me, goals - my land:
attaining them is an amazing experience.
What extraordinary in me did you find?
That I actively create my world?
Never do I rest on laurels;
laboriously and passionately I spend time.
Red roses of gratitude
I give those who shaped me.
Life's value depends not on length
but from this: how by us it is used.
Without guides, I would run out of fundaments
on which I could unfurl myself.
They prepared for life's twists,
how not to hinder but to steer clear.
Not awaiting external circumstances
which would make me happy
within myself, I possess layers of happiness.
Nothing by force - patience is required
when I happen upon a black day
I don't explain events that occurred,
learning from them, I bloom
and carry on in keeping with my own lights.
Expanding my fantasy, because no future exists without dreams.
Allowing things to change, because nothing is permanent.
According with myself is immeasurable joy and happiness.
I don't waste time changing others; changes start within myself.
I live exceptionally, in harmony with myself and others.
Only you, I love so ordinarily,
desiring you like parched ochre earth needs rain.
I tell you ordinary words.
But sometimes they sound like a poem...
love poems
Look at you doing what you once thought you couldn't do.
Actor / Writer
@marcelgrabowiecki on Instagram
Receive stories by Marcel Grabowiecki in

your feed