Preparing for Hibernation
Eat the Seeds, Peanuts, and Insects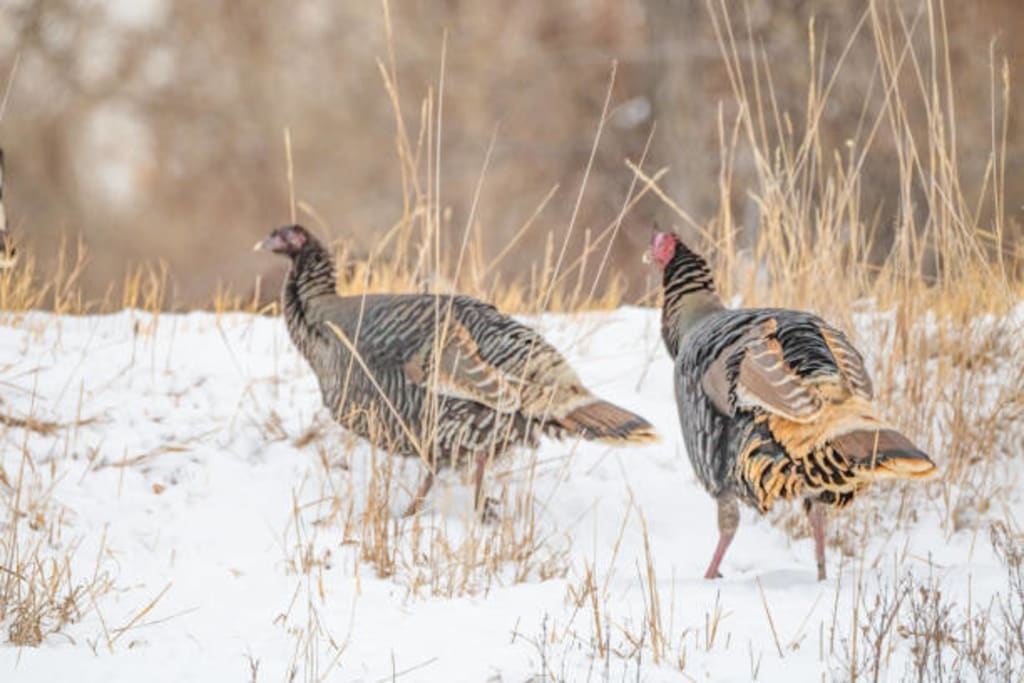 Wild turkeys | iStock
Peanuts scattered on the ground. The trees
have no leaves. Moss grows on the logs.
***
A field covered in brown leaves.
A turkey stands up tall. Its wings
in varied colors: red, black, and white.
The turkey finds a friend, and they peck
at the ground for seeds and insects.
***
The squirrels and birds chirp loudly.
There are a handful of green plants
growing in the distance, but most everything
is brown, faded, and old.
***
A black squirrel finds peanuts
and holds them in his hands. The whiskers
twitching as he opens the peanuts
and eats them whole. He swallows
them quickly as if in a competition.
The turkeys also eat fast,
bobbing their heads back and forth
as they search through crunchy leaves.
The wind picks up and the leaves toss
around the field. The trees are skinny,
like arms coming up out of the ground.
***
A wolf howls but the squirrels don't hesitate;
they continue to eat their feast.
You can hear a creek nearby. The water
gently knocking against the flora and rocks.
***
The animals keep gathering for the seeds
and peanuts. They're not scared off by
the rattle of a snake, nor the chilling wind
that foretells of winter's bane.
They're all trying to fatten up.
They need to get big and as quick
as possible.
They're preparing to hibernate.
***
The wolf howls again,
telling them to hurry.
The squirrels, puffy and plump,
hide in holes. The turkeys
flapping their wings.
About the Creator
Freelance writer. Undergrad in Digital Film and Mass Media. Master's in English Creative Writing. Spent six years working as a journalist. Owns one dog and two cats.
Reader insights
Be the first to share your insights about this piece.
Add your insights