Poetry to help through a pandemic
Lynn Ungar has some words of comfort like a hug to the mind, and her dogs are here to help you too
Pandemic
What if you thought of it
as the Jews consider the Sabbath—
the most sacred of times?
Cease from travel.
Cease from buying and selling.
Give up, just for now,
on trying to make the world
different than it is.
Sing. Pray. Touch only those
to whom you commit your life.
Center down.
And when your body has become still,
reach out with your heart.
Know that we are connected
in ways that are terrifying and beautiful.
(You could hardly deny it now.)
Know that our lives
are in one another's hands.
(Surely, that has come clear.)
Do not reach out your hands.
Reach out your heart.
Reach out your words.
Reach out all the tendrils
of compassion that move, invisibly,
where we cannot touch.
Promise this world your love–
for better or for worse,
in sickness and in health,
so long as we all shall live.
Lynn Ungar 3-11-20
Imagine
Imagine with me for a moment--
don't worry, I'm not saying it's real.
Imagine, if you can, that there has not been a calamity, but a great awakening.
pretend, just for a moment, that we all so loved our threatened Earth that we stopped going on cruises,
limited international flights,
worked on cherishing the places where we already are.
In this pretty fantasy, everyone who possibly can stops commuting.
Spends extra time with their kids their pets or their garden.
We have the revelation that everyone needs healthcare, sick leave, steady work.
It occurs to us that healthcare workers are heroes. Also teachers. Not to mention the artists of all kinds who teach us resilience and joy.
Imagine, if you will,
that we turned to our neighbors in mutual aid, trading eggs for milk,checking in on those who are elderly or alone.
Imagine that each of us felt a suddenly called to wonder
In this moment, what does the world need from me?
What are my gifts?
Yes, I know it's just a fantasy.
The world could never change so radically overnight.
But imagine.
Lynn Ungar 3-20-20
Choice
There isn't a right answer.
There just isn't. The game show
where the bells ring and the points
go up and the confetti falls
because you got the answer
is a lie. The preacher who would assure you
of how to attain salvation
is making it all up. The doctor
who knows just how to fix
what ails you will be sure
of something else tomorrow.
Every choice will
wound someone, heal someone,
build a wall and open a conversation.
Things will always happen
that you can't foresee.
But you have to choose.
It's all we have—that little rudder
that we employ in the midst
of all the eddies and rapids,
the current that pulls us
inexorably toward the sea.
The fact that you are swept along
by the river is no excuse.
Watch where you are going.
Lean in toward what you love.
When in doubt, tell the truth.
Lynn Ungar 11-9-2016
Behind the author
Lynn wrote this poem to not only comfort us, but bring a sense of awareness about the pandemic situation.
Lynn Ungar is an online blogger and poetry writer. San Francisco Bay has become her home where she lives with her two Australian shepherds.
There, Lynn and other members learn different views on spirituality. Lynn and other people want to share their findings of wisdom with as many as possible; that is how UU collective was made.
Lynn Ungar's poem was also featured in the Spring 2020 issue of yes! magazine.
In daily life, Lynn also trains dogs in obedience and dancing, and yes I do mean training dogs to dance. Lynn is also a lead minister at CLF, "a Unitarian Universalist congregation without walls". This congregation has members from worldwide who focus on giving acceptance to one another.
Lynn's book Bread and other miracles is an extension of her poems and is available to buy here.
After a long day of news and stress, it is good to be grounded, however you choose to do it.
Websites
She is also a part of The Quest for Meaning, a UU collective on Patheos.com.
Her personal website is here, where she has her poems and information on her background.
Her dogs also have an advice column where you can vent about your feelings of stress or anything else! Wombat and Dingbat are to comfort you anytime here.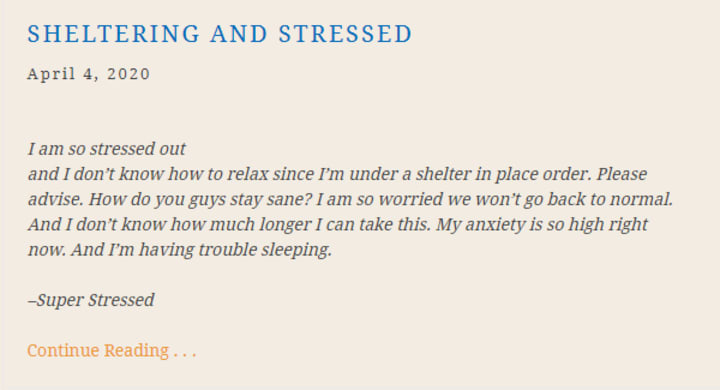 celebrities
I am Sophy. I love to travel and write poems. Sometimes I say wise things and I try to post them here.