Poetry Collection One
Loving Trans Me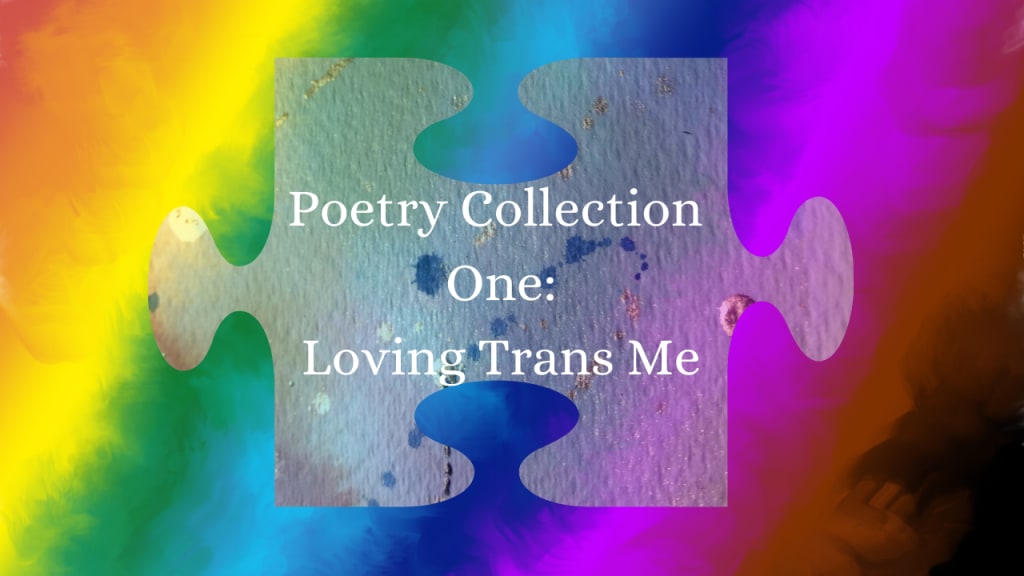 Note: These poems cover my life as I grew to accept myself as a man. My kids are the light of my life. As I've grown, I've come to find being transgender beautiful, a source of pride. This is true for whoever we are. Be proud of yourself as you are. You're awesome.
<><><>
Look
into a man's eyes
the boy within
<><>
The day pools at the edge
red, gold, latte foam hedge
night is a ledge
adulthood alleged
childhood dredged
Violets are blue
Night isn't new
I'd pay the due
if I knew
what was true
At the edge of day
under the cliche
in defiant sway
<><>
What rolls the clock
ominous tick tock
<><>
Childhood
Rudolph the Red Nosed Reindeer
Promise me, promise me, dear
Jesus lives your prayers to hear
nothing in the basement here
nothing at all to fear
Ring-around-the-rosey
Secrets all held cosy
Lie, lie away the nosey
stifle little one till prosy
the field has an apple tree
a safe kind man no one can see
hope is the sweetest debris
the very sharpest key
from the darkness unto free
The day pools at the edge
red, gold, latte foam hedge
hope in the night is a ledge
adulthood alleged
childhood dredged
<>
Crush/romance
I'll trade my heart
for a smile to start
enthusiastic clumsy art
very rarely fills the part
Be the wolf that eats me whole
desire be fire that Prometheus stole
Let me pay Aphrodite's toll
& find in your eyes my soul
fire held too tight burns too deep
fleeting love is never there to keep
secrets old into the light doth seep
whispering life is naught but cheap
And still the rosey ring
of romance does it sing
come heart, forget the sting
want can never peace to bring
<><>
Marriage
Here comes the bride
frosted with lace and pride
fairytales and lies beside
ignorance in the aisle does glide
Paperdolls playing house
pious little church mouse
curves do lift the blouse
illusions of safety to douse
Wife empathic & fantastic
Person most plastic
soul unenthusiastic
future dire and drastic
societal conformity
personal deformity
the lies we tell ourselves
are our enormity
<><>
Religion
What can one say
of promises of the fey?
Our father
who art in heaven
Hallowed
be thy name
fallen farther
my veins your venom
faith's shroud
soul gone lame
Where's the kind?
lies make me blind?
lost in my mind
What is humankind?
In a dream one day
in an elevator
through the open doors
I watched a forest burn
your threat of Hell
Then I closed the doors
I don't care what you say
<><>
Children
What rolls the clock
ominous tick tock
If self was a sound
in percussion I drown
my kids are the ground
in them am I found
Self isn't static
can't live in the attic
victim'al stigmatic
pain's not pragmatic
adults from children grow
solid ground does go
how to fix this shit-show
I didn't get the memo
<><>
Divorce
What can you expect?
he bought tomatoes
he should have checked
contents in can not correct
What about me?
to have and hold
my own self untold
out the wrong mold
my skin your touch
never be much
Do you feel the lipstick?
Glide smooth, an overlay of ruby
smudge the color
straighten the beard
I can't be your woman
can't be my woman
in this lifespan
I'm a man
<><>
Healing
So there's the ground
firm under my feet
my soul now found
my voice has sound
absinthe fear
sin so dear
salvation queer
compassion adhere
Alive is joy
present
real
feel
deal
imprint the seal
I'll be Prometheus and steal
the fire of my soul
I'm a real boy
always was
<><>
Peace
I'm surprised to find pieces
Of myself
On the bus
Then I
Remember
All the romances
I've created on here
Poems and art
And the giddy
Waiting for symbols
To come back to me
Bits in a bottle
Souls on the line
Separate lives
Passing by like
Pulling away from the stop
Today it's just me
And the golden sun at the horizon
It's comfortable to just
Hear the echoes of me
In the rumble of the bus
About the Creator
I write a lot of lgbt+ stuff, lots of sci fi. My big story right now is The Moon's Permission.
I've been writing all my life. Every time I think I should do something else, I come back to words.
Reader insights
Be the first to share your insights about this piece.
Add your insights