Passion Glue
A accompaniment poem to My Lavender Mess; Professor Venomous' perspective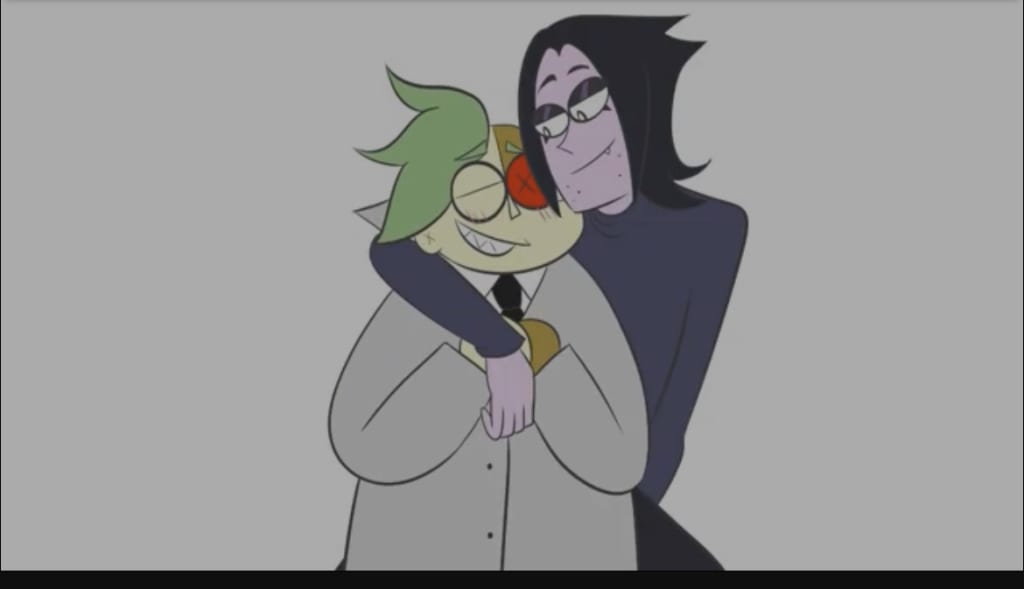 Professor Venomous and Boxman (not my art!!)
Oh before you,
I was oh so terribly lost.
I was never going anywhere but down,
Down, down(like a shadowy blip in space, hiding in the deepest recesses of society like a coward)
Into a stifling, unbearable realm
Of mediocrity
Of a quiet prestige, of my villainy being predictable, boring
Uninspired without genuine purpose.
Just fear and wealth pervading my heart like a bloody cover, hardening my still organs like a vice grip (until you set me free…)
Nothing but fake, gilded glory to showcase my once wild dreams of infinite power (being a hero or villain? I can't say that I've ever truly felt fulfilled until
——(you?)
Except now it was hiding in glass tubes, meetings, plastic,
A safe mechanical format. A me covered up in lab coats and science.
But you!
Bounced off a crazy circuit (!!!!!)
And created that passion glue that stuck to my lips and made me open my dead eyes like an Egyptian Moon God that
Finally saw the brightness and power of the stars
Of one big beautiful thing, a too bright green blue creation that destroys as much as it creates.
my own deep power within turning on with the widening of your large, unabashed grin, I lock into your dreamy dewy gaze, forever unafraid.
You, oh teal haired villain that twists my very well ordered manner, how can you be so soft and round, it makes me wanna squish you,
You wild card, you dancing fool—-
With your raging voice that can go from silly to funny to commanding so quickly—- the way your mind scrambles to create faster than your hands can move
Like an uneven drum, your quirky, strange, funny beat hits my ears like candy
Like melted heaven
Like passion glue
We stick together with intense drippings,
A molten, melty, scary (happy!)mess.
Oh you, give me that glue, lemme replicate it in my lab
So I may no longer suffer this pain
Of how much
I can't stop
Loving you.
—-
Author note: Imma big fan of Ok-Ko! Let's Be Heroes! Professor Venomous and Boxman are my favorite characters ever, here's my second homage to their silly and evil antics.
love poems
About the author
I write short stories and poetry. I hope you find yourself in between the spaces of my words.
Reader insights
Outstanding
Excellent work. Looking forward to reading more!
Add your insights