Paper Dreams
Metamorphosis in words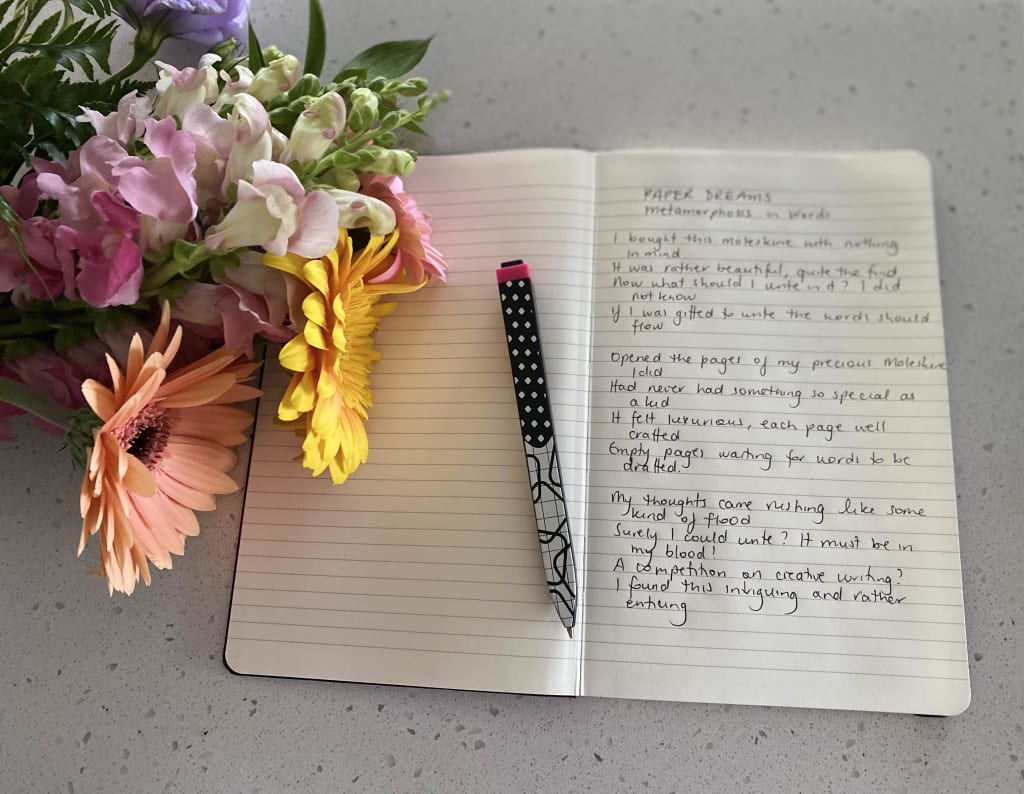 I bought this Moleskine with nothing in mind
It was rather beautiful, and quite the find.
Now what should I write in it? I did not know
If I was gifted to write, the words should flow.
Opened the pages of my precious Moleskine I did
Had never had something so special as a kid.
It felt luxurious, each page well crafted
Empty pages waiting for words to be drafted.
My thoughts came rushing like some kind of flood
Surely, I could write? It must be in my blood!
A competition on creative writing?
I found this intriguing, and rather enticing.
Unexpectedly coming into money, and a little black book
Are the requirements for judges to even look
At a submission for this Vocal contest.
Could I do it? I'll try to give it my best.
I am sure there will be thousands of entries posted
They'll look at mine and I'll be ghosted.
But you have to be in to win they say
Time is of the essence, like making hay.
Let's give it a go – not for the dollars, but pride
At least in the end, I could say I tried.
I know there is more talented people out there
I'm a realist at heart, let's be clear.
It won't be a novel, but rather a rhyme
Perhaps that is considered more of a crime?
Contemporary it's not, like Amanda Gormans'
Mine is more likely to be a 'flash in the pan'.
Actually it's quite hard to write a poem that works
To maintain attention and entice a smirk.
The easy way out? – I don't think so
I'll let you decide; here we go!
There once was a young man who lived on the street
Begged, and stole, no cellphone to tweet.
His mom was broken, his dad had died
He had long lost any sense of pride.
He dreamed of comfort, peace and calm
Despite being dirty and with the look to harm.
Little schooling, no siblings, his existence in despair
His experiences in life had been quite unfair.
He slept each night under the stars
Surrounded by the roar of cars
Under a highway, in a makeshift nest.
No four walls - just the clothes he was dressed.
This was his world. No guidance, no hope.
He had somehow learned to live and cope
He begged for food and dodged the cops
Getting some tidbits from traffic stops.
A looney here, a bagel there
Those small donations were something to cheer
They filled his stomach even if for just a bit,
But into society he did not fit.
One day, at an intersection cleaning car screens,
A Porsche was stopped, barely unclean.
He walked right past, but the driver yelled out
"Come here young man! I do not know the first about
Being on the street and doing without
But here is some cash, I have no doubt
You could use it to buy some food,
Or a nice hot coffee freshly brewed."
The lady handed him a twenty-dollar bill
He thanked her for her generous goodwill.
Was this happening, was she that rich?
To spare that much to a man in the ditch?
Money, he wasn't used to having as much
Had never experienced such a kind touch.
He decided to use half of the money to eat
Bought a burger which tasted ever so sweet.
The lotto he'd heard about, a ticket was needed
So, to the Depanneur he quickly speeded
Fridays' he knew was the lottery night
With an entry, he could win and end his plight.
Ten dollars he spent to buy the ticket
The clerk looked at him strangely from behind her wicket.
Could he be a winner? There's always a chance,
The following day he took a glance…
He compared the numbers, couldn't believe his eyes
He had actually won a twenty-grand prize!
He checked again, it really was true
His excitement he could barely subdue.
He gathered his thoughts and hit the street
No longer would he be incomplete
To the bank he went, with much haste
Not one single cent did he want to waste.
He took care of his mum, got her some much-needed help
Talked to those cops who quite frankly just yelped
That for once the lottery went to someone in need
And not to a person with wealth or greed.
That there was finally some justice for this man on the street
Alone, struggling, down and out, beat.
Many face such challenges, their lives a mess
With little means to become a success.
It wasn't easy going from poor to 'rich'-
It certainly didn't go without a hitch.
But he did manage to turn his life around
With support from caring people he found.
Sometime later, he went to a store
One that he had never dared enter before
He perused the shelves, something special he wanted
To remember how he became undaunted.
And there he found
Something beautifully bound
He could not overlook
This little black book.
With pen in hand, he started to write
About how his life had changed over-night
Grateful for the lady and her twenty dollar note
And the chance to finally be afloat.
And so there ends my entry, for all to see
Words on paper that resonated with me.
Let's be honest, I know it's far-fetched
(Sadly, not the part about a man being wretched.)
The beauty of journals whether large or small
Blank lines are waiting for a pen to sprawl
Whether written in haste, in anger or jest
Or, to try and win a Moleskine contest!
Provoking emotions and dialogue for years to come
Even if the text may be absurd to some.
Words that will never disappear or grow old
A story imprinted as it was told.
Twenty K would be nice – I won't disagree
Be as smart as this man, or have a spending spree?
My little black book and my fictional story
Will it bring me fortune, fame and a little glory?

Barbara Dalton
I am a New-Zealand born Canadian exploring my lifelong passion for the English language and how incredibly powerful words can be, whether written or spoken. Glad to be part of a community that supports creativity and new artists.
See all posts by Barbara Dalton →