Never

Runner-Up in From Across the Room Challenge
My god, are there stars...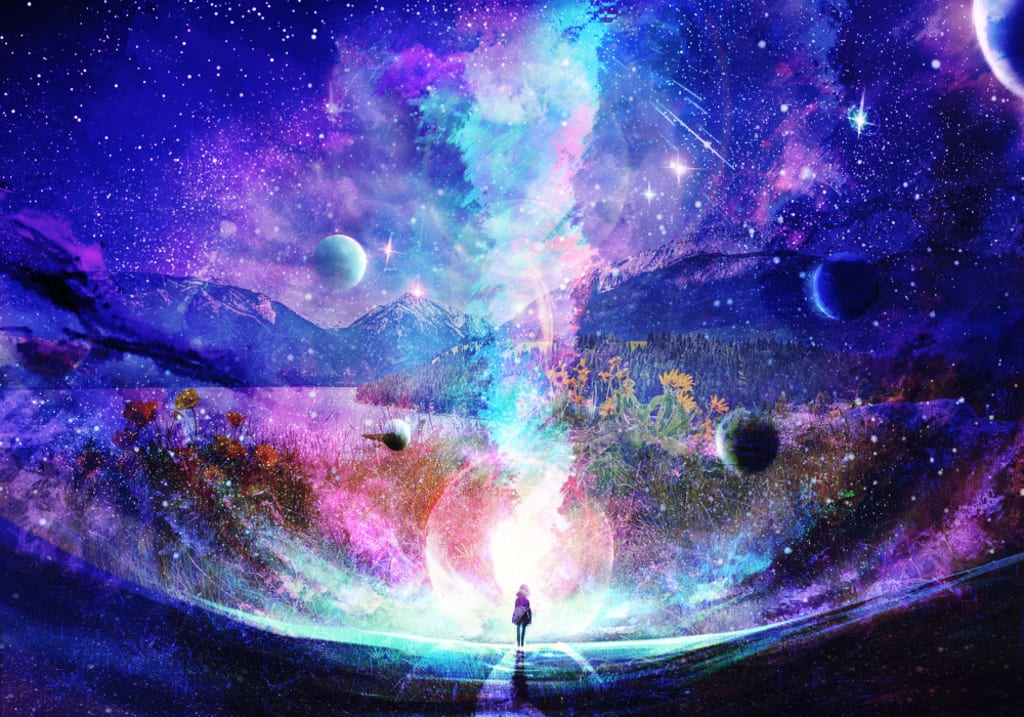 It was only meant to be a look...
One, singular glance.
A moment of time that would flicker and fade into forgetfulness the second that it was broken.
It was never meant to be this:
Smoke of cinnamon incense against the shock of a violet sky as the sun falls and the stars rise, burning the darkness into night.
It was never meant to take me away...
Blinking back the flash of the sun from the crystal crawl of a river, bent and broken into the dusted dawning of a late September evening. Ravens in the woods and nightingales calling gently, calling softly, telling the river of its run and the dusk of its tarnished bronze; hues and shades that would leave any lover or loner speechless and stilled by the metallic aura of autumn.
My vision lingers, and I was never meant to drift further...
Just like the first snow that gathers and gleams beneath the fullness of the first moon of winter after the winds have come, after the storm has shattered to the feet of the mountains and the world is left to the staggering awe of the silence.
I try to shift my gaze away, anywhere else...
Because, I never meant to be swallowed whole by moon-glow...
Opaline and crushed pearl, muted and glazed by the cotton sails of condensation; heavy and primed with silver rutilation that runs the risk of rupture--of spilling lunar light and darkness against the gentle sphere of a spininng world.
I blink...
And, I never intended to be transported, picked up, and ushered away by a jet stream, by an atmospheric torrent warmed by the scent of sandalwood and cedar...
I am set down now, beneath the lift and hush of the willow trees, caught high and green on a northern breeze that sings to me, that speaks to me, that whispers again and again; it's voice sweet and heavy with rain and thunder that lulls me into a spell of daring, dream-inducing safety.
I would look away, but I can't, so I won't--though I know I should be burdened by the long moments that I was never supposed to spend fixed and fastened to your vision...
But, there is a wild safety that howls to me, that splits open miles and miles of moon-washed wilderness with the flash and glare of solar warmth.
Safety that navigates the nervous corners of my memory haunted by shadows of twisted nostalgia.
Safety that holds me....
Safety that sways with me...
Safety that kindles those embers inside of me that yearn for cups of coffee in foggy cafés with weather-drenched streets beyond and books in bags at our feet.
Safety that stirs the hope for slow dances in a lazy descent of snow with a lampost glaring white-gold and copper above us. With passing people witnessing our rotations, and clasped hands, and chins that rest on shoulders comforted by the scent of sweet familiarity.
Safety that tells of a vanilla sun suspended in a lavender sky with the hum and drone of honey bees through the fireweed and poppies. And, we watch from our backs as evening stitches sapphire into the fabric of the afternoon.
Safety that speaks of wheeling stars that trip through the Milky Way at a cosmic speed that is registered only as a carefully navigated stroll through the darkness, through the blackness, through the nothingness that constructs the most finite, and infinite, lengths of the Universe.
And goddamnit, I should look away.
But, there are stars...
My god, are there stars.
Stars, and galaxies, and orbs of celestial illumination that I cannot name, that I cannot identify, or place, but I know that I know them...
I can feel them.
Tethered cords of tethered lives that resonate and vibrate and sing to me the truth: this may be the first time--in this lifetime--that I have seen you. But, it is not the first time--in all of time--that my etheric-body has tripped head-over-foot and off the edge of the Earth, and fallen past the moon, through all the supernovae and heavenly bodies, and toward the boundary of forever...
Because, I know...
I can see it in your line of sight that lingers against my own...
This is not the first span of existence in which I have watched you, in which I have witnessed you, that I have stood in absolutely catastrophic awe of that force of nature behind your eyes that pulls at me.
No, it can't be...
Because I have never felt such an electrifying sense of inertia that both shocks me and steadies me at the same time.
You are a gravitational anomaly.
And, I can feel our decaying orbit and the entropy that drags me towards the event horizon of a truth that I am afraid to speak because it should seem so impossible.
Impossible...
To stand at the edge of this emotion should be impossible...
But, here I am tipping forward into an abyss cloaked with the mists of recollection at this first sighting, at this momentary catch of green eyes against green eyes in which I have become the quantum observer of some unending stretch of eternity.
Because, I used to write love poems like they were water: slowly heaving, steadily building until they broke--fluid and torrential, devastating anything that stood down stream.
I used to paint lovers from the shadows, sunrises always chasing them away.
I used to create cords of passion from the smallest promises that lingered on half-breaths dissolved and diminished by the slightest breeze.
And, I used to imagine a heart beating against my own only to wake to the drum-toll of emptiness barred by hopelessness and resounding with a perforated sigh...
But, I have never known love in one second...
I have never found love in a singular look.
In an isolated fragment.
In a captivated instant that is now burnt and scarred into the continuum of space and time to be remembered through the echoing chime of always, of forever...
To resonate through aether and matter, through ethereal and physical, through spirit, and body, and soul. To knot itself back to that brimming void that weaves and webs everything to everything-else and to know, now, that we are captured there...
That we are embraced in the tapestry of the infinite.
Woven into the cords that harmonize with the sigularity of creation and the ever-reprising hymn that sings to us of eternity.
That we are cosmically entangled, fused into the existence of one another by something greater than the spark that lit the ignition of the begninning of the beginning, and that we will be enraptured with one another until the end of the end...
Because, I have never fallen in love at a singular look, at a momentary pause in the centrifuge of time, in a pulse-shattering, mind-bending, quantum-leap of a second...
But never, was always meant to end...
performance poetry
About the author
Science-fiction writer. Humanist. Wanderer through past and present, cosmos and earth, time and space. Explorer of mythos. Seeking curious new horizons to conquer.
Reader insights
Outstanding
Excellent work. Looking forward to reading more!
Top insights
Compelling and original writing

Creative use of language & vocab

Excellent storytelling

Original narrative & well developed characters

Heartfelt and relatable

The story invoked strong personal emotions
Add your insights