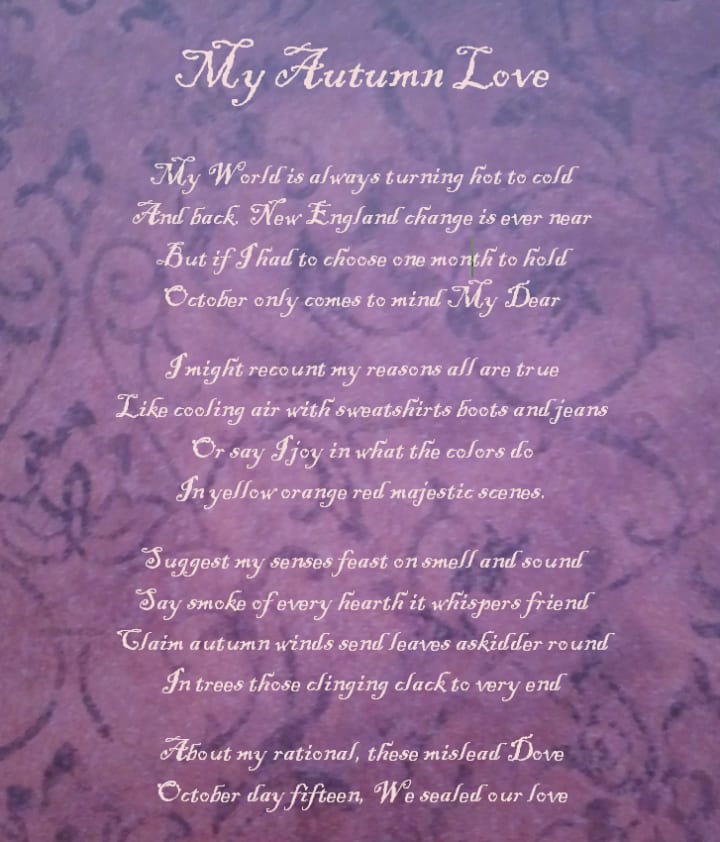 My Autumn Love
My World is always turning hot to cold
And back. New England change is ever near.
But if I had to choose one month to hold,
October only comes to mind, My Dear.
I might recount my reasons. All are true.
Like cooling air with sweatshirts, boots, and jeans,
Or say I joy in what the colors do,
In yellow, orange, red majestic scenes,
Suggest my senses feast on smell and sound,
Say, "Smoke of every hearth, it whispers, 'Friend,'
Claim autumn winds send leaves askidder round.
In trees those clinging clack to very end.
About my rational, these mislead, Dove.
October day fifteen, We sealed our love.
love poems
About the author
Dean Andrews is the author of two novels: The Gateway & D'Alembert's Nightmare. Both are available on Amazon. A native New Englander, Dean has relocated to Florida. Never may he shovel snow again.
Reader insights
Be the first to share your insights about this piece.
Add your insights