I Miss You
by Mike McClean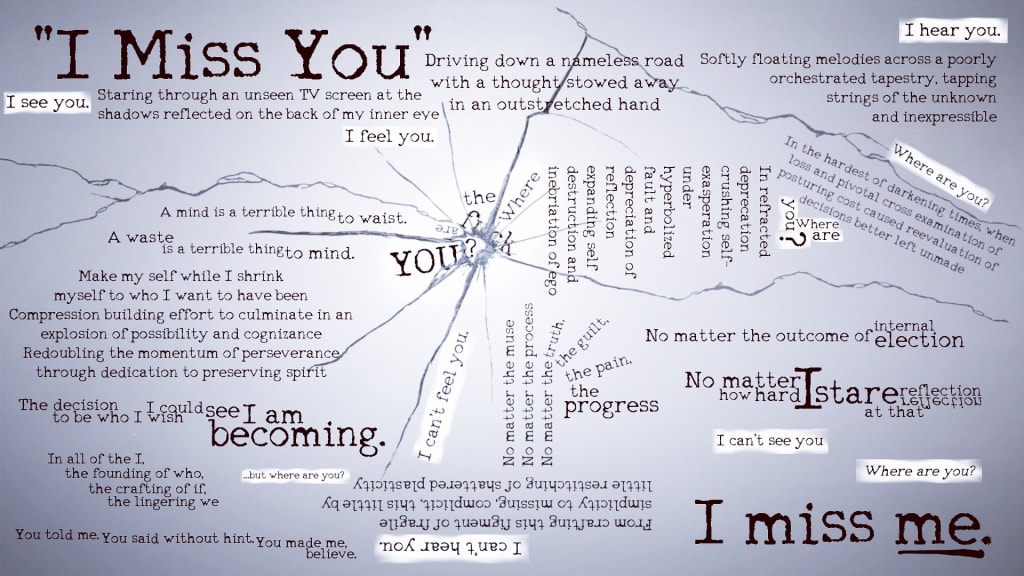 September 2017
I see you.
Staring through an unseen TV
screen at the shadows reflected
on the back of my inner eye
I feel you.
Driving down a nameless road
with a thought stowed
away in an outstretched hand
I hear you.
Softly floating melodies
across a poorly orchestrated
tapestry, tapping strings
of the unknown and inexpressible
Where are you?
In the hardest of darkening times,
when loss and pivotal cross
examination of posturing cost
caused reevaluation of decisions
better left unmade
Where are you?
In refracted deprecation crushing
self-exasperation under hyperbolized
fault and depreciation of reflection
expanding self destruction
and inebriation of ego
Where the fuck are YOU?!
A mind is a terrible thing to waist.
A waste is a terrible thing to mind.
Make my self while I shrink myself
to who I want to have been,
Compression building effort
to culminate in an explosion of
possibility and cognizance,
Redoubling the momentum of perseverance
through dedication to preserving spirit,
The decision to be who I wish I could see
I am becoming.
...but where are you?
In all of the I, the founding of who,
the crafting of if, the lingering we,
You told me. You said without hint.
You made me, believe.
I can't hear you.
From crafting this figment
of fragile simplicity to missing,
complicit, this little by little
restitching of shattered plasticity
I can't feel you.
No matter the muse
No matter the process
No matter the truth, the guilt, the pain,
the progress
No matter the outcome of internal election
No matter how hard I stare at that reflection
I can't see you.
Where are you?
I miss me.