Home
Calling My Soul Back Home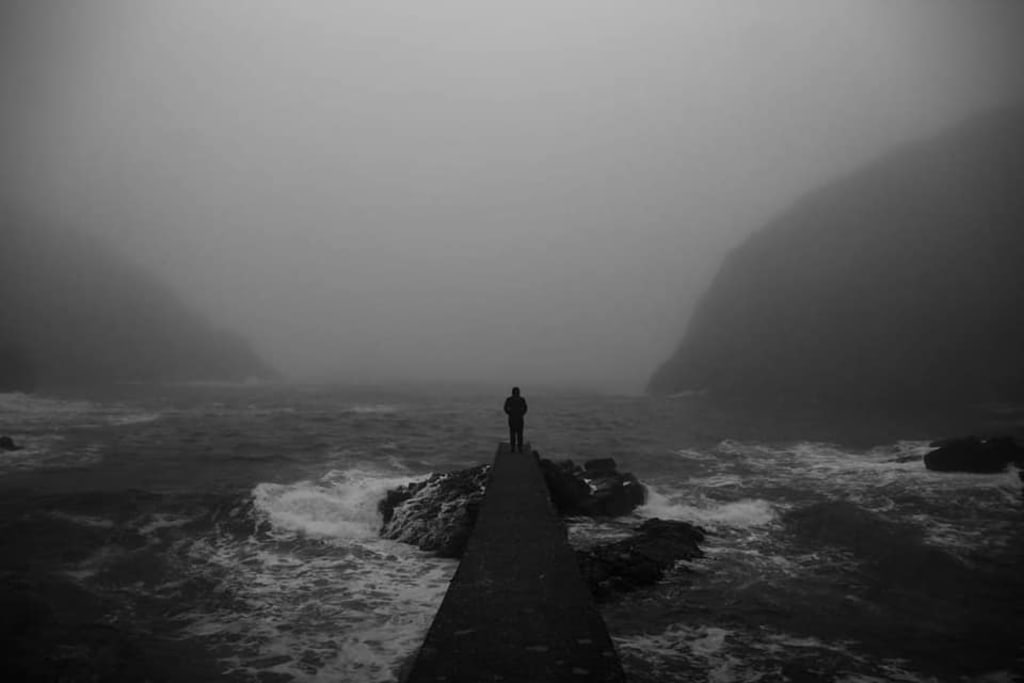 I felt my soul run away in the middle of the night.
I felt her leave me as I lay there wide awake listening to him breathe,
not wanting to be rude and disappear.
My mind is going a hundred miles an hour trying to understand why she left.
I feel so empty and alone.
***
I have felt life without her for a long damn time.
I lived in shackles and she refused to wear them with me.
That way of living by someone else's compass was a slow, grey death.
She blew up my tiny world in the most devastatingly beautiful way.
I am forever grateful for her presence in my life and the chance to know her.
This emptiness feels like a thousand times worse
now that I know what life is like with her in it.
I am terrified here without her.
***
I must call her home again,
settle into the hard feelings even though right now I'm not sure I am even capable of a feeling other than empty.
I walk in the rain and let the drops land on my skin.
I know she loves the feel of water.
I know she loves the freedom in movement and air.
Expression of emotion is her ultimate love language though.
My soul, she loves to feel, boy does she know how to feel!
I adore her depth and passion.
Feeling her feelings is an extreme sport though.
It takes all of my strength and awareness to hold space for all that she brings me.
While I know this is big and hard,
I know she's waited a long time for me to learn it's my job to hold that space for her.
I won't forget it now.
***
Present with myself, I'm ready.
I let out how I feel first, get it down on paper.
One tiny question unlocks the flood:
How do I feel?
I show her all my feelings of hopelessness, frustration, anger, and self pity.
I show her my desperate want to move forward.
I tell her of my confusion at the lack of logic behind her objections to what I want.
She demands my honest admissions.
She only responds to honest and open.
***
I offer us both reprieve from my over-thinking mind and broken heart
I give her my pen.
Old hurts I thought were long buried come flooding out.
Old beliefs about myself and love and possibility get shattered on that paper too.
She knows the driving forces behind everything I do
She was there for the making of all my cages.
She shares it all lovingly with me.
Her sense of self is magnificent.
It smashes my shitty beliefs and cages to dust.
We sit and write and cry,
let the tears wash all the pain and ugliness away.
***
While my brain was stuck trying to figure out if it's the right thing at the wrong time, or it's the wrong thing altogether,
I know now it's irrelevant.
What matters is trusting my soul to tell me what's the next right thing.
That is all.
There is no method or logic to what my soul wants that I can think to anticipate.
I am reminded with certainty that her dreams for me are so much bigger than what I believe is possible.
***
I will forgive myself for doing the familiar and not listening to her.
She will forgive me for using my brain to try and calculate safe.
I will love her fiercely today with a new appreciation of the life she brings me.
She trusts me more for giving her space and bearing witness to her full expanse of truth.
I learn more about who I am and what I'm worth.
I learn grace for me in moving through to new levels of conscious relationships.
The universe adores my tender soul too.
Rejoices along with us when we are moving as one.
New doors opening that I couldn't even imagine before.
***
I'm learning to let go my mind's constant whir so I can hear what she needs.
I will hold her hand and love her hard.
Give her all the comfort I am tempted to find in another.
I'll give her all the beauty and fun she craves too.
She will not stand for containment and smallness, nor for fake.
I will tickle her senses and remind her how great it is to be with me.
I will give her a pen, give her a paintbrush and a camera.
Give her all the ways to express her truths.
I know that when her pain is met with safety and curiosity she leans in and smiles, softens and stays.
I am committed to being a place she wants to stay.
So grateful for endless opportunity for grace and forgiveness.
So glad that she is home now.