"Flakes to Fakes"
What are you left holding?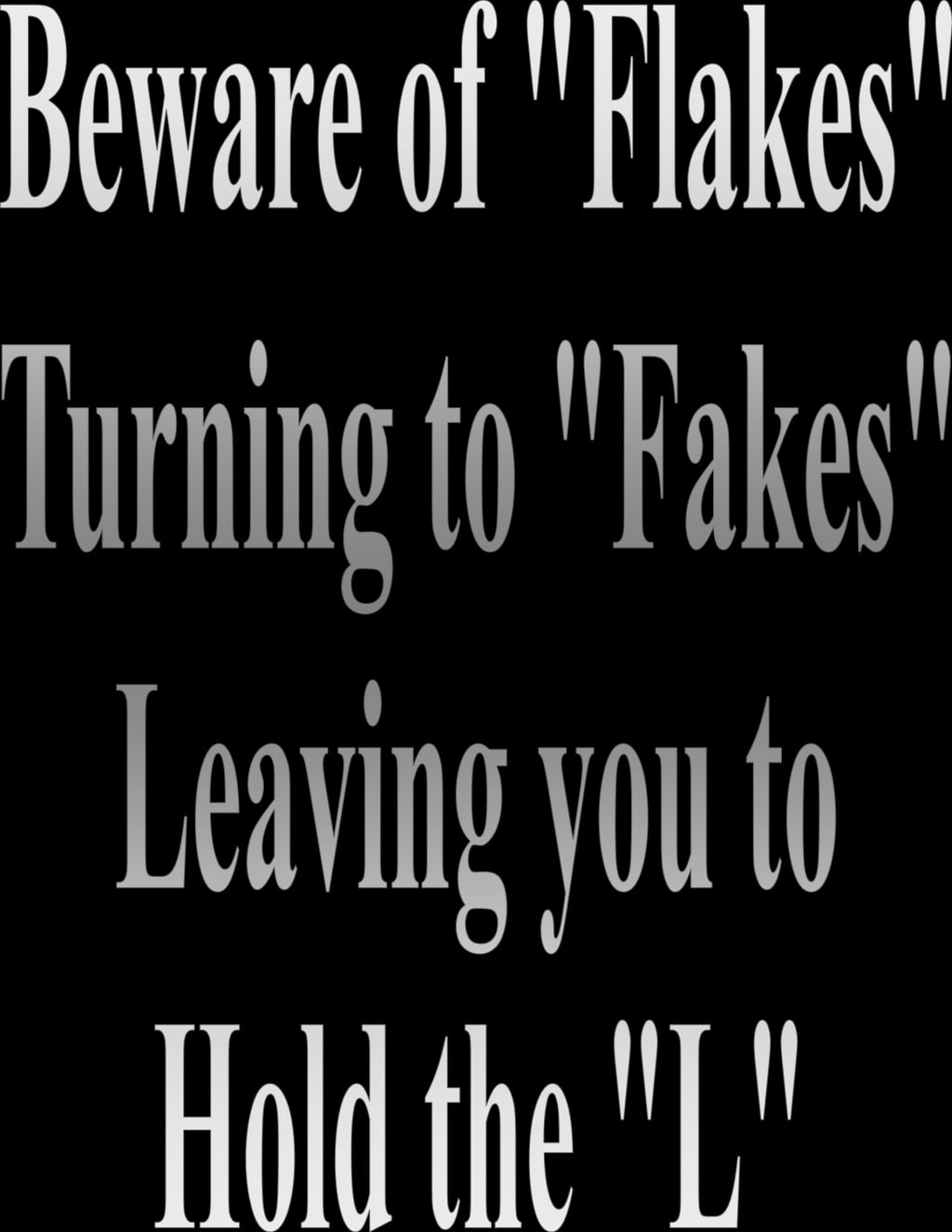 "Flakes" turn to "Fakes," leaving you to hold the "L."
Poetry's a Passion Art, it's something I do well
But now there's something on my heart that's giving me some hell
I can't believe from Grace uplifted is somewhere that I fell
Flakes turn to Fakes, leaving you to hold the "L"
|
I wish I could just checkout and simply walk away
But that'd be dishonest, so there's something I got to say
You put me on the backburner wanting me to stay
I should've left and recognized all the little games you play
|
I knew I seen it coming so that fault is truly mine
Yet I tried and struggled to not get left behind
Since I saw it coming I can't say that I was blind
You can't undo the hurt and pain, that time you can't rewind
|
Now I know my own true faults
Since I'm left here with this salt
Since you made this ice barrier, our friendship's now on halt
But my heart's upon my sleeve, it's never in a vault
|
It's time for me to go, pack my bags and leave
Since I knew there was nothing from me that could make you feel so pleased
I'm tired of your icy heart putting me on freeze
My heart is warms, it's always beating, that you'll never seize
|
You don't wanna talk? Nothing's been addressed.
Stop making promises you won't keep, I refuse to be repressed
Moving forward, doing justice, I'll have myself expressed
I'll heal myself and do what's best so I don't get depressed
|
I'm tired of you making those promises you break
Every time we'd agree to meet, you'd go ahead and flake
Even when we reached out hands, confirming with a shake
Now I see your true colors, since your first ones turned out fake
|
I can breathe freely now, instead of submerged deep in a lake
I'll take lessons from this to avoid future mistakes
Of your toxic playing ways, I will not partake
We used to be such good friends, now my chest hurts with this heartache
|
People like you have made me self-alert
People such as you have narratives to exert
You want people tripping just for you, obsessed with you, so you convert
Those wanting to be your friends into lackeys, I hope you get your just desserts
|
I get you've been hurt in the past
But your friendships should last
Instead you go in them fast
And burn out like a comet streaking across the sky which is vast
|
If only I knew what you had to intend
Even now with all of this energy I expend
On you, no more of my time and life I will spend
But I know that I just cannot pretend
That's its all at an end
Since, on one another we would never depend
Now as I move on, to Grace I ascend
I'm still thankful for the time that you were my friend