Explicit Poetry IV:The Story Behind The Poetry Continues
The Explicit Poetry (EP) collection is a writing challenge for me. To creatively describe my life, experiences and growth with a focus on the rhyme scheme and words I'm using. Normally, the focus is the topic, whatever it is that I'm writing about, but for EP the focus is the exact words I'm using. What's written in EP4 is about me, similar to EP1. In this, is a piece of my wok history; specifically overworking myself; coming out of the mindset that led me to overwork, and how I use my passion and love for writing as more than a means of simply venting. I find peace of mind, clarity, and a way to express myself in an original and creative way. I hope that all who read this is inspired to find their own passion and embrace it, if they haven't already.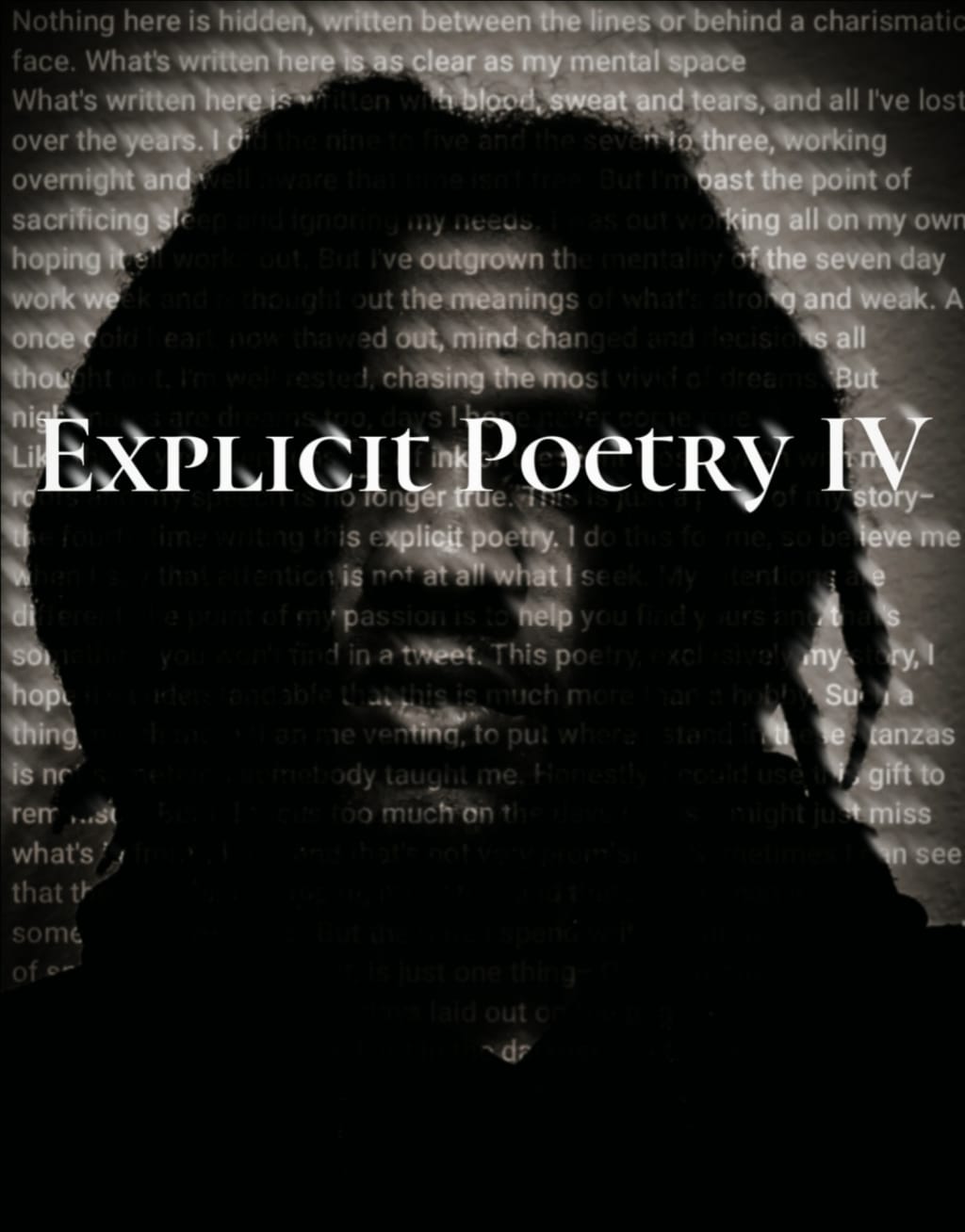 This poetry, the same story, it's fourth time being written
But there's no need to repeat what's already been mentioned
This time, I'll let you see what's on the other side of all the social commentary
So let me take my time- No, there's need to repay what's already been given
What's written here is true to me, truly one of a kind
And with so many layers to my mind, sometimes words are hard to find
But with a thousand of them, I'll paint a picture- of me
With frontality, a view of what really matters- to me
Because in all actuality, the pattern of this world just isn't for me
Nothing here is hidden, written between the lines or behind a charismatic face
What's written here is as clear as my mental space
What's written here is written with blood, sweat and tears, and all I've lost over the years
I did the nine to five and the seven to three, working overnight and well aware that time isn't free
But I'm past the point of sacrificing sleep and ignoring my needs
I was out working all on my own hoping it all works out
But I've outgrown the mentality of the seven day work week and rethought out the meanings of what's strong and weak
A once cold heart, now thawed out, mind changed and decisions all thought out
I'm well rested, chasing the most vivid of dreams
But nightmares are dreams too, days I hope never come true
Like the day my pen runs out of ink or the night I lose synch with my roots and my speech is no longer true
This is just a party of my story- the fourth time writing this explicit poetry
I do this for me, so believe me when I say that attention is not at all what I seek
My intentions are different, the point of my passion is to help you find yours and that's something you won't find in a tweet
This poetry, exclusively my story, I hope it's understandable that this is much more than a hobby
Such a thing, much more than me venting, to put where I stand in these stanzas is not something somebody taught me
Honestly, I could use this gift to reminisce
But if I focus too much on the days I miss, I might just miss what's in front of me, and that's not very promising
Sometimes I can see that the only thing stopping me is me, and that's more than just something to relate to
But the time I spend writing out my nights instead of spending my nights out, is just one thing-
One of many, expressions from an artist, the hardest days laid out on the page is just one thing-
One of many, ways to find light in the darkest nights, ways to escape Déjà Vu
I write until there's no wrongs in my sight, and I can see the light of my hope
Until my life runs out of time, I'll write until I find the end of my rope
The hope in my heart is that I have a lot more to go
Because there's another verse to this song, but that part of the story will come at another time
I hope this read wasn't too long, hopefully the wait 'till the fifth won't be too long
Until the end of my time, this story will continue, written in this poetry
A story to tell- this is explicit poetry
About the Creator
I began writing as a means of expressing creativity, relieving stress, and venting emotions. I mention my daily battle with mental health a lot, I hope it is relatable and inspiring to readers, as writing is something I'm passionate about.
Reader insights
Be the first to share your insights about this piece.
Add your insights