Every Time
By: Jonathan Hinternish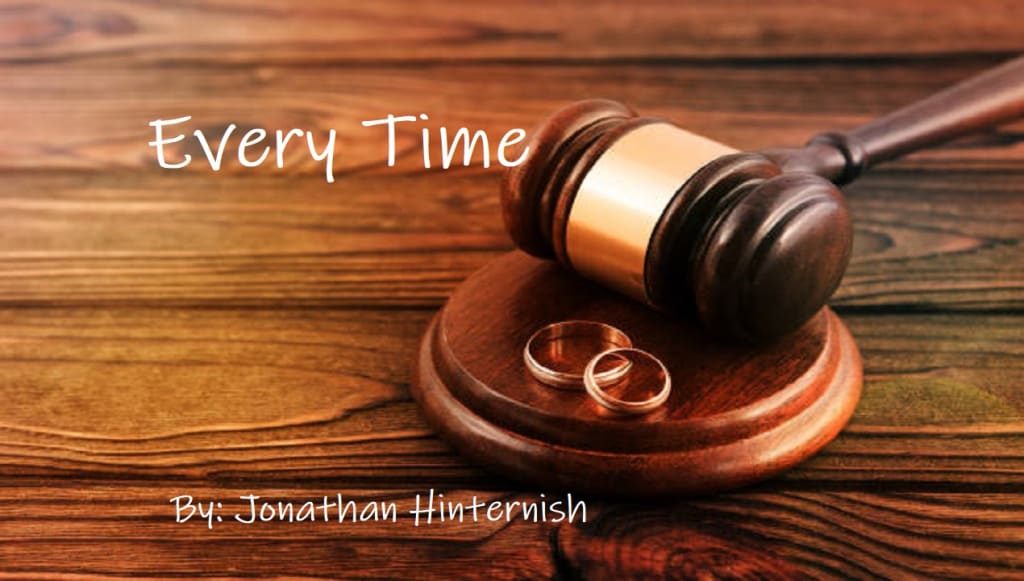 Every Time
By: Jonathan Hinternish
I remember every time I was brought down by words that hurt me.
Cut me to my core.
I began to wonder, "What is my life for?".
If all that is going to happen is I am pushed aside.
Told I am no good.
or I was better off if I had died.
I carry all this pain you see.
Because it's how the world always treats me.
Told me I was ugly.
Told me I was weak.
Beat me on the street.
Always wanted to make me bleed.
Everyone thought I had it easy.
When I really had it rough.
I was tortured and mistreated.
Even when I had, had enough.
My first marriage it was not easy.
I was trapped in Hell.
I had a wife who said she loved me.
Then sent me falsely off to jail.
No rape kit.
No police report of any kind.
Just thoughts of lust over a woman.
And betrayal entered her mind.
She plotted and she planned how to get rid of me.
She sent me away.
I never will foret either the two phone calls she made that October day.
It was 8:00am.
All were still asleep.
Then I heard my phone.
It made a loud beep.
It was two messages.
Sent only for me.
Threatening to kill me.
To leave me for dead.
In a pool of my own blood.
For that is what she said!
She said she would also take my son.
Take him far, far, away.
For she was, and still is determined to do this.
Which is why I still fear her to this day!
I remember every time.
I try every day to forget of the choices I had made.
Of getting married to the one who still wishes me dead to this day.
She haunts my memories.
She haunts my dreams.
I'm tormented every day.
How can this be?
It has been seven years since she has been in my life.
I wish every day that I never asked her to be my wife.
She trashed my name!
She ruined my life!
During the Joint Custody she tried to have everything her way.
She tried to get our son for six months.
For that was not the way.
Deal was every other week.
But she wanted to go astray.
She wanted every six months.
For this I knew not why.
Then I found out.
All I could do was break down and cry.
She didn't want Joint Custody.
She wanted our son to herself.
So she could take off with him.
And leave me to myself.
She wanted to play the system.
She wanted to play me too.
She wanted everything her way.
My ex-wife claimed she would never be married again.
For that was also a lie.
Now she goes by Mrs. Jones.
To me that was no surprise.
She married the person that she cheated on me with.
That also came as no surprise.
All she is filled with is secrets and lies.
What I had told the judge and the court all had come true.
I also remember the day of her terrorizing me was not through.
On June 30th of 2019, I had a knock on my door.
I had thought "What the Hell?".
It was Child Protective Services.
What have I done?
I could not tell.
Apparently they had gotten a false report of me abusing my kid!
I suddenly knew it was her.
By the way they wer bringing things up.
It was a proven fact.
My ex-wife had done something again to stab me in the back.
Her anger showed no bounds.
I showed no fear.
I was not scared of what she had done.
The more they were talking, the more had come out!
About what (During the divorce) we had talked about!
It was!
By the gods!
It was her!
It was clear she had no shame!
What was her plan?
What was her game?
I felt her plan was simple.
She wanted me out of the way.
She wanted full custody.
And me far away!
I feel her last desprite act was to take my son from me.
And never look back.
Of all the chaos.
And all the hell.
I'm happy of this true tale I can tell.
I hope one day there is peace.
For all of our sakes.
And all of our needs.
To never have another threatening phone call.
Or another death threat of any kind.
It would be heavenly to live in peace all of our lives.
We have been through enough chaos.
We have been through enough Hell.
We need peace.
We need it well.
A child should be able to grow up.
Not indure any pain.
As the same goes for the parent.
It's not difficult to explain.
Would I gladly turn back the hands of time?
Many times I have thought.
But then, I would not have my son.
Who gives me happiness and strength a whole lot.
social commentary
About the author
Hello! My name is Jonathan. I welcome everyone to my page. I'm a people person at heart. And I always welcome making new friends. All comments on my poetry is always welcome as well. Please, come in, make yourselves at home. (hugs) :)
Reader insights
Nice work
Very well written. Keep up the good work!
Top insight
Heartfelt and relatable

The story invoked strong personal emotions
Add your insights