Dear God,
A few questions about love.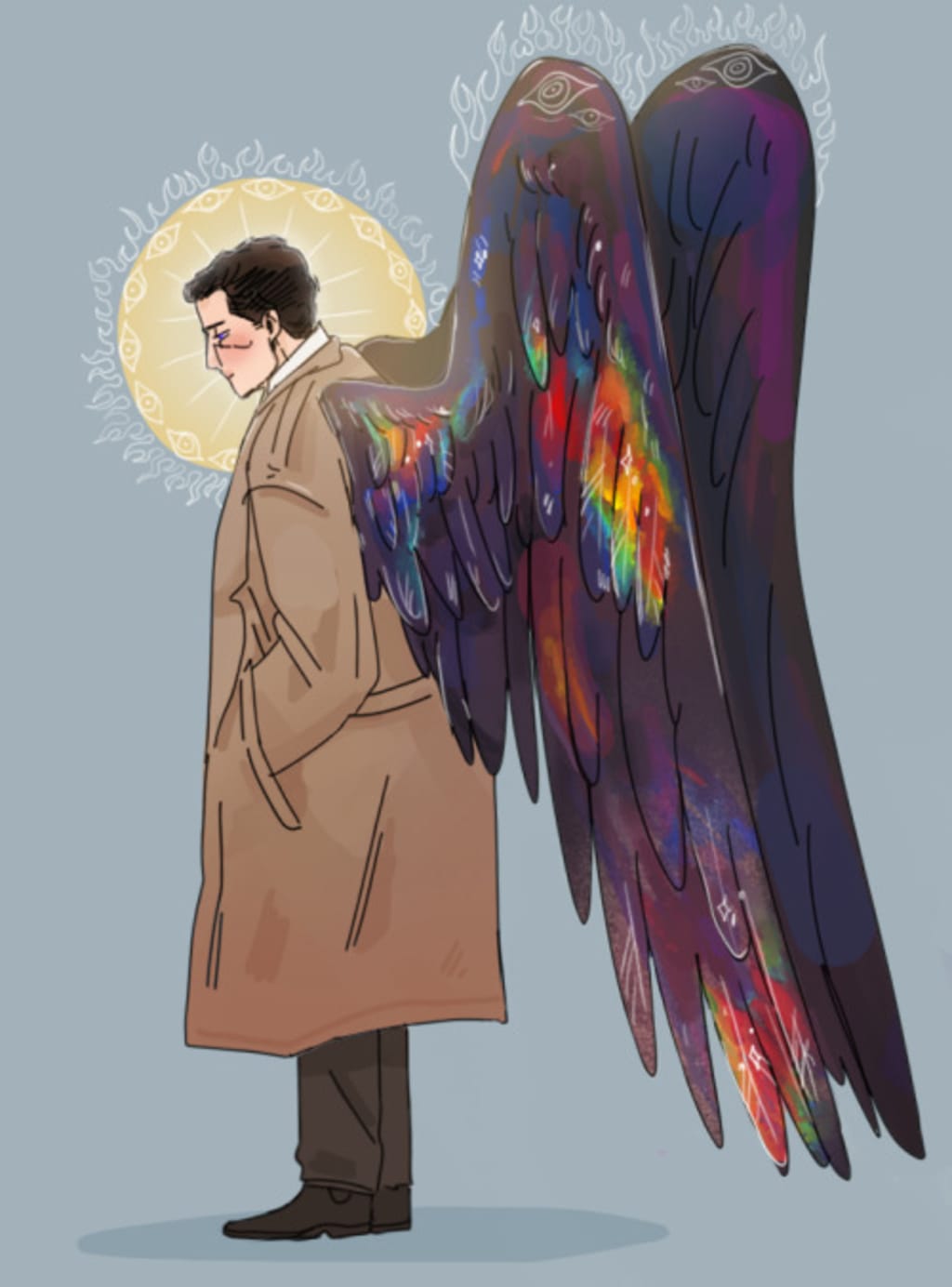 by wingnasty on tumblr
Dear God,
I had a discussion with a priest today,
He held a Bible above me with a smile,
I asked him some questions about love today,
His cheeks twitched, and we settled in for a while.
...
So anyway, I learned a lesson,
About demon scales and angel wings.
How the demons are painted the color of rainbows,
But the angels pure white as anything.
...
I wasn't exactly happy with that,
My brother's the boy-kissing kind,
So I'm here with a query, a question for you:
What of all those beings divine?
...
We humans are prone to romanticize things,
You can't blame us; we're so quick to die,
And loving earth is all that we're good for,
Before our gravesite makes up the sky.
...
I wonder about all those stories we write,
The demon, and angel who fell,
And kissed like their pure hearts were breaking,
In the divinely-burning beauty of hell.
...
Have your angels really experienced emotion?
Discovered it in an enemy's embrace?
Why, I would think it seems reasonable,
Two dressed white in leather and lace,
...
You blessed them as they walked down the aisle,
Or so all our legends say,
Heaven up high, falling so sweetly to sin,
Clouds block out the sunlight today.
...
So that's all I wanted to ask of you,
How far does your benevolence extend?
I'm sure you would praise all those lovers,
The rivers of wife-kissing men,
...
But I have a hard time believing,
What my priest said was true,
That the inside of my brother's heart,
Would be black as sins in your view.
...
How many evils would you condone?
Would you bless angels and demons in love?
I believe in the idea of peace,
Bright white, the kind wings of the dove,
...
Perhaps my supposition that you believe in love,
Is actually absolutely untrue,
And instead the day your son died for us,
Was the day love died out for you.
...
Maybe that's when you fell down screaming,
After losing the war humans made for themselves,
Let your death paint the color of our histories,
The shades of rules we fight against and rebel.
...
You let that book be our Guardian Angel,
Which disdains bright boy-loving love,
With your mouth bound and gagged and our words forced in,
Muffled "No!"s from up above.
...
And now we pass along our hatred,
The feeling bred neatly into our cells,
To romanticize angels and demons,
Waltzing and laughing in hell.
...
So that's my final dying query,
What's considered illegal to you?
Let all of us lawbreakers paint ourselves golden,
And let the rainbow wings shine through.
About the Creator
17-year-old writer who hopes to write stories for a living someday-- failing that, I'd like to become a mermaid.
Reader insights
Nice work
Very well written. Keep up the good work!
Top insights
Excellent storytelling

Original narrative & well developed characters

Eye opening

Niche topic & fresh perspectives

Heartfelt and relatable

The story invoked strong personal emotions
Add your insights