Brown Skin Girl
Kanaka Maoli poetry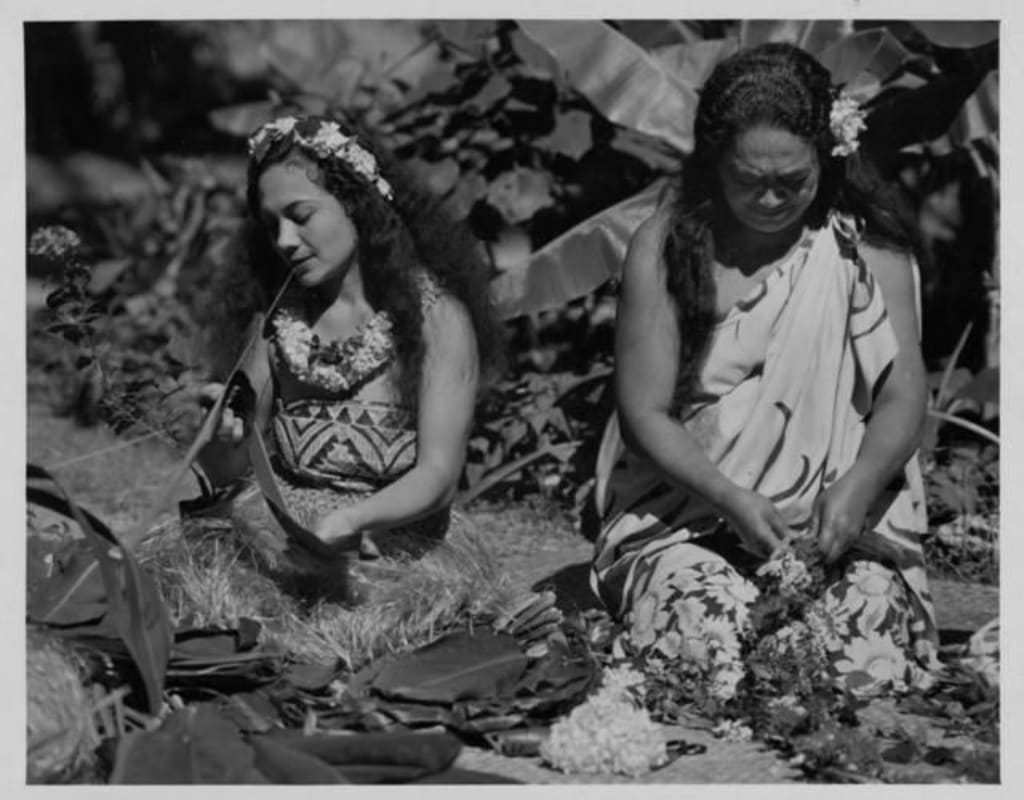 Hawaii State Archives
Kids use to tell me to scrub my skin harder.
Make it whiter, white soap stains
they said.
I wore my hair in ties, teasing out the follicles my
ancestors proudly wore under crowns that weaved
flowers and leaves in between
strands. My hair was too big
like my native sisters' and brothers'.
I prayed for hair like the haole girl in my
classes. Native plants decorate her hair,
but the ʻāina
that fed my ancestor's mouths belongs to me,
yet she wears it on her head.
I stomp upon the land my ancestors bled on
cooked on,
danced hula on,
while on my way to class.
I hear their heaving cries when the wind presses
against the skin that kids say is too brown.
White soap over brown skin,
That should do the trick.
Kids use to tell me that my
name, birthed from my native language,
'ōlelo Hawai'i,
should remained glued under my tongue.
They said, remove it like the way colonizers
desecrated your ancestors,
your land,
your culture,
your brown skin.
My mother always told me to hold my name like
a trophy, it's beauty is in the way
that it defeats colonialism;
By the language that colonizers hung from a
noose.
Kuh-nuh-nee; Kanani
It means Beautiful, she says, peeling a smile across her face
to reveal the
the pearls of her mouth,
beaming at the thought that her mother
would be proud that she
crowed a child in her native tongue.
But I drowned out her preaching,
and replaced it with another: Bella.
Kids tell me,
and my mother tells me,
my ancestors watch me, and I wait
to grow strong like the Kalo that use to live
in fields where
hotels now climb higher than the Ko'olau
Mountains, my mountains but someone else's profit.
They tell me, I listen, and I wait
to find the brown skin girl
who should've lived with her name on her tongue
with her skin boiled by the sun
and her mouth spilling the language that
she should've spoken.
They use to tell me to scrub my skin hard,
erase the brown collecting on your
arms
legs, head, and fingers.
But I don't let them say it anymore.
Banished from the gape of their mouth with
one word: ʻaʻole.
Instead, I tell them,
I am a
brown skin girl.
I am Kanaka Maoli.
__




Note from the Author
Honestly, it would be beautiful for more people to read Kanaka Maoli poetry. My work is not enough to encompass the thoughts and beauty of my people; especially because I have been separated from my culture and too ignorant to clearly express my hopes, dreams, and griefs regarding my ancestors and culture. My hope is for everyone to search some of the ʻōlelo Hawaiʻi (Hawaiian language) in this poem and discover their meaning. The effort would be really appreciated, and it might lead you down a road towards investigating the collapse of my land, the dying Native Hawaiian population, the violence against this highly overlooked indigenous group, and the growing expenses that native people must produce to live on their own land. But I also understand that it might take too much time for everyone. The definition to some words can be found below. If you want to start educating yourself on the injustices being inflicted on Hawaiian land and people, start by searching: Mauna Kea Protests. And consider donating to their cause. I really appreciate everyone reading this piece. I hope you can discover more about how colonialism has destroyed everything that lives in this Brown Skin Girl and her people.
ʻōlelo: Language
kalo: Taro
haole: White or non-native Hawaiian; formerly known as foreigner
kanaka maoli: Native Hawaiian person
ʻāina: Land
ʻaʻole: No, never
__
As always, thank you for reading. Any and all tips are deeply appreciated :)


Bella Leon
Editor by day, Vocal writer by night.
I like to write about nearly anything as long as it's sincere but preferably, I like to talk about film!
Follow my film curating instagram page :) @thinkingnimages
Storyteller / poet / cinephile
she/her
See all posts by Bella Leon →