Broken Heroes
- To my sister and mother: I am forever and always indebted to both of you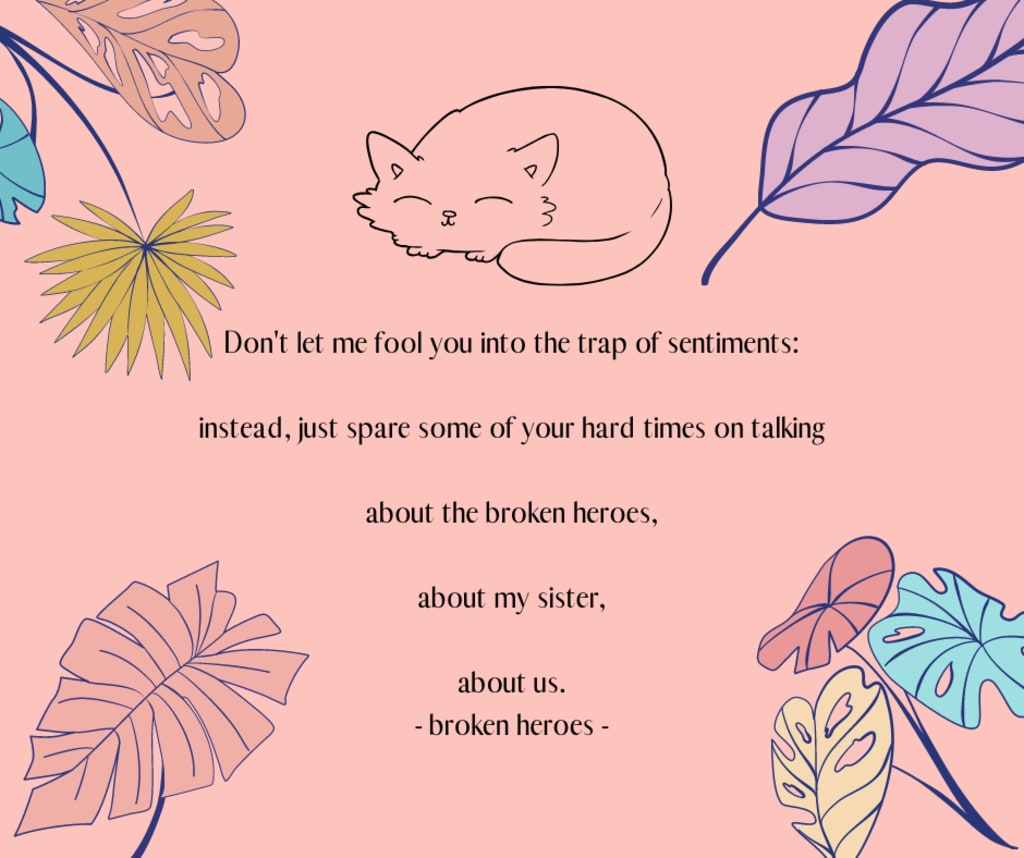 Let's talk about the broken heroes -
the ones fall at the battles,
the ones full of scars,
the ones who, on a rainy day,
simply do not survive.
Let's talk about the broken heroes -
the ones who fall short of God's favor,
or even human's favor.
Or - or they don't have to be heroes:
They can be just a human, falling short of being human
and falling short of survive.
The wars they have been to, alone,
with thunderstorms far beyond their capacity and
too little weaponry to fight against them.
The love they give in return to
coldness, hardness, and cruelty of men.
The sacrifices they make simply because
their hearts are too big,
and life is too small.
Let's talk about my sister,
who has a brain polyp
and keeps on forgetting the life that she lives
since the start of time.
Let's talk about how she is too trusting
but is never trusting enough to heal her broken heart.
Yet she persists.
Looking at her across the screen,
and across the ocean at the same time,
smiling, faking a happy face,
"Don't worry," she says, and I think of
all of us.
Let's talk about all of us who
have more than once in our life faking a "Don't worry."
Because what else is stronger than a fake "Don't worry"?
Let's talk about our strongest armor - let's talk about love,
and all the hopes that one day will turn into disappointments.
But what can I say about all of those - I am merely a person
whose heart grows weary quicker than a century of loving
and forgiving.
Don't let me fool you into the trap of sentiments:
instead, just spare some of your hard times on talking
about the broken heroes,
about my sister,
about us.