Breaking through concrete
A tribute to our wholeness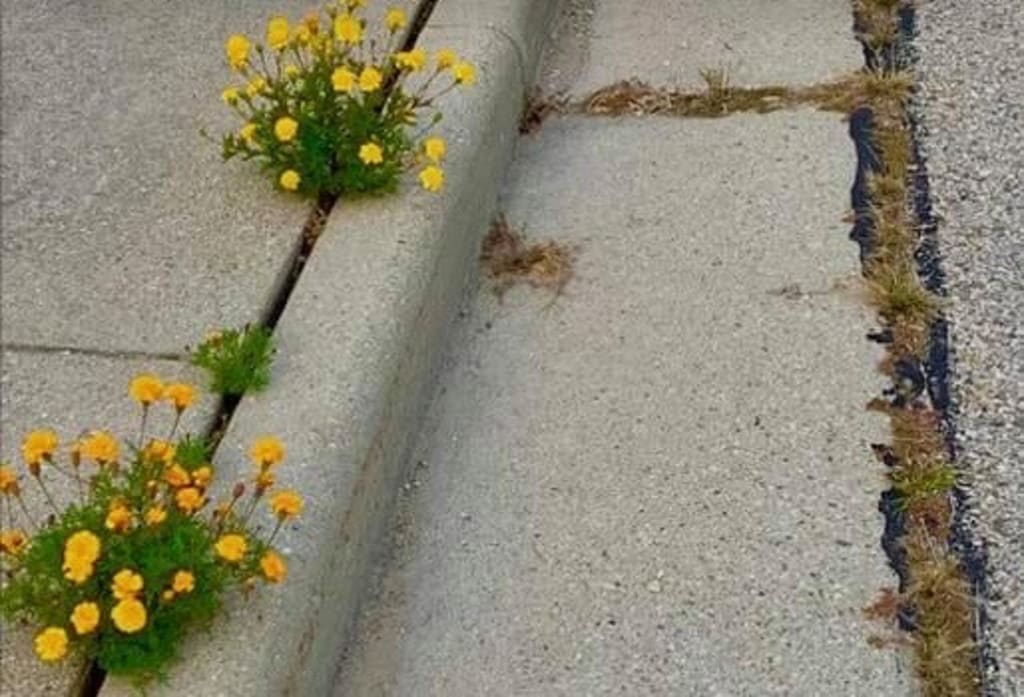 ~ blooming flowers coming out through concrete~
It takes a gentle perennial flower
not a hammer to break
through the concrete.
We were taught to force
our way into making things
happen. We believed a lie and
followed its manifested suffering
over so many timelines. We poured
and poured so much concrete into
our surroundings. Some of us can't
even keep it out from under our feet.
But how could it be done otherwise?
They asked me.
Show me your weakness,
show me your shadows,
Show me your tears and your heartbreak…
Scream them out to me, sing them
or write them out here,
I said, and I will show their innate power.
This enduring gentleness
becomes an invisible force
that turns the world upside down.
This gentle perennial flower
can bring all tyrants to their knees.
And by "tyrant" I mean this constant
thinking brain in our own head
that is split from the wholeness of our Being.
It longs for the reunion of wholeness now.
Our human conditioning is being reversed.
We are learning to go down, down and downwards
into the body of the Earth
(by breathing into our own belly brain) and
she greets us there (this innate gentle power);
and only then… when consulted with her wisdom,
we rise once again and we bloom
from the womb of our knowing.
We are breaking through the concrete.
*** This poem was inspired by a recent interview I did with Marifran Korb, my friend and author of "Breaking Through Concrete" memoir. Enjoy the short interview here. After speaking with Marifran about her thriving experiences through a traumatic childhood and youth, the picture of the book cover (a beautiful orange flower blooming in between slabs of concrete) lingered in my mind and I became silent for a while; I walked into my garden and witnessed a rush of words carrying the energy of my own interpretation of what "breaking through concrete" means for us as human race in these shifting times. This is how this poem was born swiftly...on the wings of my awe.
About the Creator
Writing a new world into existence, bringing magic, ease & wholeness to others 'making them light up from the inside'. Apart from writing, I dedicate all my time facilitating sound therapy and quantum energy sessions: www.cezarinatrone.com
Reader insights
Be the first to share your insights about this piece.
Add your insights