Birds and Fruit
an ode to the symbiotic truth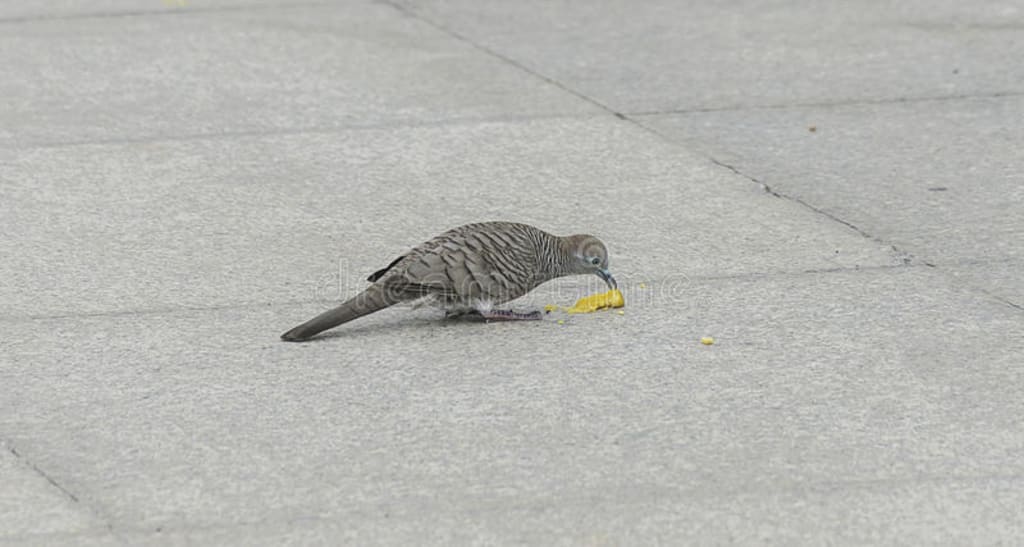 A dove pigeon in Thailand enjoying a mango
A bright sunny day shines upon my face
Mask on, someone's coming am I far away?!
Safe!
I breathe in and out without fogging up my glasses
I survey the surroundings the weight of a world surrounding
Crumbling away!
My thoughts race to unmarked militia stealing protesters
I have a friend in Portland, is she safe?
I can't say...
A bird chirps and flits past my face
Dissolving my thoughts, my anxiety fades
Food for the day!
I shift my attention his way or hers
Not sure anyone can tell from so far away
In any case...
I watch as they peck happily
at an apple core thrown away
Ants make the perfect topping
The pecking becomes hurried
relentlessly, never stopping
My smile forms as I'm quietly watching
Nature find a way
Maybe this time some would say found
Since I know nothing of the journey
before they were food bound
I try not making a sound
Just watching and breathing
my smile could shine through my mask now
because it serves as a reminder to me
Nature finds a way, unceasing.
nature poetry
About the author
I am an actor, writer and artist dedicated to the creation of happiness so boundless that it shatters all obstacles in the way of unity.
Reader insights
Be the first to share your insights about this piece.
Add your insights