Behold, the Darkness
An amateur poem about two timeless foes - also posted on Medium: https://link.medium.com/OFoYLvN160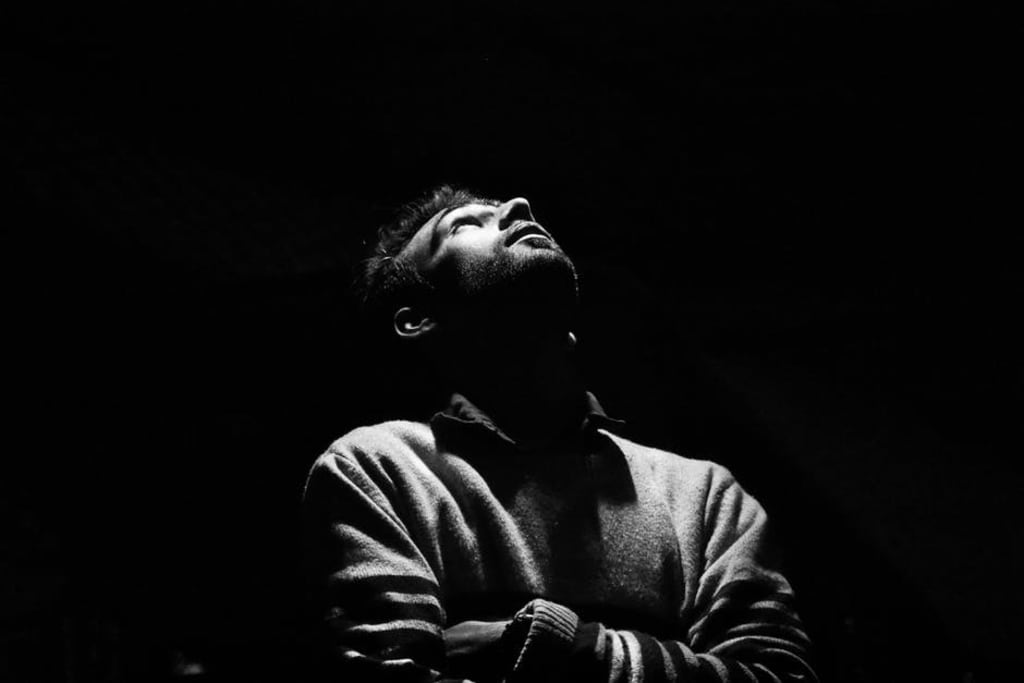 Courtesy of Pexels: https://www.pexels.com/photo/monochrome-photo-of-man-looking-up-1579631/
The darkness within
Like the closest of kin
Knowing every weakness and need
It devours the light
Bleeds in the night
Hoping you'll never succeed
Why do you do this to yourself?
The thoughts continue to speak
You're in a phase.

Get over it.

Put some rhythm in your feet.
But it can't be that simple
I'm not the only one
Everyone's an individual
Searching for their sun
That's pathetic logic
The thoughts retorted in disgust
Those tools are only for the worthy and just
You've absorbed the thoughts for years
All of the logic, reasoning, pain and tears
Then…
A new thought appeared
It nearly blinded you
It consumed the black
The other thoughts now silenced too
In the ambient quiet
It simply moved
What do you want?
Yet somehow I felt soothed
The thought surrounded me
Offering no threat
This wasn't pain
Nor depression… not even dread?
Something you felt
Lifetimes ago
Encouragement, uplifting
Visions of future and hope
This thought didn't stop
These feelings weren't for teasing
Before long, we were gaining elevation
The darkness was leaving!
The thought finally spoke
Darkness is no joke

Those other thoughts speak truth

Voids are everywhere you go

More will come

But never fret, you see

Although it takes away your light

It will never engulf your dreams
Now my life
Injected with meaning
Standing tall with defiance
Now… my light is beaming