A New Beginning
An Acrostic Poem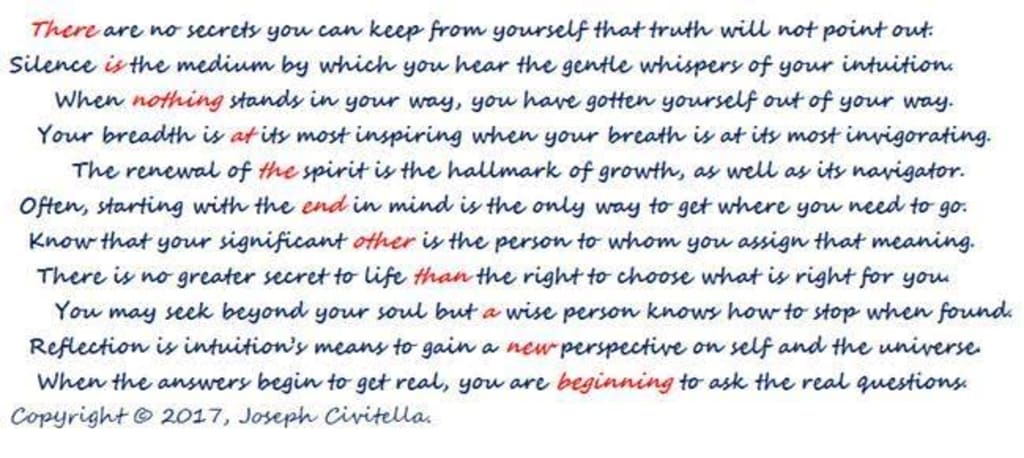 There are no secrets you can keep from yourself that truth will not point out.
Silence is the medium by which you hear the gentle whispers of your intuition.
When nothing stands in your way, you have gotten yourself out of your way.
Your breadth is at its most inspiring when your breath is at its most invigorating.
The renewal of the spirit is the hallmark of growth, as well as its navigator.
Often, starting with the end in mind is the only way to get where you need to go.
Know that your significant other is the person to whom you assign that meaning.
There is no greater secret to life than the right to choose what is right for you.
You may seek beyond your soul but a wise person knows how to stop when found.
Reflection is intuition's means to gain a new perspective on self and the universe.
When the answers begin to get real, you are beginning to ask the real questions.
Copyright © 2017, Joseph Civitella.
love poems
About the author
Joseph Civitella, PhD, is a life-long student of metaphysics – the quest for truth, meaning and purpose – and is an ordained minister in the International Metaphysical Ministry. He operates the School of LifeWork (www.schooloflifework.com).
Reader insights
Be the first to share your insights about this piece.
Add your insights