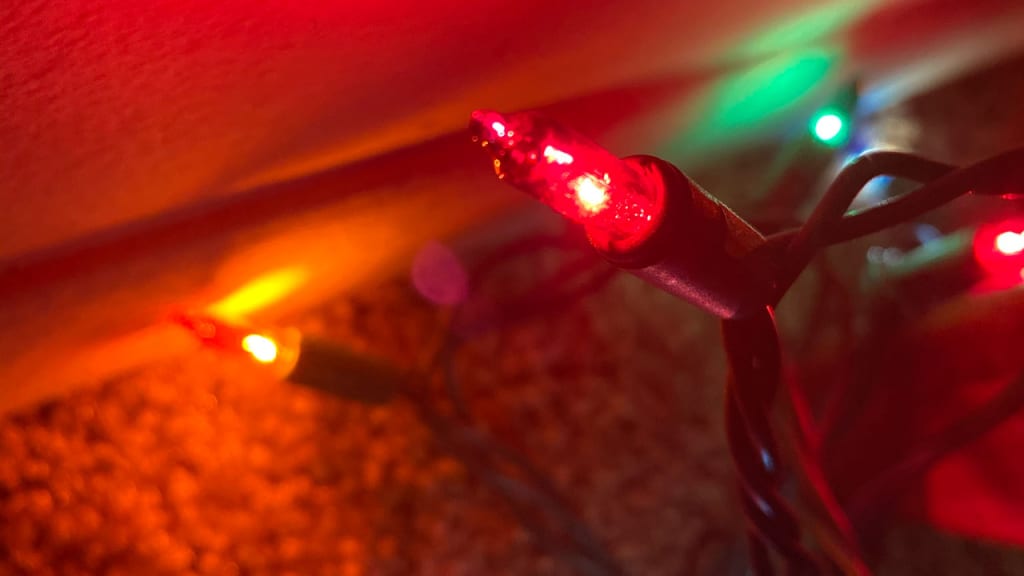 Some memories are like snapshots and wordless impressions. I remember that it was a tiny apartment, full of empty spaces. Sometimes it felt like loneliness, but other times like solitude and safety.
It was another Christmas alone, and the decorations felt too heavy, too much. But a string of lights, I could handle that. As I stood in the Christmas aisle, a bit overwhelmed yet determined, I saw them.
The white ones were beautiful, but the colored lights tugged at me insistently. They were like echoes through the silence, flashes of nostalgia. The memory didn't wash over but flickered like the Christmas lights, a spark to pull me out of the darkness.
Sometimes small actions are charged with intention. That's how I felt, stringing the twinkling lights around my door. I didn't have a tree, but I could have a string of lights in a dark room. I could do a tiny thing to feel better.
They cast a rose gold hue, brighter than I'd expected, hypnotizing me with their strange magic. It was that touch of Christmas cheer that seems to grow from childhood then disappear.
It was only a small apartment and a single string of lights. Nevertheless, for a moment, I didn't feel sadness but quiet contentment. I didn't notice the darkness but the illumination.
It was a gateway of light that created space for a little cheer. And a little cheer, like a little sadness, like snowflakes falling, can multiply and transform.
Reader insights
Be the first to share your insights about this piece.
Add your insights