What are LRV and THM Files In GoPro Full Explained
.LRV And .THM Files In GoPro
If you have ever recorded a video or take a photo on your GoPro and noticed some extra files like LRV and HTM additionally along with your MP4 video file, You may be curious and have some questions, including: What are LRV and THM files, Should I delete LRV and THM Files Or NOT.
You've come to the right place; in this post, in this article, I will provide a complete guide on LRV and THM files in GoPro.
What are LRV and HTM Files In GoPro
Both files (LRV and HTM) have different extensions but have the same file names as to MP4 video file. Once you connect your computer to the GoPro SD card and transfer your MP4 files to the computer. LRV and HTM files would not be used anymore. But these files are actually used by the GoPro app only.
LRV files are low-resolution videos and these files are used by GoPro mobile app as the video preview. Similarly, the HTM files are used by GoPro mobile app as a photo preview.
What is LRV File In GoPro?
LRV file extension Stand for Low-resolution video. LRV files are used as video previews inside GoPro mobile app.
This file is not a virus but it is generated when you playback the video on the GoPro app. Even the LRV files are low resolution but still, it's used because of low file size.
The original MP4 video that shoots on GoPro has a large file size. That's the reason that the LRV files provide faster playback in the GoPro app and the device itself.
For example, if you filmed with a Gopro and the file size was 800 megabytes, the LRV file size could be about 30 megabytes. As a result, wireless transfer to your phone can be much faster and simpler to manage.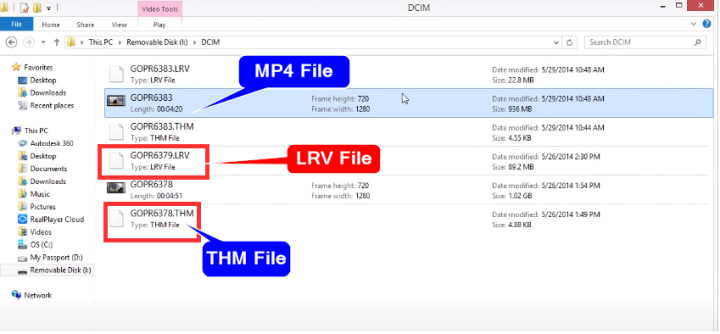 LRV files are not important once you connect your computer and transferring footage from GoPro. After you can delete LRV files from your computer because it does not have any value.
What is a THM File In GoPro?
THM file stands for Thumbnails. The purpose of THM files is to preview the image of the video on the device or GoPro App. In the GoPro app, you can visually recognize a particular video due to the THM file. This THM file is a small image of about 160 by 120 pixels.
The size of this file is small like in LRV files and generates automatically when you shoot a video or taking a photo on GoPro. The size is too small as compared to the original photo or MP4 file.
This THM file can be used to preview photos and videos in GoPro devices so faster. When you have finished the recording session on GoPro THM files are not further use on the computer.
You may be wondering about that these files are important or not should you delete LRV and THM files.
Watch To This Short Video For Better Understanding "What are LRV and THM Files"
Should I Delete LRV and THM files In GoPro?
Yes, sure you can delete LRV and THM files. Keeping them on the computer is simply wasting of space nothing more. Because they don't have any connections with the originally filmed MP4 file.
The LRV and THM files are only used in the GoPro mobile app and do not have any important pieces of information beyond the MP4 or photo file that you filmed.
So deleting them is not any loss once you complete video recording and transferring that to your computer. Only if you have an MP4 file that everyone expects to be after recording on GoPro.
What will Happened If I Delete GoPro LRV and THM Files
If you are not using GoPro mobile app then nothing would happen badly if you delete LRV and THM files. Just you can simply use the MP4 file on your computer and can edit that through desktop editing software.