The Kiss of Life
A photographer captured a life-saving moment when an electrical lineman fell and his coworker rushed to save his life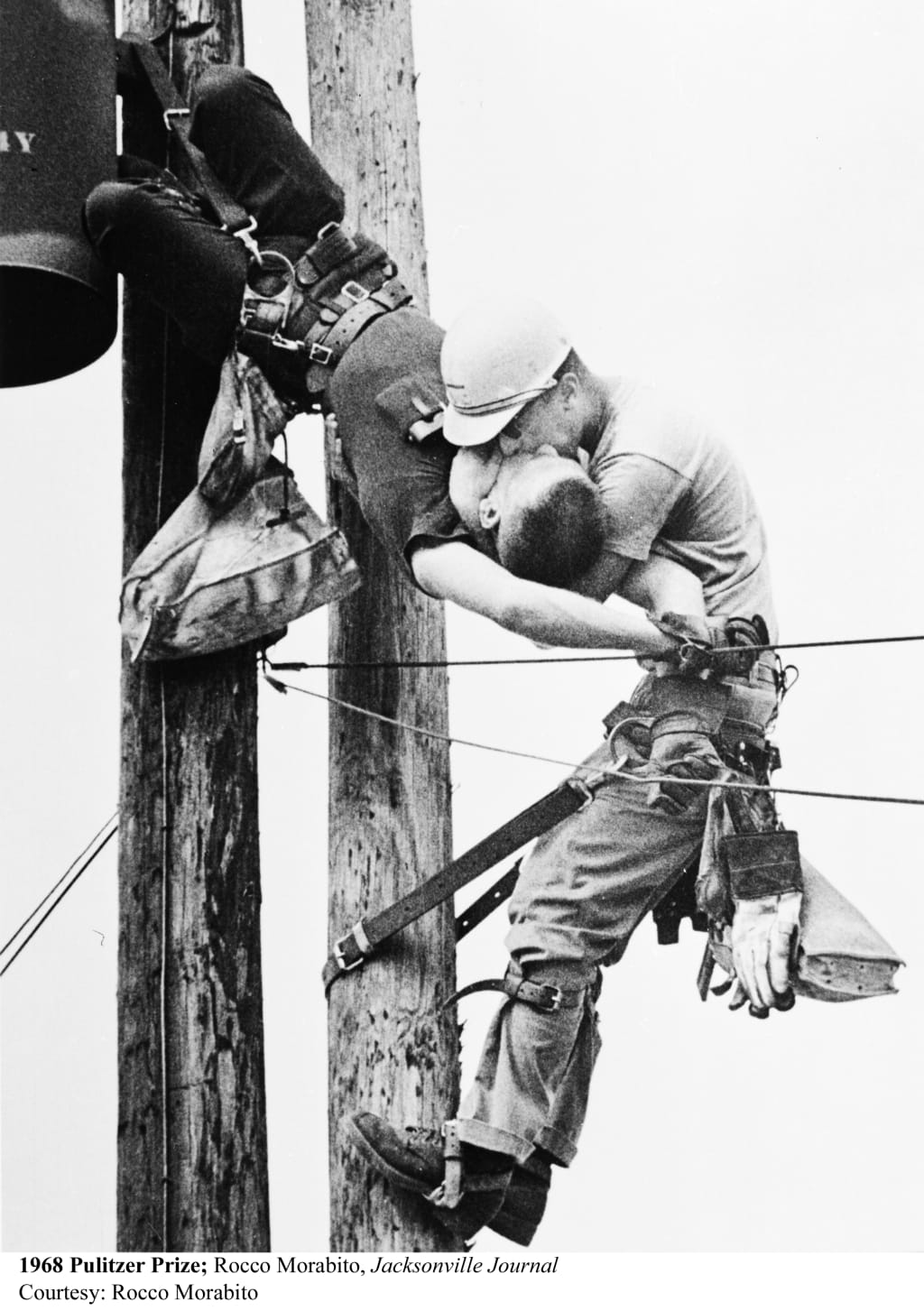 On July 17, 1967, the headlines of the Jacksonville Journal read "Kiss of Life" with a captivating photo underneath. The photo showed two men embraced in what appears to be a kiss, a moment of love and happiness between a couple who only have eyes for each other. Seeing two men embraced in such a manner was exactly what the image editors at the Jacksonville Journal knew would shock readers as they sat at the kitchen table, paper and coffee in hand. A closer look at the photo and story revealed this kiss was not one of love and compassion, but instead a kiss of life as one coworker helped save the life of his injured coworker.
R.G. Slips & Falls
This morning, a group of about a dozen linemen workers from the Jacksonville Electric Department headed out to West 26th Street to add new electrical lines when one of them, R.G. Champion fell after he came into contact with a 4,160-volt line from nine stories high in the air. Hanging by his safety belt, R.G. hung upside down in the air, his foot still touching live power lines.
Coworkers Save R.G.'s Life
Coworker Joe Beasley saw R.G. dangling and rushed to his aid. He slipped, falling to the ground. A second co-worker, J.D. Thompson, witnessed Joe fall and R.G. dangling and headed over to help.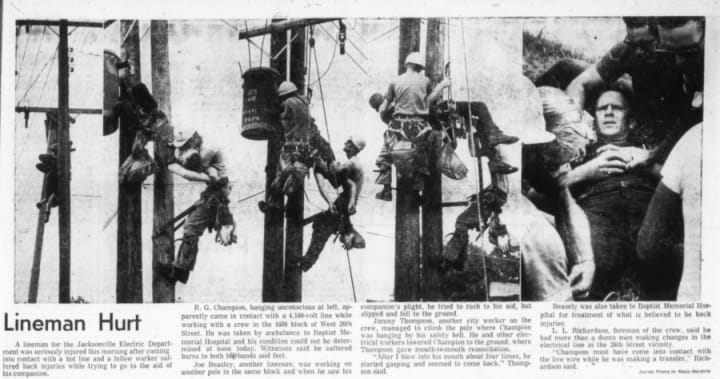 Thompson noticed his coworker was unconscious and immediately began mouth-to-mouth resuscitation. After a few blows into his mouth, R.G. began gasping for air; he was breathing and had "come back to life." The crew then lowered R.G. to the ground.
Minor Injuries
R.G. and Joe were both transported by ambulance to Baptist Memorial Hospital. R.G. suffered burns to both of his hands and feet but survived his injuries. Joe sustained back injuries but also survived the incident.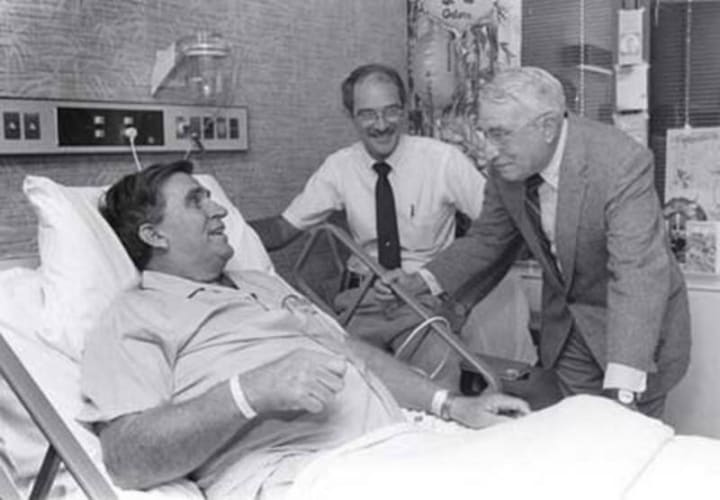 Kiss of Life
Jacksonville Journal photographer Rocco Morabito was among the first on the scene of the accident. He snapped the "Kiss of Life" photo capturing the life-saving efforts of the coworkers, returning to the newsroom saying "I think I've got a good one" as he handed over the photos.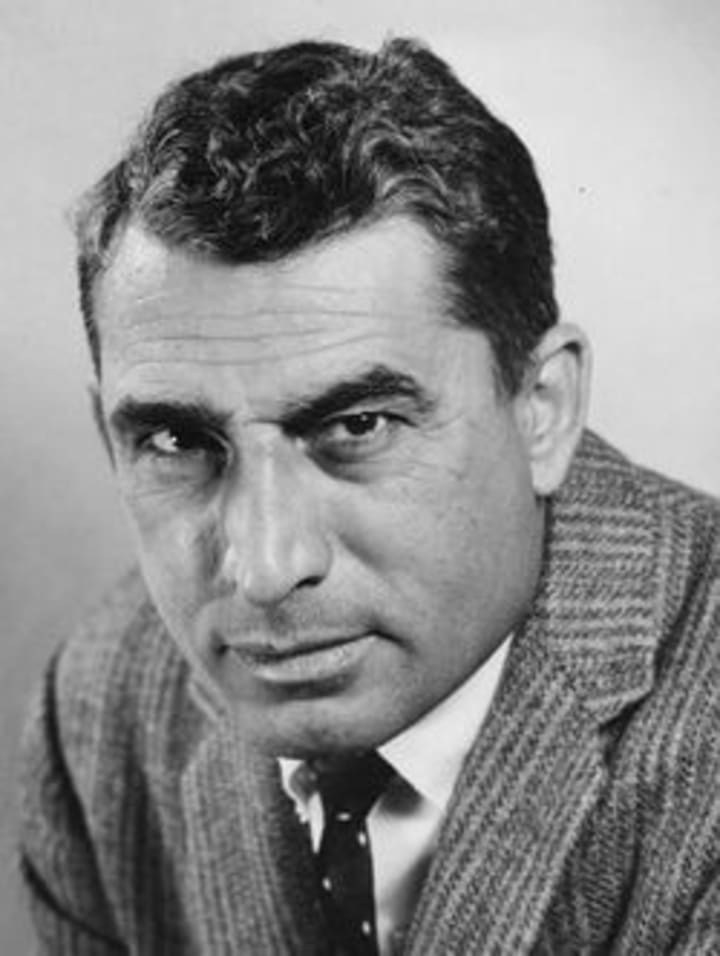 He was right in his assumption. Editors worked overtime to make sure the photo made the headlines of the morning paper. Copy editor Bob Pate could not believe the photo before his eyes. He knew the shot would captivate every reader and pushed past publishing deadlines to ensure that it was the first thing Jacksonville residents saw the following morning.
He captioned the photo, "Kiss of Life," a name that stuck over the years.
Pulitzer Prize-Winning Photograph
In 1968, the Kiss of Life photograph won the Pulitzer Prize. The photographer, Morabito, worked with the Jacksonville Journal for 42 years, 33 as a photographer. The photograph is now on display at the Newseum in Washington, D.C.
More than 50 years after Morabito snapped this amazing shot, it still touches the hearts of all who see it, giving them a moment to reflect on life and what is important while filling them with joy and contentment.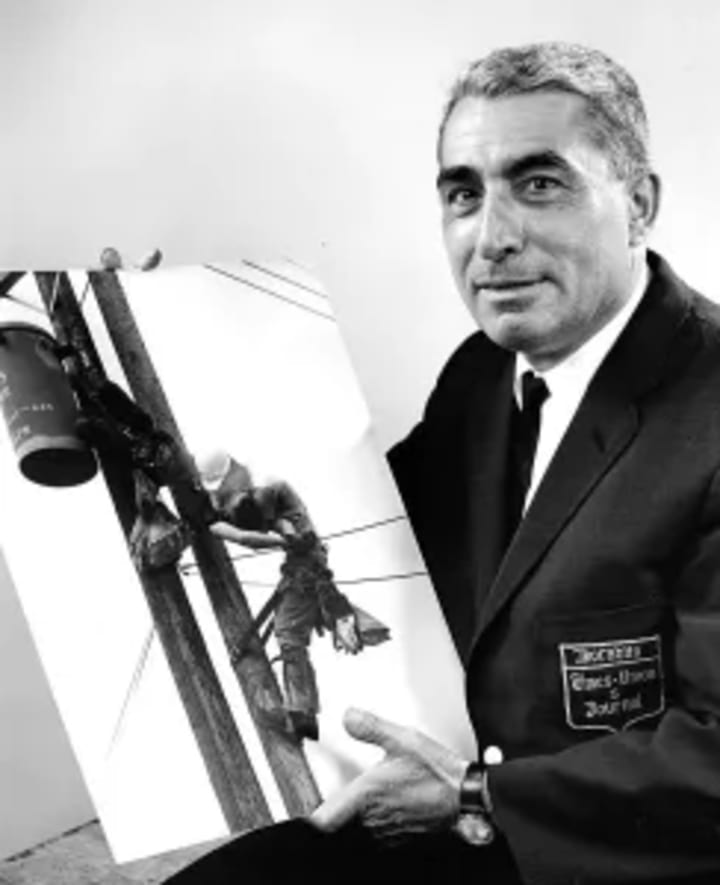 Thanks for reading this story. Be sure to hit the social share tabs on this page to share it with your friends. You can also copy/paste the link to share the story on your favorite website(s.) I appreciate your support.
Weigh in on this story. Leave your thoughts below in the comment section.
Love true crime and macabre? Follow us on Vocal, Facebook, Medium, Tumblr, and Pinterest by searching @CriminalMattersPage in the search bar. You will not regret your decision!
camera
About the author
The most shocking & unbelievable collection of crime stories around. Prepare yourself for crimes that will piss you off. Graphic material! 18+ audience!
Reader insights
Be the first to share your insights about this piece.
Add your insights